Back to country profile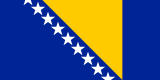 Bosnia and Herzegovina - December 2022
First female Prime Minister appointed
The state presidency elected Borjana Kristo as the Chair of the Council of Ministers, making her poised to become Bosnia and Herzegovina's first female head of government. A multi-ethnic coalition agreement was also endorsed in only three months, a feat which took over a year following the 2018 elections. The coalition includes Kristo's Croatian Democratic Union (HDZ) party and the Serb nationalist party, Alliance of Independent Social Democrats (SNSD), led by the pro-Russian Milorad Dodik. It excludes the Bosniak nationalist party, Party of Democratic Action (SDA), for the first time since 2014, as opposition parties joined forces to mount a challenge. This cracked the door open for civic and multi-ethnic parties at the state level, including Our Party, which seeks to reverse the historical emphasis on nationalist parties in the political system and enters the national government for the first time. Kristo has emphasised a focus on every day economic issues, and has urged respect for the diversity and rights of each of Bosnia and Herzegovina's constituent peoples.
Sources: Balkan Insight, Al Jazeera
Rights


Republika Srpska disregards Constitutional Court ruling with new public property bill
The National Assembly of Republika Srpska, the majority Serb entity of Bosnia and Herzegovina, adopted a bill introducing unilateral provisions on state property, with 45 deputies in favour, four against and 15 abstaining. The bill claims property used by institutions of Republika Srpska (including for public services) belong to the entity rather than the state. An earlier version of the bill had previously been passed by the Republika Srpska's National Assembly in February, but was subsequently suspended by the Office of High Representative (OHR), and ruled unconstitutional by the Constitutional Court of Bosnia and Herzegovina. The OHR has pointed out that the regulations were not in the competence of the Republika Srpska: "The Constitutional Court of Bosnia-Herzegovina repeatedly confirmed that the issue of state property cannot be resolved unilaterally," adding that unilateral steps threaten the rule of law.
Sources: Sarajevo Times (1), Sarajevo Times (2), ABC
Representation

Rule of Law