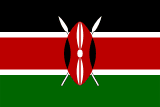 Kenya
The Republic of Kenya is a democratic East African state and an important political and economic actor in Africa. A lower-middle income country, Kenya has the largest economy in the East Africa sub-region in terms of GDP and its main economic sectors are agriculture, manufacturing, logistics and technology. However, it has accumulated high levels of debt and has incurred difficulties financing its repayments. High rates of corruption , as well as the marginalization of women (especially due to gender-based violence, including female genital mutilation) further damage Kenya's economic and governance prospects. In addition to economic challenges, Kenya faces perennial drought, refugee humanitarian crises and recurring inter-ethnic conflicts, notably in the Rift Valley, which have roots in the British colonial era (1896-1963). According to the Global State of Democracy Indices (GSoDI), Kenya's democratic performance improved from weak to mid-range performing in 2019, with Impartial Administration improving to mid-range performance in 2019 and Checks on Government to high performance in 2021. After a slump in 2017 and 2018, Local Democracy gradually improved but declined again in 2021.
Kenya is religiously and ethnically diverse, but it has a long history of state-orchestrated violence and oppression, and elections are often a trigger for violence along ethnic lines. For example, the infamous post-electoral violence of 2007/08 led to the Commission of Inquiry into Post-Election Violence, the Truth, Justice and Reconciliation Commission, investigations by the International Criminal Court (which indicted six individuals for crimes against humanity, including former President Uhuru Kenyatta and current President William Ruto, and a new constitution introducing major reforms in 2010. Kenya's post-election violence indicates the embeddedness of ethnicity in its politics but also illustrates enduring issues in the country, such as land tenure and inequality, all of which are at least partially rooted in British colonialism.
As a consequence of ongoing armed conflicts in neighbouring states, Kenya has become host to one of the largest refugee populations in Africa, of which Somalis make up the largest share. Partially due to terrorist attacks perpetrated in Kenya by the Somali-based militant organisation, Al-Shabab, ethnic Somalis have been perceived as a security threat by the Kenyan state, which has been concerned about spillovers from Somalia's long running conflict. These concerns have contributed to the country becoming a strategic counter-terrorism partner for the United States and other western countries in east and the horn of Africa. However the methods Kenya has employed in its counter-terrorism campaigns have been criticised by rights groups and partner states as being abusive of human rights. These methods are reported to have included torture, extra judicial killings and enforced disappearances. Police brutality and impunity more broadly has been a long-standing issue in Kenya. Corruption is also a major problem, with bribery in public institutions, patronage and nepotism, procurement corruption and embezzlement and mismanagement of funds widespread.
Kenya's mostly peaceful 2022 elections indicate its progress toward realizing peaceful transitions of democratic power, which – if sustained, and if outstanding measures to enhance the credibility of electoral administration are addressed - may lead to improved Electoral Participation and Representative Government performance. However, gender inequality and increasing youth unemployment could potentially undermine both economic growth and the GSoDI Social Rights and Equality sub-attribute. Relatedly, Kenya's debt is another concern to watch, along with efforts to address poverty, service delivery, and infrastructural development. The prevalence of drought in Kenya presents a food security challenge and may contribute to worsening humanitarian crises, which could also deepen if the refugee population continues to grow.
Monthly Updates
Explore past monthly updates
GSoD Indices Data 2012-2021
Basic Information
Population
54 985 700
System of government
Presidential system
Head of government
President William Ruto (since 2022)
Head of government party
United Democratic Alliance (UDA)
Electoral system for lower or single chamber
First Past the Post
Women in lower or single chamber
23.4%
Women in upper chamber
30.9%
Last legislative election
2022
Effective number of political parties
7.54
Head of state
President William Ruto
Selection process for head of state
Direct election (two-round majority, with minimum regional distribution of the vote needed to win in first round)
Latest Universal Periodic Review (UPR) date
23/01/2020
Latest Universal Periodic Review (UPR) percentage of recommendations supported
82.45%
Human Rights Treaties
State party
Signatory
No action
United Nations Human Right Treaties
International Covenant on Civil and Political Rights
International Covenant on Economic, Social and Cultural Rights
International Convention on the Elimination of All Forms of Racial Discrimination
Convention on the Elimination of Discrimination Against Women
Convention against Torture and Other Cruel, Inhuman and Degrading Treatment or Punishment
Convention on the Rights of the Child
International Convention on Protection of the Rights of All Migrant Workers and Members of Their Families
International Convention for the Protection of All Persons from Enforced Disappearance 
International Convention on the Rights of Persons with Disabilities
International Labour Organisation Treaties
Forced Labour Convention
Freedom of Association and Protection of the Right to Organise Convention
Right to Organise and Collective Bargaining Convention
Equal Remuneration Convention
Abolition of Forced Labour Convention
Discrimination (Employment and Occupation) Convention
Convention concerning Minimum Age for Admission to Employment
Worst Forms of Child Labour Convention
Regional Treaties
African Charter on Human and Peoples' Rights
Early Warning System BETA
Moderate risk of democratic breakdown

(BETA)
Low risk of democratic backsliding

(BETA)
Attributes Over Time