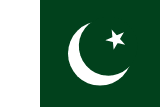 Pakistan
Pakistan is a federal parliamentary republic and weak democracy. Since obtaining statehood in 1947 following the end of British colonial rule, Pakistan has experienced three intermittent spells of military dictatorship spanning over three decades – the most recent of which ended in 2008. Even during periods of democratic rule, which has frequently alternated between the family dynasties of Bhutto and Sharif, the military has indirectly retained its presence in state and society. Further difficulties emanate from the fact that no Prime Minister has served their full elected term, due to military coups or pressure, court charges, forced resignations, an assassination and a vote of no confidence. Political instability generates additional uncertainties for the country's economic outlook. Pakistan is a lower middle-income economy under strain from high levels of government and external debt, a reliance on the International Monetary Fund, and poor education and literacy rates. Weak governance and corruption serve only to exacerbate these vulnerabilities. All the above has hindered democratization. Over the past five years, Pakistan has performed weakly in all five attributes of the Global State of Democracy Indices (GSoDI), persistently facing challenges in the attributes of Impartial Administration and Fundamental Rights in particular.
Pakistan was borne out of a hastily drawn and violent partition from British India, the legacy of which continues to haunt the country. Partition presented the challenge of nation-building without the notion of a national community and accordingly, identity became based on being a majority-Muslim state. Political leaders have exploited religious and ethnic cleavages so that they today demarcate politics in Pakistan, a country which has one of the highest levels of social hostilities involving religion. Although Islam is the state religion, there remain tensions between parts of the Sunni Muslim majority and Shia minority, and towards other Islamic sects. Blasphemy laws, which predominantly affect Muslims, carry a punishment of the death penalty and encourage discrimination and vigilantism. These laws also impact members of the Ahmadiyya Muslim Community (deemed by the Constitution of Pakistan to be non-Muslims) and non-Muslim minorities, including Hindus and Christians. Ethnopolitical cleavages exist between the state and various ethnic groups, and between and within ethnic groups. Groups include the Muhajirs, Pashtuns and Sindhis, whilst insurgency from separatists in Pakistan's Balochistan province adds further complexity.
Ensuring state survival in the immediate aftermath of independence elevated perceptions of security threats, particularly vis-a-vis India. This carved and gradually entrenched the military's role as a protector of order and stability. War has broken out between Pakistan and India four times, three of which were over the disputed Kashmir region, where tensions persist. Terrorism further complicates the security picture. The involvement of Pakistan in the Afghan conflict has fuelled instability in the border regions within which the Pakistani Taliban (TTP) operate. Whilst terrorism is on the decline, the TTP have claimed responsibility for attacks on security forces and civilians, bringing human and economic costs and undermining support for democratic values in affected areas.
Looking forward, the GSoDI attributes to watch are Representative Government, Impartial Administration and Fundamental Rights. The military's underlying presence in the political landscape of Pakistan is unlikely to subside; to the contrary it has historically been during moments of crisis that the military assumes more visible power. Amid a deepening economic and governance crisis and rising sectarian violence, how events unfold may be critical to monitor. This includes how power balances with an increasingly assertive Supreme Court that acts mostly as a mediator of political conflict rather than a consistent defender of the constitution. Climate change presents a further threat to democratization. Pakistan is set to experience rates of warming 'considerably above the global average', with the potential to exacerbate existing political, economic and security challenges, as seen in the 2005 Kashmir earthquake and floods of 2010, 2011, and 2022.
Monthly Updates
Explore past monthly updates
GSoD Indices Data 2012-2021
Basic Information
Population
225 199 930
System of government
Parliamentary system
Head of government
Prime Minister Shehbaz Sharif (since 2022)
Head of government party
Pakistan Muslim League (PML-N)
Electoral system for lower or single chamber
Parallel
Women in lower or single chamber
20.5%
Women in upper chamber
19.0%
Last legislative election
2018
Head of state
President Arif Alvi
Selection process for head of state
Indirect election (assembly + regional/local representatives)
Latest Universal Periodic Review (UPR) date
13/11/2017
Latest Universal Periodic Review (UPR) percentage of recommendations supported
58.13%
Human Rights Treaties
State party
Signatory
No action
United Nations Human Right Treaties
International Covenant on Civil and Political Rights
International Covenant on Economic, Social and Cultural Rights
International Convention on the Elimination of All Forms of Racial Discrimination
Convention on the Elimination of Discrimination Against Women
Convention against Torture and Other Cruel, Inhuman and Degrading Treatment or Punishment
Convention on the Rights of the Child
International Convention on Protection of the Rights of All Migrant Workers and Members of Their Families
International Convention for the Protection of All Persons from Enforced Disappearance 
International Convention on the Rights of Persons with Disabilities
International Labour Organisation Treaties
Forced Labour Convention
Freedom of Association and Protection of the Right to Organise Convention
Right to Organise and Collective Bargaining Convention
Equal Remuneration Convention
Abolition of Forced Labour Convention
Discrimination (Employment and Occupation) Convention
Convention concerning Minimum Age for Admission to Employment
Worst Forms of Child Labour Convention
Early Warning System BETA
Moderate risk of democratic breakdown

(BETA)
Low risk of democratic backsliding

(BETA)
Attributes Over Time