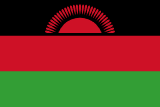 Malawi
Malawi is a low income country, exhibiting mid-range performance across all categories of the Global State of Democracy (GSoD) framework. It is amongst the top 25 per cent of countries in the world with regard to Effective Parliament and Freedom of Religion. Over the last five years, Malawi has experienced significant advances in Credible Elections and Rule of Law, but it has declined in Civic Engagement. Malawi's economy is heavily dependent upon agriculture, with tobacco its largest export. Low agricultural productivity, climate shocks and slow structural transformation mean that it is one of the world's poorest countries. Indeed, GSoD Indices data show that it is in the bottom 25 per cent of the world with regard to Basic Welfare.
Prior to British colonization in the late 19th century, Malawi was shaped by a number of influences, including Islam and Christianity, British and Portuguese exploration, and the Indian Ocean slave trade. The country gained independence in 1964 and was governed by Hastings Banda until 1994; his rule emphasized conservative norms and traditions and by social spending that sought to advance development. Despite his authoritarianism, Banda's legacy continues to impact politics, as evidenced by calls for a return to Banda-style spending. Furthermore, since the advent of multiparty democracy in 1993, Malawi has struggled with election administration. In 2019, however, its High Court ordered a re-run of the election in a milestone ruling. In addition, corruption is a major issue that has dogged successive administrations. Existing economic woes are driven by poverty, poor health, and poor education. These obstacles are further strained by climate change, which exacerbates existing economic and food insecurities by hampering agricultural production and output.
Political parties generally lack ideology but are instead heavily based on geography and ethnicity. Malawi has ten major ethnic groups, and only 34 per cent of Malawians say they identify more with their national identity than with their ethnic identity. The sustained relevance of ethnic identity may be due in part to previous administrations' favored treatment of certain ethnic groups. In fact, since the country has only been led by presidents from the south, which is seen as more developed than the north, there have also been disputes regarding federalism. Malawi is also very religiously heterogeneous and is home to Catholics, Protestants, and Muslims; the Islamic minority occasionally faces discrimination. Public policy is often shaped by the country's religiosity and socially conservative political culture. LGBTQIA+ people face the continued criminalization of same-sex conduct, state violence, and vigorous public debates surrounding their rights and freedoms. Malawi's conservative culture has also led to robust opposition to abortion, which in 2021 forced the government to withdraw a plan to liberalize the procedure. Women and girls face a multitude of challenges, including gender based violence and reduced economic opportunities. People with albinism are stigmatized and discriminated against and have been subjected to extreme violence, often fueled by superstition and mistaken beliefs.
Looking ahead, Absence of Corruption will be important to watch. The country has recently taken steps to accelerate its anti-corruption efforts by developing a new multi-stakeholder approach, although some commentators allege that these efforts have been tainted by political motivations, and Malawians remain pessimistic about the state of graft in the country.
Monthly Event Reports
Explore past monthly event reports
GSoD Indices Data 2013-2022
Basic Information
Population
19 647 680
System of government
Presidential system
Head of government
President Lazarus Chakwera (since 2020)
Head of government party
Malawi Congress Party
Electoral system for lower or single chamber
First Past the Post
Women in lower or single chamber
22.9%
Women in upper chamber
Not applicable
Last legislative election
2019
Effective number of political parties
8.27
Head of state
President Lazarus Chakwera
Selection process for head of state
Direct election (plurality)
Latest Universal Periodic Review (UPR) date
03/11/2020
Latest Universal Periodic Review (UPR) percentage of recommendations supported
82.76%
Human Rights Treaties
State party
Signatory
No action
United Nations Human Right Treaties
International Covenant on Civil and Political Rights
International Covenant on Economic, Social and Cultural Rights
International Convention on the Elimination of All Forms of Racial Discrimination
Convention on the Elimination of Discrimination Against Women
Convention against Torture and Other Cruel, Inhuman and Degrading Treatment or Punishment
Convention on the Rights of the Child
International Convention on Protection of the Rights of All Migrant Workers and Members of Their Families
International Convention for the Protection of All Persons from Enforced Disappearance 
International Convention on the Rights of Persons with Disabilities
International Labour Organisation Treaties
Forced Labour Convention
Freedom of Association and Protection of the Right to Organise Convention
Right to Organise and Collective Bargaining Convention
Equal Remuneration Convention
Abolition of Forced Labour Convention
Discrimination (Employment and Occupation) Convention
Convention concerning Minimum Age for Admission to Employment
Worst Forms of Child Labour Convention
Regional Treaties
African Charter on Human and Peoples' Rights
Categories of Democratic Performance
Global State of Democracy Indices
Hover over the trend lines to see the exact data points across the years
Explore the indices
Representation
high 0.7-1.0
mid 0.4-0.7
low 0.0-0.4
Rights
high 0.7-1.0
mid 0.4-0.7
low 0.0-0.4
Rule of Law
high 0.7-1.0
mid 0.4-0.7
low 0.0-0.4
Participation
high 0.7-1.0
mid 0.4-0.7
low 0.0-0.4
Annual value
Factors of Democratic Performance Over Time
Use the slider below to see how democratic performance has changed over time