Back to country profile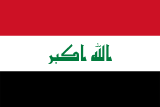 Iraq - October 2022
Political deadlock in Iraq broken after parliament elects president
The Parliament of Iraq elected Abdul Latif Rashid as president on 13 October, after obtaining support from the Kurdistan Democratic Party (KDP) and Shiite Coordination Framework. Mohammed Shiaa al-Sudani was named Prime Minister by President Rashid and tasked to form a cabinet. PM al-Sudani's proposed cabinet was approved by the parliament on 27 October, paving the way for a new government and break of what has been a year-long political deadlock. Prominent Shi'ite cleric and political leader Muqtada al-Sadr refused to participate in Iraq's government.
Sources: AA, Arab News, Al Jazeera, BBC, Financial Times, Israel Times, The New York Times
Representation

Continued tensions between Iraq's rival Shiite factions amid violent protests
Iraqis took to the streets on 1 October, in commemoration of the October 2019 Tishreen uprisings. The protests resulted in violent clashes between authorities and citizens, injuring nearly 100 people, including security forces. During the demonstrations, government buildings were attacked and rockets were fired. In response to the attacks, curfews were imposed and Shia cleric Muqtada al-Sadr prohibited the use of weapons for his armed groups and followers.
Sources: AA, Al Jazeera, Al Monitor (1), Al Monitor (2), The Guardian
Rights



Rule of Law