Back to country profile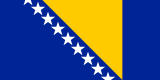 Bosnia and Herzegovina - March 2023
Attack on LGBTQIA+ activists in Banja Luka
Police banned planned LGBTQIA+ events in Banja Luka, the administrative centre of the Republika Srpska entity, citing security concerns. On the day the events were scheduled, a mob attacked activists, including BiH Pride representatives, members of the LGBTQIA+ community, and journalists. Three activists required medical attention as a result of the attack. BiH Pride representatives have alleged that law enforcement present at the attack failed to intervene. Earlier in the month, at an International Women's Day march in Banja Luka, protesters were attacked for carrying a rainbow flag. Hate crimes in Republika Srpska have been on the rise in recent years, and official data collection remains sparse.
Sources: BiH Pride, Intellinews, Sarajevo Times, RFE/RL, Balkan Insight, OSCE, N1
Rights




Rule of Law

Republika Srpska debates reintroduction of law criminalising defamation
On 23 March, the People's Assembly of Republika Srpska (RS), one of Bosnia and Herzegovina's two entities, approved amendments to the criminal code to reintroduce defamation as a crime. The bill was supported by 48 MPs, with 21 voting against it, and is now open to 60 days of public debate before its final adoption. The base penalty for a defamation conviction would be between 5,000-20,000 Bosnian marks under the draft legislation, and leaves concepts of defamation and insult poorly defined and open to interpretation and abuse. BH Journalists Association stated that the proposed changes would represent "inadmissible limitation of media freedom and freedom of expression". The RS Justice Minister, Milos Bukejlovic has said that the bill does not target the media, but is geared towards tackling fake news and hate speech. Bosnia and Herzegovina decriminalised defamation in 2003.
Sources: Balkan Insight (1), Balkan Insight (2), Article19, N1, BH Novinari
Rights