Global State of Democracy Report 2022: Forging Social Contracts in a Time of Discontent
| | |
| --- | --- |
| Contents | |
Preface
The fourth edition of the Global State of Democracy Report comes at a time when democracy is under both literal and figurative assault around the world. The steady drumbeat of such warnings—included in the previous edition of this report, which was produced at the height of the Covid-19 pandemic—always runs the risk of becoming background noise, as today's crisis can quickly become tomorrow's new normal. But the dangers are real. Beyond the lingering pandemic, today's wars and a looming global recession, lies the challenge of climate change and all it entails—severe weather events, the necessary green transition and multi-fold consequences for democratic governance.
Much has changed since International IDEA produced its first Global State of Democracy Report in 2017, authored on the eve of Brexit and soon after the election of Donald Trump. That report mixed cautious optimism about the previous decades' advances in democracy with warnings about more recent 'trendless fluctuations'—a stagnation of democracy, rather than its erosion. It is a testament to how political shocks can quickly reorient our thinking. This report will once again take up the argument that it is democracy, rather than 21st century inventions such as electoral autocracy or illiberal democracy—let alone the resurrection of 19th century imperial revanchism and spheres of influence— that provides the necessary tools to solve today's urgent problems.
The recent series of global crises—including the Russian invasion of Ukraine and conflicts in Ethiopia, Myanmar, Syria and Yemen, and their rippling effects—appear to indicate the emergence of a new status quo, defined by radical volatility and uncertainty, rather than a deviation from previous historical trends.
Global opinion surveys show that this period has coincided with declining public faith in the value of democracy itself. This is immensely worrying for those who care about the fate of democracy, but sadly not surprising. The core of any social contract is that citizens consent to be governed in return for certain core goods provided by those who govern. Yet the ability of democracies around the world to provide key public goods to their citizens and to close the gap between social expectations and institutional performance is increasingly at risk. These troubling questions were present well before democracies had to address the grotesque inequities within and between countries exposed by the pandemic, and the inflation, shortages, and threats of a global economic downturn that have followed.
But contrary to what democratic pessimists may suggest, authoritarian countries and alternative systems of government have not outperformed their democratic peers. Discontent at the neverending stream of Chinese lockdowns and the tens of thousands of draft dodgers fleeing Russia for an uncertain existence in the South Caucasus and Central Asia show that it is not just in democracies where the social contract is in urgent need of renewal.
Social contracts vary depending on the cultural and historical context, but all democracies share certain core commonalties, including respect for individual civil and political rights, fair and competitive elections, a reasonably equal exercise of power by the governed over their government, and effective access to a set of entitlements that make a dignified and meaningful life possible. There is now a growing popular realization that many of the world's social contracts are no longer fit for purpose.
In some states governments and their people are renegotiating these social contracts. For example, the collective uprising against the failed Rajapaksa government in Sri Lanka cut across previous ethnic and socio-political cleavages. But it is not a straightforward process, as the rejection of Chile's new draft constitution has demonstrated.
In places as varied as El Salvador, Hungary, Iran and Myanmar, governing elites are attempting to forge new, or reinvigorate old social contracts using various anti- democratic means. Iran and Myanmar are authoritarian regimes in search of self-preservation. Sometimes we refer to countries like El Salvador and Hungary as 'backsliding', a term that should not always be taken to mean a clean reversion to an earlier pre-democratic era; it can also mark a move towards a novel form of anti-democratic politics. We are not moving forwards and backwards along a single line of development, but exploring diverse possible political outcomes as autocracies and democracies contest our possible futures.
Democracy has the best chance of forging social contracts for the 21st century, which can meet the challenges of the future, particularly the fiendishly difficult task of protecting fundamental rights and the ecological balances on which the future of those rights and human life depends. Democracy must be reinvigorated—not because it needs to prevail in a presumed new Cold War era, but because it still offers the best chance of preserving what is needed for (and valuable in) human life. This is the true measure of success for democracies and societies in this day and age.
We are proud to present this report as part of International IDEA's contribution to the global debate on the fate and course of democracy. Much of the report focuses on the core place that democracy has in securing a sustainable and just future—and the fact that such a future is not foreordained but must be earned. In many places it is being earned in the hardest of ways. There are those who are, right now, demanding the rights and freedoms that democracy promises at immense personal risk. The people of Ukraine are resisting the brutal Russian invasion, women in Iran are standing up to a 40-year theocratic dictatorship, and the people of Myanmar refuse to accept a return to military rule. They are proving beyond a doubt that self- determination, freedom and democracy are universal aspirations. Many of them are paying the ultimate price for these aspirations. Many of them will have no other grave but our memory. We owe it to them to remember their struggles every day, to commit our steadfast support to their cause, and to make our work worthy of their sacrifice.
Kevin Casas-Zamora
Secretary-General, International IDEA
Acknowledgements
This report was conceptualized and written by the Democracy Assessment team at International IDEA, with inputs from the Regional Europe, Africa and West Asia, Americas and Asia and the Pacific programmes. It was produced under the supervision of Kevin Casas- Zamora, Massimo Tommasoli and Seema Shah and edited by Alistair Scrutton and Seema Shah. Alexander Hudson and Emily Bloom produced all the graphs in the report. Lisa Hagman oversaw the publication production process. Many thanks to Katherine Chapanionek, Sandor Adam Gorni, and Theodor Thisell for their invaluable assistance with fact checking, line editing and production of graphs.
Notwithstanding all the generous advice, help and comments received from external partners, International IDEA takes sole responsibility for the content of this report.
Introduction
At the end of 2022, the world is trapped beneath the weight of a multitude of old and new problems. There are myriad causes of political and economic instability, including the spiking prices of food and energy, ballooning inflation and an impending recession. These phenomena are occurring in the unstable context of continuing climate change, long unresolved inequality, the Covid-19 pandemic, declining standards of living (1) and the Russian war of aggression in Ukraine. Long-held assumptions have been shaken; post-truth narratives have jeopardized the legitimacy of credible electoral processes; and inter-state war—including the threat of nuclear attacks—has resurfaced.
Worryingly, the number of people who believe that democracy is the answer to these problems is shrinking. The Global State of Democracy's latest findings reveal a decline in and stagnation of democracy around the world. A close look at the data reveals that while many democracies have put in place the laws and infrastructure required to support democratic institutions, unequal access to those institutions is a serious and continuing problem.
Democratic institutions are especially critical in times of crisis and fear. They ensure open pathways for the information and communication that citizens and governments need to be able to act responsively and effectively. To rebuild and revitalize these institutions and to re-establish trust between people and their governments, it is necessary to develop new and innovative social contracts that better reflect the changing global environment and that meaningfully prioritize equal access to the mechanisms of participation.
Box 1 - What is a social contract?
Social contracts are implicit agreements about what governments provide their people in exchange for public legitimacy. They reflect an understanding of how people solve shared problems, manage risks and pool resources to deliver public goods, as well as how their collective institutions and norms operate. (2) The type of social contract that underpinned so much of the post-Cold War expansion of democracy is now under strain, and governments and their people must renegotiate the terms of their relationships. People's needs have evolved; basic economic and social security are still required, but new challenges have sparked a demand for different types of guarantees from the state.
For instance, education, social welfare and professional growth systems must adapt to new needs introduced by changing ways of working, different kinds of employment, and new technologies—and recognize the importance of the care economy and multiple forms of inequality (3). In an interconnected global context, (4) social contracts must be forward-looking to integrate protections against tomorrow's threats.
Renewed social contracts must also be grounded in equity. It is no longer enough for the state to provide opportunities; it must proactively design systems that facilitate access to those opportunities in ways that put traditionally marginalized groups at the centre while ensuring that there are protections in place to mitigate the creation of newly marginalized groups. New social contracts must establish mechanisms that mitigate toxic polarization within societies and mistrust between governments and their people by providing the structures and institutions necessary to develop and maintain shared citizenship.
New social contracts must address particular contexts (see Box 1). In Asia and the Pacific, ethno-nationalist parties are changing the face of what were once considered to be some of the most diverse societies in the world. Inequality—as seen through poverty, access to services, violence, corruption and climate change—cuts across these contexts and drives people's demands for change.
The Russian war of aggression in Ukraine has shaken Europe, forcing the region to rethink security considerations and deal with impending food and energy crises. It has also raised important questions about the very nature of European and western democracy, which has exhibited troubling double standards with regard to migration and the plight of refugees. These questions are all the more important in the context of the rise of parties that espouse nativist and xenophobic beliefs.
In Africa, decades of state capture by illiberal 'strong men' leaders (5) have resulted in serious democratic decline. Some leaders are resorting to desperate efforts to change constitutions and legal frameworks to help them maintain power. A growing number of young people are anxious for change and want leaders who are more responsive to their unique concerns. The ongoing war in Ethiopia, where there have been allegations of ethnocide, has bloodied the promise of democratic reform, which had been a hope as recently as 2019. In West Asia, authoritarian rule remains the norm, although social turmoil in places like Iran, Iraq and Lebanon may be evidence of public demand for new and more open societies as well as more accountable leadership.
A diverse set of new challenges, including toxic polarization and attacks on electoral management bodies, is confronting the Americas; Haiti has now joined Cuba, Nicaragua and Venezuela as an authoritarian regime. Three out of seven backsliding democracies are in this region, pointing to weakening institutions even in longstanding democracies.
This report provides an overview of the global and regional trends related to democracy and human rights, along with examples of efforts to reinvigorate social contracts around the world. It ends with a set of policy recommendations designed to help policymakers seeking to catalyse democratic reform.
Democracy in retreat, social contracts under pressure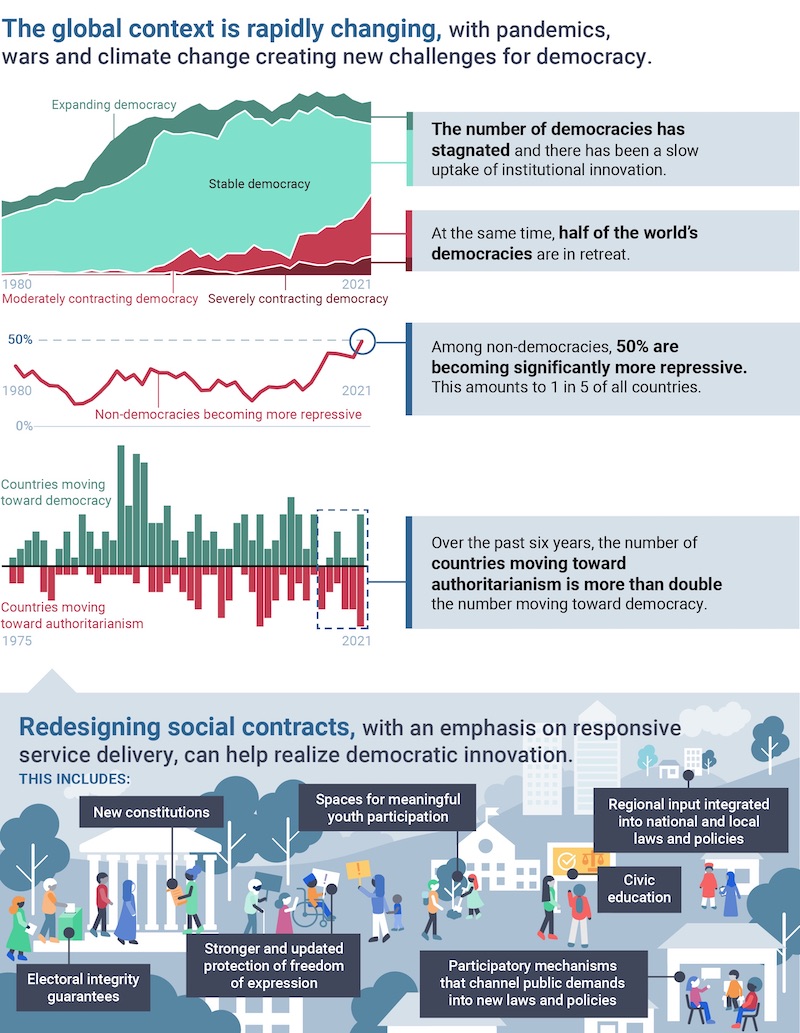 Chapter 1 - Global trends
Global democracy, already under increasing threat over the last few years, approaches the end of 2022 with multiple tipping points on the horizon—a cost of living crisis, an impending global recession, and recent wars in places as diverse as Ukraine and Ethiopia. Democracies are struggling to effectively bring balance to environments marked by instability and anxiety, and populists continue to gain ground around the world as democratic innovation and growth stagnate or decline.
There are troubling patterns even in countries that are doing relatively well, performing at middle to high levels of democratic standards and not backsliding (Figure 3).
Over the last five years, progress has stalled across all four aggregated Global State of Democracy Indices (GSoD Indices) attributes. In some cases, scores are the same as they were in 1990.
The stagnation exists in parallel to democratic decline elsewhere. The number of backsliding countries (seven) remains at its peak, and the number of countries moving towards authoritarianism is more than double the number moving towards democracy. As of the end 2021, nearly one half of the 173 countries assessed by International IDEA are experiencing declines in at least one subattribute of democracy.
Box 2 - The Global State of Democracy measurement methodology
The Global State of Democracy Indices (GSoD Indices) measure aspects of democracy and human rights that have been central to International IDEA's work for more than two decades. While some primary data collection is conducted within International IDEA, the majority of the input data for the GSoD Indices are derived from 12 other publicly available data sources, with a total of 116 input variables.
The indices are hierarchically organized. At the lowest level are specific phenomena (such as Freedom of Expression or Personal Integrity and Security) that we call subcomponents. These are combined into measures of broader subattributes (such as Civil Liberties or Clean Elections). Finally, the subattribute indices are aggregated into our broadest measures—the attributes of democracy. Each index is scaled to range from 0 to 1; the boundaries are set by the best and worst observed values across all country years. The GSoD Indices do not include a singular value for democratic quality, or any ranking of countries. Their primary utility is found in the specific indices, which can be used to track progress over time within countries, and to compare between them.
To group countries for analytical purposes, the GSoD Indices also classify countries into three political regime types—democracy, hybrid regime or authoritarian regime. Democracies are defined as regimes that hold elections that meet minimal standards of meaningfulness, competitiveness and suffrage. Hybrid regimes perform at a mid-range level or higher in Representative Government but do not meet this electoral standard.
Within the category of democracies, the GSoD Indices also include differentiations in overall performance to help group countries for analytical purposes. These classifications are based on performance levels within the five attributes of democracy. For each attribute, we classify countries as high (at least 0.7), mid-range (0.4 to 0.69), or low (0.39 and below) performing based on their attribute values. Countries that are high performing on all attributes are called 'high- performing democracies'; those that miss this high bar are called 'mid-range performing democracies', and those that are low performing on at least one attribute are called 'low- performing democracies'.
The GSoD Indices also take significant changes over time into account. Countries that are experiencing the most severe declines in democratic quality are classified as experiencing democratic backsliding. We assess backsliding with particular reference to declines in Checks on Government, Civil Liberties, and Clean Elections. Countries that have declined by more than 0.1 on the average of these three critical indicators are coded as experiencing democratic backsliding.
Figure 1 - The Global State of Democracy framework
Figure 2 - Regime classification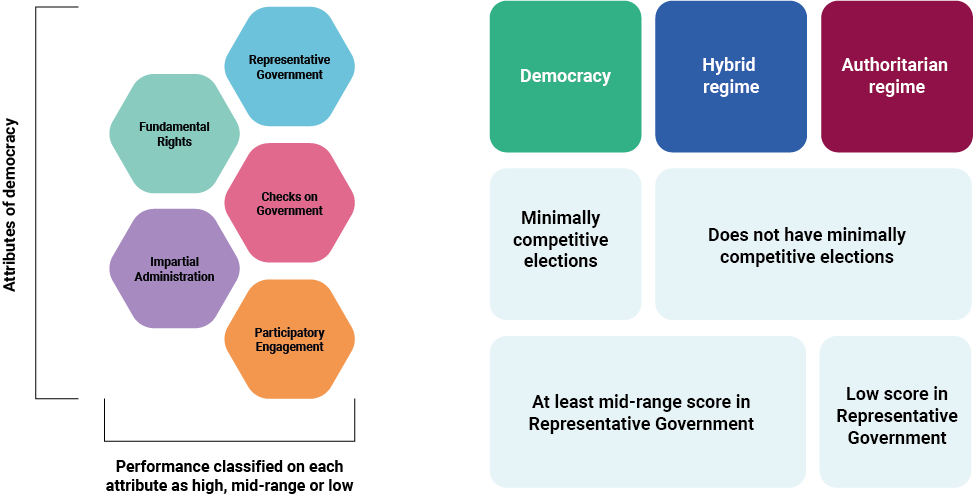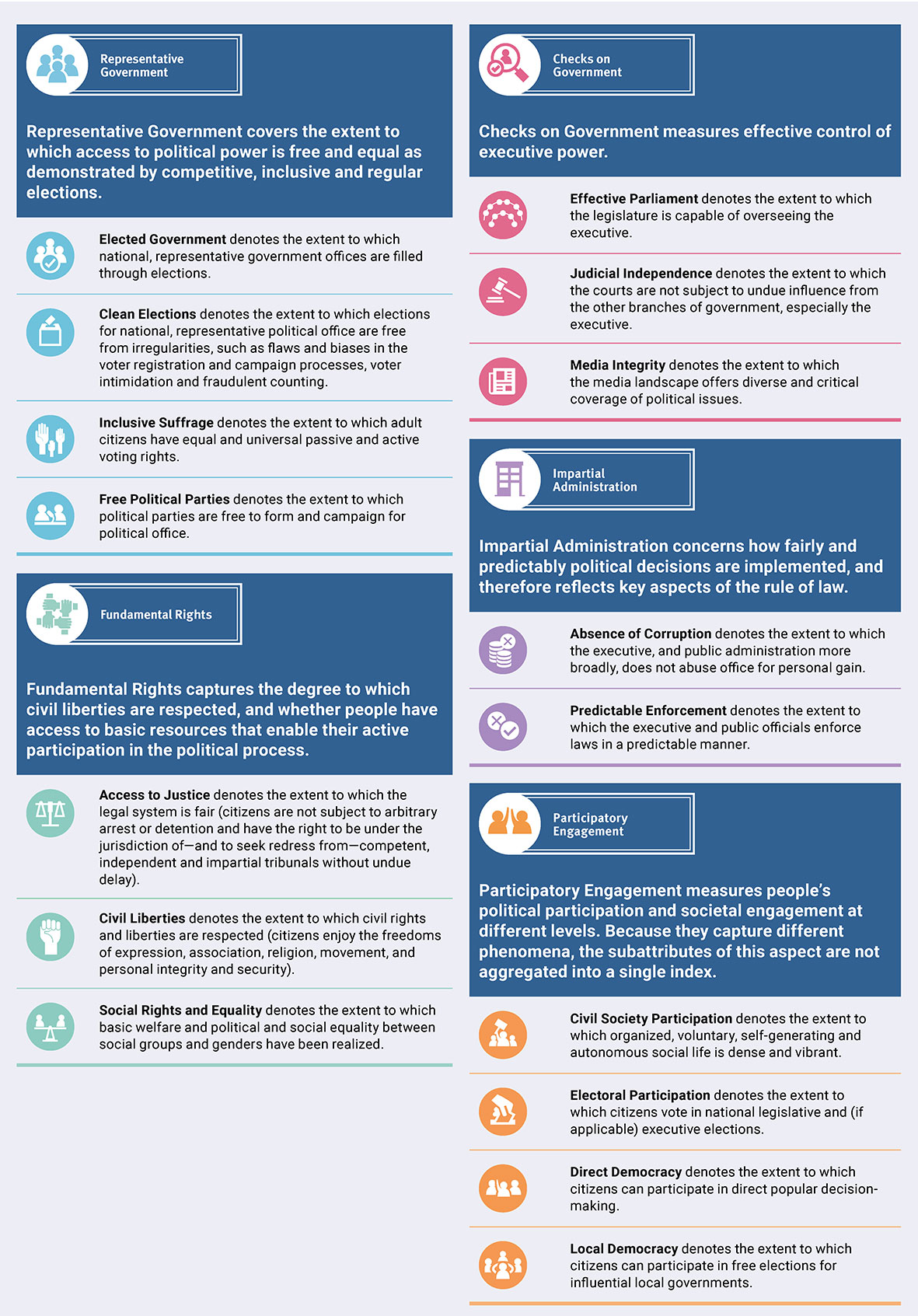 Figure 3 - Expansion and contraction of democracies over time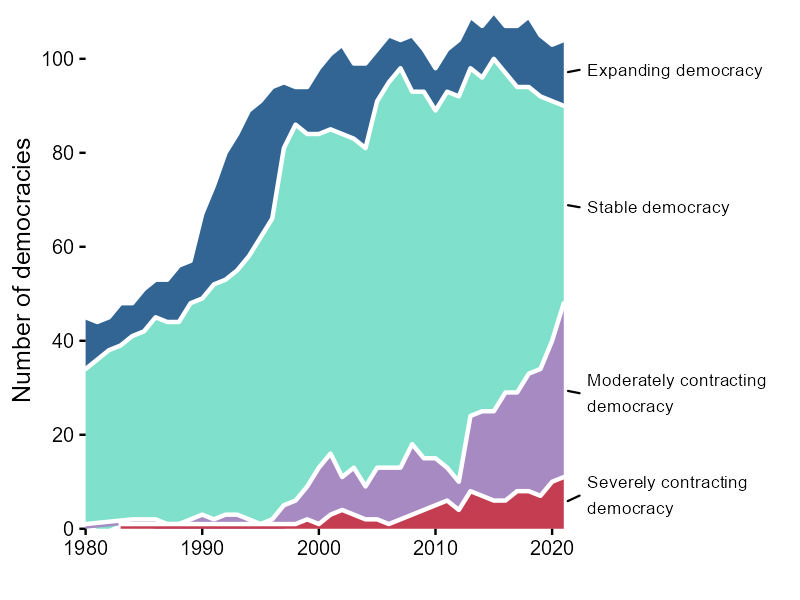 Notes: This graph illustrates both the total number of democracies and their status. For 2021, it illustrates that there are a total of 104 democracies. Of those,14 are 'expanding democracies', meaning they have experienced positive and significant changes in a net count of at least two subattributes (out of 16). Forty-two more democracies are 'stable', meaning that the net counting of positive versus negative subattributes is zero or one. However, 37 democracies are classified as 'moderately contracting', meaning they have a net negative count of one or two subattributes. The democracies of greatest concern are the 11 that are classified as 'severely contracting', which have a net negative of three subattributes or more.
Source: International IDEA, The Global State of Democracy Indices v. 6.1, 2022, <https://www.idea.int/gsod-indices>, accessed 24 October 2022.
Given these trends, increasing public frustration is understandable. The number of protests around the world more than doubled between 2017 and 2022, sparked by a wide range of issues. (6) One of the most striking examples has been in Sri Lanka, where protesters took to the streets in mid-2022 to demand accountability for the government's debt default and eventually forced the president's flight and resignation (see Box 7). While people's ability and willingness to publicly protest is a sign of functioning democracy, it is also a warning. Governments' failure to effectively respond could damage the legitimacy of the democratic model. The World Values Survey (which covers 77 countries) demonstrates that less than half (47.4 per cent) of all respondents believe democracy is important, down from 52.4 per cent in 2017. This is a worrying drop, especially since less than half believe that having a democracy is 'very good'. (7)
At the same time, confidence in democratic government is dropping. Survey data indicate that the proportion of people who agree with the idea that having a strong leader who does not have to bother with parliament or elections has been consistently growing in recent years. In 2009, the World Values Survey reported that only 38 per cent of respondents thought this idea was fairly good or very good. In 2021, that figure had risen to 52 per cent (Figure 4).
General declines and stagnation are not the only problem, though. Russia's war in Ukraine has catapulted the idea of democracy into the international spotlight. The war demonstrates just how threatening democratic growth can be to authoritarian regimes, and it has resurfaced the Cold War-era divide between a relatively united democratic community and authoritarian regimes. (8) The threat that democratization poses to authoritarians also highlights how critical it is to ensure that democracies have the internal and external support they need to weather crises. This is one reason why it is alarming to see many donor countries cut back on development aid, which often includes democracy assistance. (9)
Non-western democracies' relative unwillingness to strongly condemn Russian President Vladimir Putin reveals deep divisions. Some regimes view the western outcry in support of democracy as somewhat hypocritical, especially in light of multiple past instances of western aggression. (10) Western calls for support for democratic ideals also starkly contrast with racist responses to refugee flows, and the clear difference in attention to the plight of Ukraine compared to other longstanding, deadly wars. (11)
Figure 4 - Public opinion on autocratic leadership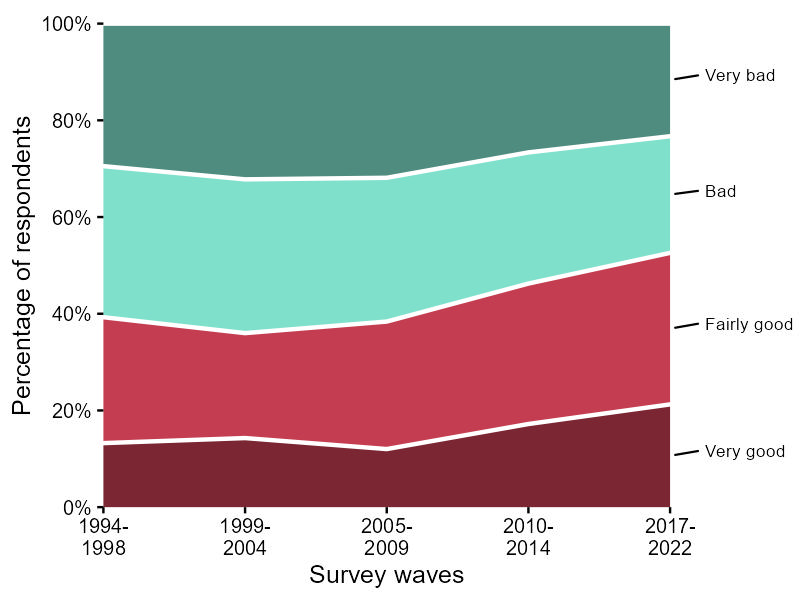 Notes: The figure plots responses to the World Values Survey question: 'Would you say that "having a strong leader who does not have to bother with parliament and elections" is a very good, fairly good, fairly bad or very bad way of governing this country?'
Source: R. Inglehart, C. Haerpfer, A. Moreno, C. Welzel, K. Kizilova, J. Diez- Medrano, M. Lagos, P. Norris, E. Ponarin and B. Puranen (eds), World Values Survey: All Rounds—Country-Pooled Datafile Version 3.0, Madrid, Spain and Vienna, Austria: JD Systems Institute and WVSA Secretariat, 2022, <https:/www.doi.org/10.14281/18241.17>.
1.1. GLOBAL PATTERNS
The latest GSoD Indices data show that democracy is in decline, compounding a decade marked by more deterioration than democratization. First, between 2016 and 2021, the number of countries moving towards authoritarianism was more than double the number moving towards democracy (Figure 5). During that time, 27 countries experienced a downgrade in their regime classification, while only 13 improved. The world also lost two more democracies in 2021—Myanmar and Tunisia. Moreover, 52 democracies are now eroding, experiencing a statistically significant decline on at least one subattribute—compared to only 12 a decade ago.
Figure 5 - Net movements towards and away from democracy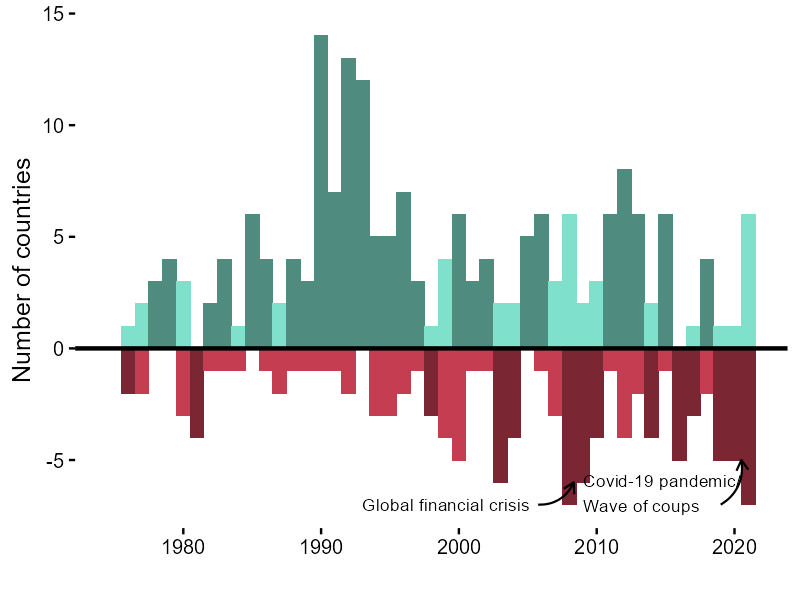 Notes: This bar graph shows the number of countries moving towards authoritarianism (from democracy to either a hybrid or authoritarian regime, or from a hybrid to an authoritarian regime) in red or towards democracy (from either a hybrid or authoritarian regime to a democracy or from an authoritarian to a hybrid regime) in green, by year since 1975. Years shown in dark green rather than pale green are those where the number of countries moving in a democratic direction outnumbers those moving in an authoritarian direction. Years shown in dark red rather than pale red are those where the changes towards authoritarianism outnumber the changes towards democracy.
Source: International IDEA, The Global State of Democracy Indices v. 6.1, 2022, <https://www.idea.int/gsod-indices>, accessed 24 October 2022.
Second, backsliding, which refers to a more severe and deliberate kind of democratic erosion, continues to mar democracies' trajectories; the latest data show seven backsliding countries. Brazil, El Salvador, Hungary and Poland are severely backsliding, and India, Mauritius, and the United States are moderately backsliding (Figure 6). This pattern, which reveals how common it has become for elected leaders to use their power to weaken democratic institutions from inside the system, indicates the fragility of democracy and the need to shore up institutions so they can withstand such pressures, especially in times of crisis.
Figure 6 - Trends over the past five years in backsliding countries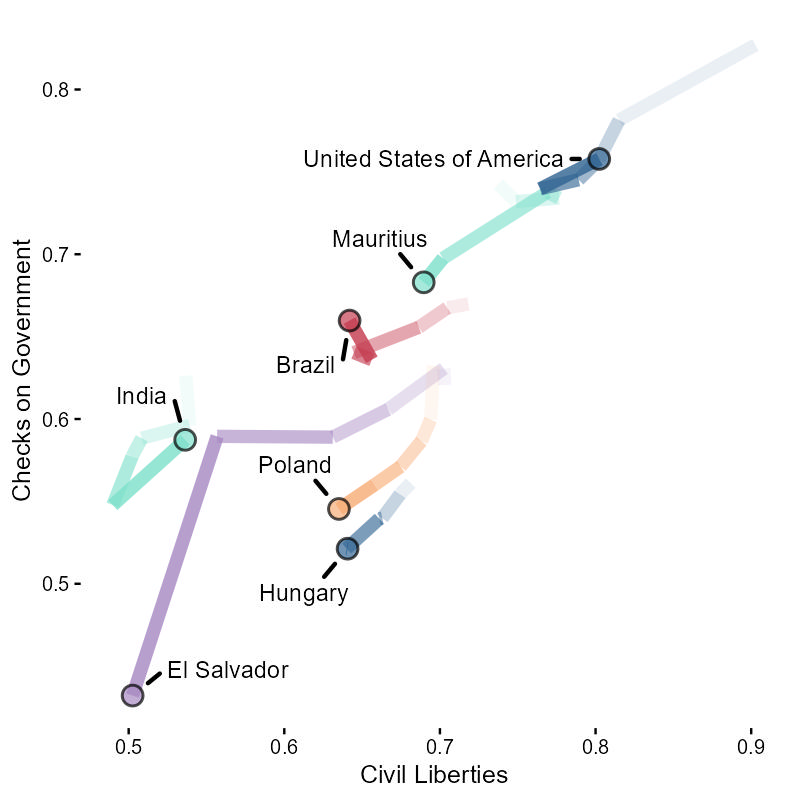 Notes: Points at 2021 values and traces back to 2016.
Source: International IDEA, The Global State of Democracy Indices v. 6.1, 2022, <https://www.idea.int/gsod-indices>, accessed 24 October 2022.
Figure 7 - Declining performance among authoritarian regimes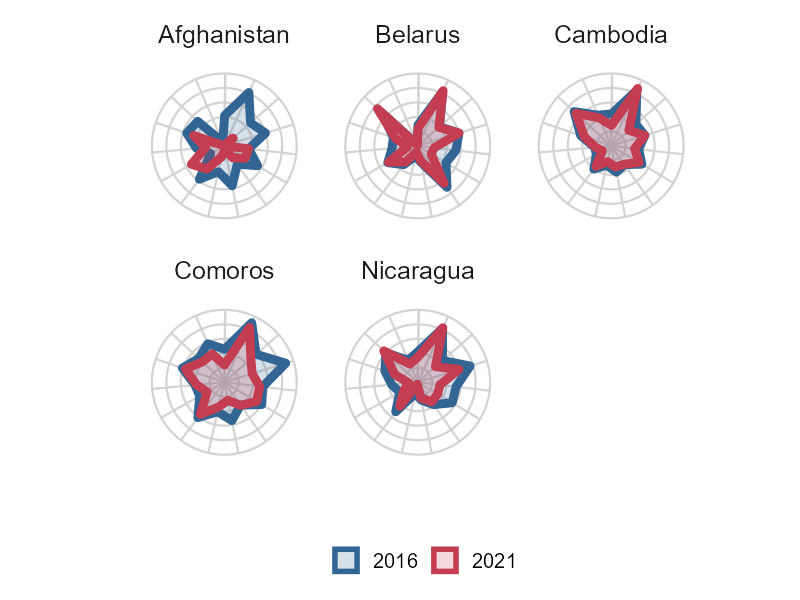 Source: International IDEA, The Global State of Democracy Indices v. 6.1, 2022, <https://www.idea.int/gsod-indices>, accessed 24 October 2022.
Third, authoritarianism continues to deepen. Almost half (49.3 per cent) of all authoritarian regimes are declining in at least one subattribute. Afghanistan, Belarus, Cambodia, Comoros and Nicaragua have experienced a broad decline across multiple GSoD Indices subattributes (Figure 7). The Clean Elections and Effective Parliament subattributes are the most commonly impacted across these cases, suggesting that even maintaining the façade of elections is a struggle.
Fourth, democracy does not appear to be evolving in a way that reflects quickly changing needs and priorities. There is little improvement even in democracies that are performing at mid-range or high levels. The global scores for Representative Government, Fundamental Rights and Checks on Government are exactly the same as they were in 2001, continuing at the same mid-level range of performance (Figure 8). Impartial Administration and Civil Society Participation have also remained essentially static.
Figure 8 - World averages for attributes of democracy
Source: International IDEA, The Global State of Democracy Indices v. 6.1, 2022, <https://www.idea.int/gsod-indices>, accessed 24 October 2022.
The Covid-19 pandemic and Russia's war in Ukraine have highlighted the stark inequality between and within countries, and the public are frustrated. Even countries that are doing well, and even in the wake of crises, democracies are not necessarily growing or developing better or more broadly, or creating more innovative institutions and mechanisms.
Chapter 2 - Regional trends
2.1. AFRICA AND WEST ASIA
Key findings
Despite myriad challenges, Africa remains resilient in the face of instability. Countries including The Gambia, Niger and Zambia continue to improve in democratic quality. Overcoming a restricted civic space, civic action in several countries has created opportunities to renegotiate the social contract; outcomes have varied by country.
In West Asia, more than a decade after the Arab Uprisings, protest movements continue to be motivated by government failures in service delivery and economic opportunities—key aspects of social contracts. In response, disillusioned and excluded youth have mobilized, and their demands for a seat at the table highlight their political consciousness and vital role as drivers of political change and better governance.
Some resource-rich authoritarian regimes that have survived by distributing the economic benefits of hydrocarbon sales have come under scrutiny. There is evidence that people want more accountability and a reform of what have been limited obligations to provide public goods and social welfare.
Coups d'état and unconstitutional transfers of power have transformed Burkina Faso, Chad, Guinea and Mali into new frontiers of instability, but they are only the most striking examples in a general picture of declining regime performance across a number of countries in sub-Saharan Africa.
2.1.1 Introduction
Africa and West Asia (also known as the Middle East) is a key area of contestation between democratic and autocratic approaches to politics. Legacies of colonization remain politically and economically relevant, as many national economies are built on the extraction and export of raw materials—a dynamic that has hampered political and economic progress.(12) Yet, the systems of governance that developed after independence are being increasingly contested.
Systems of governance (and the social contracts they enforce) vary widely across this diverse group of countries. However, they can be broadly grouped into two types, one dominant in sub-Saharan Africa and the other dominant in North Africa and West Asia. In the former, extractive institutions were developed in the colonial period that concentrated political power and material gains first in foreign hands, and then among a new local elite. (13) This political class then used the distribution of some of these gains to cultivate support for the legitimacy of the system. Such institutions have tended to persist. This centralized relationship between the provision of resources and the legitimacy of the system of governance is often termed neopatrimonial. (14) A patrimonial social contract is not necessarily counter to democracy, since reciprocity can be legitimate. (15) However, institutions in many states have developed in a way that has limited accountability and maintained high levels of inequality.
In recent years, several countries have experienced opportunities to renegotiate these social contracts with varied success. Large mobilizations questioning the legitimacy and authority of governments have occurred in 2021 and 2022 in Eswatini, (16) Ghana, (17) Libya (18) and Sudan, (19) among other countries. The combination of young populations, economic challenges and ethnically- driven politics raises the stakes for changes in social contracts.
Several countries in Africa have experienced major changes in their democratic performance over the past year—for good and for ill. The continent is key to the future of the planet, as it is home to countries with the fastest rates of population growth, (20) and many of those most exposed to the effects of climate change. (21) It is also increasingly important geostrategically, as various African countries supply rare-earth minerals, oil and natural gas, and agricultural land that are coveted by powerful states in other regions. The increasing relevance of these resources, as well as the resurgence of coal exports in response to the global energy crisis, (22) may pose new challenges for democratic consolidation, as external involvement in domestic politics may increase alongside foreign economic interests.
Somewhat differently, social contracts across much of North Africa and West Asia depend on a rentier economy, in which the state is primarily funded through the sale of raw materials (chiefly hydrocarbons). (23) While rent seeking may also characterize neopatrimonialism, the extent to which rents from resource extraction fund the state is a distinguishing feature between the two models. (24) Rentier systems impede democratic development because they undermine the reciprocal relationships of rights and duties that enable accountable governance. As long as the government is able to provide sufficient economic benefits to the people, rentier states can be relatively stable—even if they are almost always authoritarian.
In West Asia, authoritarian leaders are still dominant a decade after the Arab Uprisings, partly because of the rentier model. Oil revenues have provided a substitute for democracy in the oil-exporting countries in West Asia, where rent distribution has secured the legitimacy of authoritarian regimes. Some countries in the region— such as Bahrain, Kuwait, Oman, Qatar, Saudi Arabia and the United Arab Emirates—have never experienced democracy and rely on their oil and gas assets and geopolitical location to sustain their power.
2.1.2. Trends in West Asia and North Africa
West Asia and North Africa continues to be the most authoritarian region in the world, with only three democracies—Iraq, Israel, (25) and Lebanon. Five countries are hybrid regimes (Jordan, Kuwait, Libya, Morocco and Tunisia), and 12 countries (60 per cent) are authoritarian. Several countries in the region have experienced declines in political institutions and rights protections since 2020, including Iran, Palestine, Sudan and Tunisia. As of 2021 only 11 per cent of the population of North Africa and West Asia were living in a democracy, and 14 per cent were living in a hybrid regime; the vast majority of people in the region (75 per cent) were living in an authoritarian regime (Figure 9).
Figure 9 - Population under regime types in North Africa and West Asia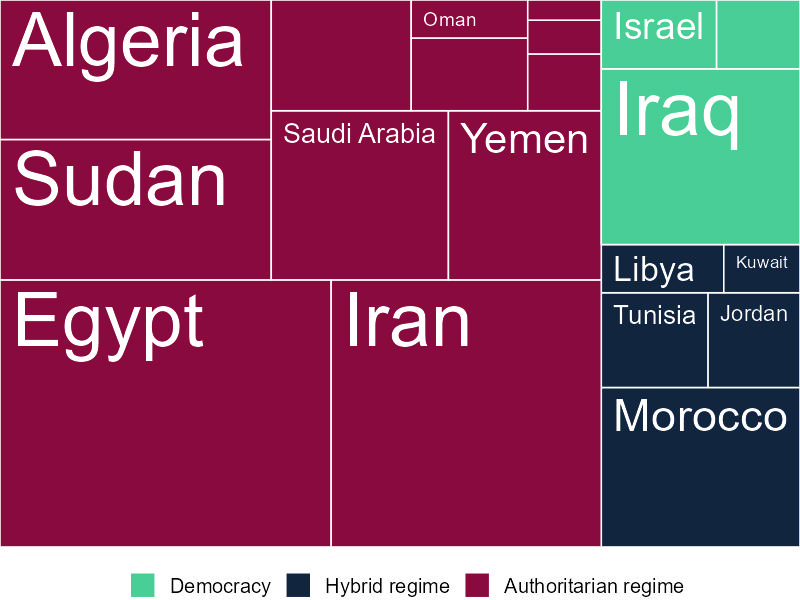 Notes: The size of the box indicates population size.
Source: International IDEA, The Global State of Democracy Indices v. 6.1, 2022, <https://www.idea.int/gsod-indices>, accessed 24 October 2022.
United Nations, Department of Economic and Social Affairs, Population Division, World Population Prospects, Online Edition, 2022, <https://population.un.org/wpp>, accessed 24 October 2022.
Two of the democracies, Lebanon and Iraq, remain fragile and suffer persistently low (and declining) performance. Amid these challenges to democratic consolidation, attempts to reform the political system through electoral means provide grounds for cautious optimism. The parliamentary elections that took place on 10 October 2021 (Iraq) and 15 May 2022 (Lebanon) were influenced (and in the case of Iraq directly triggered) by movements that were driven by dissatisfaction with the quality of social justice, control of corruption and public services. Although established parties in both countries maintained their dominance, the elections gave life to new movements that have the potential to grow in future elections. (26) In Lebanon, independent candidates opposed to the political establishment also made breakthroughs. (27)
In Iran, the legitimacy of the social contract seems to be fading. (28) The 2022 protests were sparked by the immediate issue of women's rights, but they have broadened in scope and highlight how demands for change are manifested even in repressive contexts. The case of the World Cup in Qatar highlights the international linkages that arise in some repressive contexts, as foreign workers who protested to demand their wages were deported, (29) and the foreign football teams who will participate in the tournament have struggled to find an effective approach to support the workers. (30)
Figure 10 - Representative Government scores across West Asia and North Africa in 2021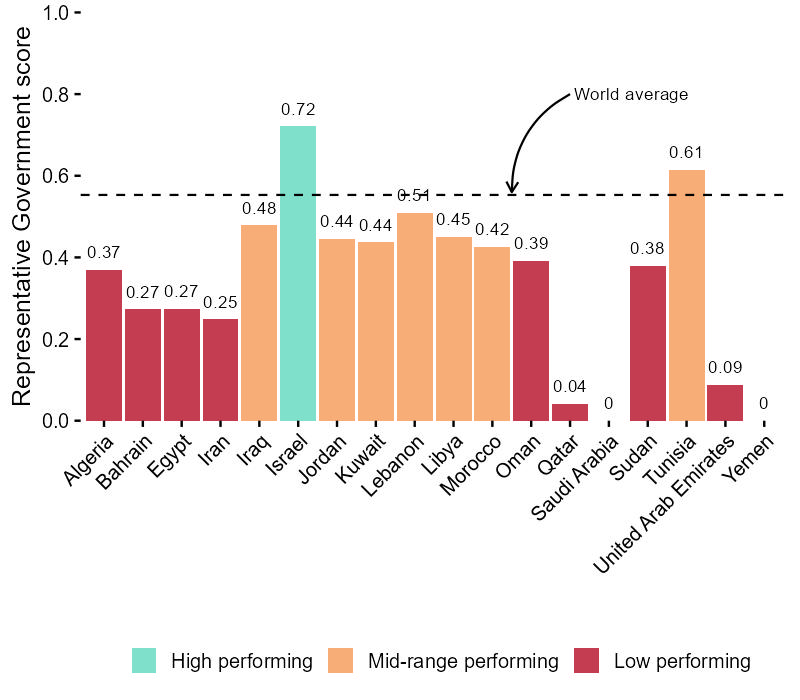 Source: International IDEA, The Global State of Democracy Indices v. 6.1, 2022, <https://www.idea.int/gsod-indices>, accessed 24 October 2022.
For a decade, Tunisia was the major success story from the Arab Uprisings. The protests that led to the overthrow of the Ben Ali regime's 23-year reign in 2011 were driven by a widespread rejection of the social contract. The 2014 Constitution created a new social contract through an inclusive and participatory process, enshrining several socio-economic rights, including the right to decent working conditions and a fair wage. Yet the economy continued to decline. In the midst of a Covid-induced economic crisis and a loss of confidence in political parties, (31) President Saied suspended (and then dissolved) the parliament and a significant portion of the Constitution in 2021 and 2022. (32) This effectively suspended democracy in Tunisia; the GSoD Indices reclassified it as a hybrid regime. A new constitution, drafted in 2022 under Saied's control and in violation of the rules for constitutional amendment, significantly weakened the legislature and judiciary, concentrating power in the presidency. (33) Tunisia's December 2022 parliamentary election will be a key test of the degree to which the new constitutional order can support democracy.
Box 3 - Renegotiating the social contract in Iraq
Democracy in Iraq has endured turbulent years. Anti- government protests and political turmoil illustrate the growing disconnect between citizens and public institutions. A deteriorating economy caused by a fall in oil prices and the effects of Covid-19 has increased public disillusionment. (34) Iraqis have grown increasingly tired of the state's inability to deliver services and development. As a result, Iraqis took to the streets in October 2019. The cross-sectarian and national uprisings, known as the Tishreen protest movement, emphasized widespread discontent with ruling elites and deep distrust in the state and its institutions. (35)
The protests, driven by youth, called for the government to step down and an end to the current consociational power- sharing system, which they claim reduces representatives' accountability. (36) Trust in the country's political system is among the lowest in the region, and corruption perceptions are among the highest. (37) Iraq's consociational system has enabled the expansion of corruption and patronage networks of the ruling ethno-sectarian parties. (38) A clientelist system evolved based on sharing the country's oil wealth, serving elite interests at the expense of the citizens. With one of the youngest populations in the world, where nearly 60 per cent are under the age of 25, Iraq's post-2003 patronage networks have excluded an increasing proportion of the population.
The effects of the Tishreen movement still reverberate two years later as the grievances remain, and young people continue to be excluded from the decision-making process. Reimagining a new social contract will be a long-term process involving comprehensive political and economic reform that includes genuine opportunities for the youth to be heard and help improve the country's situation. Short-term responses can provide alternative venues to address some of the protestors' demands within the current government structures. Two Baghdad-based think tanks provide cases that suggest possible pathways for inclusive and resilient social contracts.
The Al-Bayan Center for Planning and Studies supports youth activism and mechanisms to channel social protest through several initiatives to increase political awareness, engage with civil society and create avenues for representation to ensure their voices are heard by the political elite. A dedicated series of skill development and entrepreneurial training programmes provide better economic opportunities. Al Bayan's work promotes the political, social and economic inclusion of youth in Iraq in an effort to restore hope and a sense of belonging. (39)
The Rewaq Baghdad Center is working towards creating cultural and behavioural shifts in the political class, as well as improving citizen–state relations in Iraq. (40) It works closely with parliament to offer a wide range of knowledge products and policy assistance to improve legislation. It launched a mobile application ahead of the October 2021 elections, designed to reinforce citizens' participation in the decision- making process and innovating democracy mechanisms. (41) The first of its kind in the country, the online tool allowed voters to engage in dialogue with candidates. Given young people's proclivity to use information and communications technology tools and platforms, the application provided an incentive for Iraqi youth to participate, benefiting more than 100,000 users.
2.1.3. Trends in sub-Saharan Africa
The situation in sub-Saharan Africa has been much more dynamic (Figure 11). Free and fair elections in Niger and Zambia have allowed both countries to be reclassified as democracies. Zambia held a credible general election in 2021 in which the defeated presidential incumbent swiftly conceded. (42) Niger's transition has been more difficult. Its 2021 election marked the country's first peaceful transition of power as President Mahamadou Issoufou stepped down after two five-year terms and was replaced by Mohamed Bazoum, who won the second round of the election.
However, opposition parties made allegations of fraud, (43) and a coup attempt was put down a few days before the presidential inauguration. (44)
The share of the region's population living under democracy has declined over the last five years. As of the end of 2021, only 27 per cent were living in a democracy—equal to the share living in an authoritarian regime. After the change in Nigeria from democracy to hybrid (in 2019), the plurality of the region's population (45 per cent) now lives in a hybrid regime.
Figure 11 - Population under regime types in sub-Saharan Africa
Notes: The size of the box indicates population size.
Source: International IDEA, The Global State of Democracy Indices v. 6.1, 2022, <https://www.idea.int/gsod-indices>, accessed 24 October 2022.
United Nations, Department of Economic and Social Affairs, Population Division, World Population Prospects, Online Edition, 2022, <https://population.un.org/wpp>, accessed 24 October 2022.
Three countries that stand out as having declined in their performance have experienced coups d'état or unconstitutional changes of government—Chad, Guinea and Mali (Figure 12).45 Benin, Central African Republic, Comoros, Mauritius and Nigeria have demonstrated broader declines in performance. Common themes in countries in the region that are experiencing democratic decline are the restriction of civic space (46) and the manipulation of elections and term limits to serve the interests of those with (ongoing or prospective) presidential ambitions. The GSoD Indices show that Civil Liberties have significantly declined in eight African countries over the last five years.
The Gambia is the continent's main success story over the past five years; it has dramatically improved its democratic performance. Since Yahya Jammeh was defeated in the 2016 presidential election, the country has improved on almost every indicator measured by the GSoD Indices. These advances reflect the vision of the country's National Development Plan—a new social contract for Gambians that aims to deliver good governance, national reconciliation, improved social cohesion and an inclusive economy. (47) Its implementation has involved a transitional justice process, security sector reform and a constitutional review. (48) Kenya's 2022 election is another success story (see Box 4).
Figure 12 - Change in average score across subattributes of democracy (2016–2021), selected countries in sub-Saharan Africa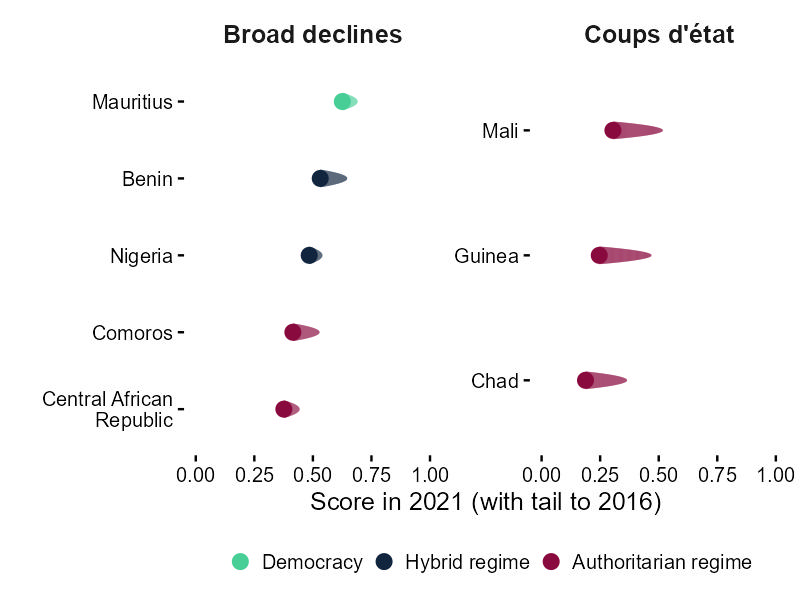 Notes: Points denote current values; tails extend back to 2016.
Source: International IDEA, The Global State of Democracy Indices v. 6.1, 2022, <https://www.idea.int/gsod-indices>, accessed 24 October 2022.
Box 4 - Kenya's 2022 election
The 2022 Kenyan election was broadly assessed as credible and largely peaceful, and ethnicity was less salient than in past years. (49) However, other unresolved issues, both old and new, present an ambiguous case for the country's democratization trajectory. The public fracturing of the Independent Electoral and Boundaries Commission (IEBC) over the validity of the official result highlights the difficulty of achieving a fully independent electoral process. (50) More broadly, the election was met with widespread voter apathy (especially among younger voters), (51) and turnout was only 64.8 per cent (Figure 13). (52) However, the election moderately increased women's representation to 21 per cent of the legislature, though this remains far below the one-third target set by the Constitution. (53) It was also lauded for increased transparency, due to the use of a publicly accessible online results portal and the IEBC's memorandum of understanding with media houses to announce the results from polling stations. The successes of the 2022 election should be celebrated, but much work remains to be done.
Figure 13 - Voter turnout in Kenya (1992–2022), presidential elections
Source: International IDEA, The Global State of Democracy Indices v. 6.1, 2022, <https://www.idea.int/gsod-indices>, accessed 24 October 2022.
Box 5 - Social contract renewal in Uganda
Uganda has one of Africa's youngest populations yet one of its oldest leaders. President Museveni has ruled for 36 years—his is an increasingly authoritarian and sclerotic regime that is failing to meet Ugandans' growing democratic aspirations58 and basic socio-economic needs.59 Yet the prospect that this aspiration– reality gap will precipitate a renewal of the social contract is currently remote, and is likely to remain so until Ugandans can agree on a shared vision for the future. Such a convergence requires pro-democracy activists to be able to effectively counter the regime's polarizing narrative, in which it presents itself as the guarantor of stability and growth and its critics as being in the service of foreign powers. (60)
It is not for a lack of alternatives that this narrative has prevailed, but rather the Museveni regime's ability to limit Ugandans' exposure to these accounts. Since the introduction of multiparty elections in Uganda in 2005, opposition party voices have been among the loudest calling for a new democratic dispensation. Yet by starving such parties of funding, shutting them out of rural areas, repressing their activists and restricting their access to the media, the regime has ensured that their voices reach only a fraction of their intended audience. (61) The 2021 general elections were an inflection point in this regard. The regime deployed these tactics with an unprecedented level of violence, particularly against the National Unity Platform (NUP) party; its governance reform agenda and popular leader, the musician-turned-politician Bobi Wine, had helped it galvanize Uganda's urban youth. (62) In response to this escalation, the NUP has sought to strengthen its capacity to disseminate its message across the country through the construction of a network of mobilization committees, known as Kunga Committees. (63) The new committees' ability to compete with the deeply embedded structures of the Museveni regime and to withstand its repression remains to be seen.
While generally less confrontational than the pro-democracy opposition parties, Uganda's civil society has historically been a source of ideas and practices that challenge the country's authoritarian trajectory. The regime has increasingly come to view them as a threat to its power. Using methods similar to those deployed against opposition parties, it has hollowed out civil society's democracy sector, forcing organizations to close or to engage in less overtly political work. (64)
As demographic and economic factors push Ugandans into an ever more conflictual relationship with Museveni's militarized regime, the need for a responsive democratic social contract has become urgent. However, those striving to bring it about have been left muzzled and despondent.
Box 6 - South Africa's young climate policymakers
As the demographic that will be hardest hit by continued global warming, the world's youth have the greatest stake in the unfolding climate crisis. (65) Yet despite their widespread advocacy on the issue, young people have largely been excluded from climate policymaking. (66) In South Africa this is beginning to change.
The most visible sign of this progress has been the recent presence of official youth delegates among the country's delegations to the United Nations Climate Change Conferences of the Parties (COPs). (67) Independent of the government, they are mandated to represent the views of young South Africans at the negotiations. The delegates are selected from a growing pool of young climate activists with both a sophisticated understanding of climate change and the skillset needed to effectively participate in high-level policymaking. The South African Institute of International Affairs (SAIIA) has cultivated a youth-run network of organizations and activists that convenes to draft climate policy documents which articulate its members' perspectives and priorities. (68) Stakeholders regard these documents as authoritative representations of the youth voice and useful tools for shaping climate policy. Young activists have also been involved in formulating government climate policy: several worked on the City of Johannesburg's 2021 Climate Action Plan.
Youth participation in such policymaking and influencing is a marked departure from the situation in South Africa a decade ago, when young voices were absent from climate policy spaces. Desirée Kosciulek, the Head of Youth Programmes at SAIIA, characterizes this progress as being youth driven but credits the South African Government with being a responsive partner. She notes its willingness to increase the number of official youth delegates to the COP from one to three and to adapt policy processes to meet the needs of young participants (e.g. scheduling meetings outside of school hours and covering transport costs).
Having secured a seat at the table, the next challenge for South Africa's youth (and other stakeholders) is to ensure that their participation in climate policy processes is meaningful. For Kosciulek, the first step will be to define what meaningful participation is, but she is clear that it is not one-off or tokenistic engagement.
2.1.4. Conclusion
Across Africa and West Asia, social contracts are likely to come under increasing strain in the short to medium term as the broader effects of Russia's invasion of Ukraine drive food and energy costs up—though the effects will vary between energy-exporting and -importing countries. Many countries are also facing increasing borrowing costs as a result of higher interest rates and the strengthening of the US dollar. These challenges must be addressed in a context of longstanding problems with youth unemployment, poverty and inequality. (54) Generational change in politics could also play a role in some African countries, as the already fragile legitimacy of ageing autocrats will be further tested by demands from a young population for better economic outcomes, and more freedoms in politics and culture. (55)
Longer-term dynamics that may disrupt these rentier social contracts include continuing youth unemployment (Figure 14) and the green energy transition. The UN recently estimated that 33 million jobs will need to be created across North Africa and West Asia by 2030 to keep up with the growth in the youth population. (56) Similar dynamics apply in Africa more generally. The failure to deliver such jobs could generate pressure for change. Looking further ahead, decarbonization may threaten oil-exporting states' ability to fund social programmes at current levels.
Several important elections are scheduled for 2023, including a general election in Nigeria and a legislative election in Benin. Both countries' democratic performance has declined since 2019, but they have an opportunity to reverse that trend in 2023. Sierra Leone will also hold elections for the president and parliament next year, hoping to build on recent improvements in democratic performance. While the situation in Libya remains unpredictable, it is possible that a new constitution will be drafted and national elections organized in 2023.
Demand for democracy remains high in the region, but satisfaction with democratic performance is low. (57) How that gap is addressed will be determinative for many countries in the next five years.
Figure 14 - Unemployment rate among job-seeking youth (15–24) in Africa and West Asia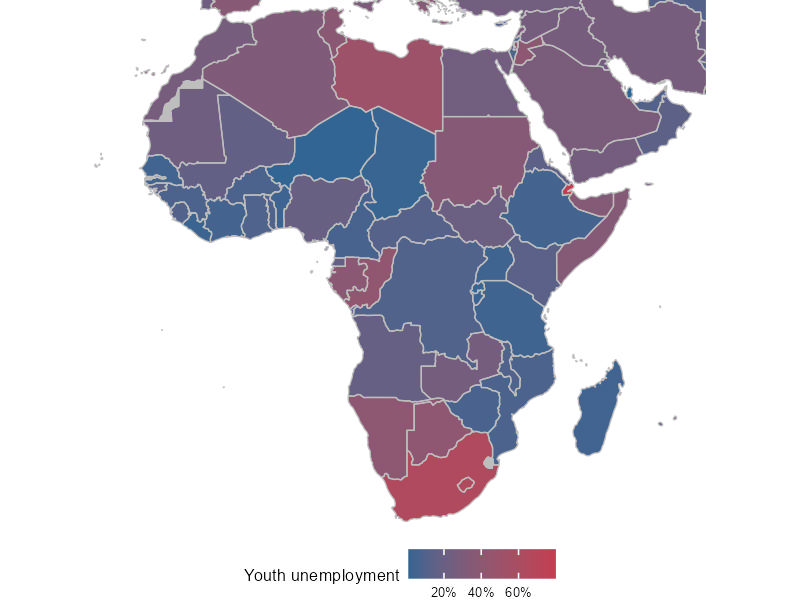 Source: International Labour Organization, ILOSTAT database. Data as of June 2022, <https://data.worldbank.org/indicator/SL.UEM.1524.ZS>, accessed 15 June 2022.
2.2. ASIA AND THE PACIFIC
Key findings
Democracy is receding in Asia and the Pacific, while authoritarianism solidifies. Only 54 per cent of people in the region live in a democracy, and almost 85 per cent of those live in one that is weak or backsliding. Even high- and mid-performing democracies, such as Australia, Japan and Taiwan are suffering democratic erosion.
Although erosion has taken place in all aspects of democracy, the impact on Freedom of Expression and Media Integrity is striking: 35 per cent of democracies in the region exhibit erosion in at least one of them.
Although highly diverse, common elements eroding democracy are, inter alia, rising ethno-nationalism, military intervention in political processes, patronage politics and executive aggrandizement.
This negative trend is tearing the social contract apart in many countries, with a demand for increased accountability and an overhaul of the political system in countries as varied as Kazakhstan, Sri Lanka and Thailand. The cases of Kazakhstan and Thailand also highlight the popular discontent with some fundamental characteristics of the political system that were assumed to be immovable, such as the role of the King in Thailand or the focus on economic development over freedoms in Kazakhstan.
The continuing effects of the pandemic and Russia's war on Ukraine have been particularly acute for Central and South Asian countries, providing political space for both democratic renewal and opportunistic authoritarians.
2.2.1 Introduction
Democracy in Asia and the Pacific is receding. In the last five years, approximately 60 per cent of the 35 countries in the region, including half of the democracies, have suffered significant decreases in at least one subattribute. Although the most dramatic examples of breakdown have been in Afghanistan and Myanmar, even more longstanding and stable democratic systems in India, Indonesia, the Philippines and Taiwan are at risk.
Nearly half of the region's inhabitants live in an authoritarian regime (72 per cent of those live in China) (Figure 15). More than three-quarters (84 per cent) of residents of a democracy in Asia and the Pacific live in one that is weak or backsliding. (69)
The erosion of democracy in the region is a product of several factors, including the rise of exclusionary ethno-nationalist movements fuelled by a mix of real and politically manipulated social grievances, armed and unarmed interventions by the military in political processes, executive aggrandizement, stalled democratic transitions and economic mismanagement that has led to unsustainable debts and, in extreme cases, financial collapse. Countries' democratic trajectories are shaped by their postcolonial histories as well as their neocolonial political and economic relationships with regional hegemons. But these factors should not be overstated: national elites have long proved adept at using the legacy of colonialism to deflect criticism from their own mismanagement and cronyism.
Additionally, foreign actors' geopolitical interests are impacting domestic politics. In Nepal, citizens protested against the approval of a USD 500 million grant from a US aid agency due to concerns that the grant conditions unacceptably infringed upon national sovereignty. (70) In Kazakhstan and Sri Lanka, foreign actors have assisted incumbent leaders in various ways, angering citizens, who demand accountability and responsiveness. (71)
Figure 15 - Population under regime types in Asia and the Pacific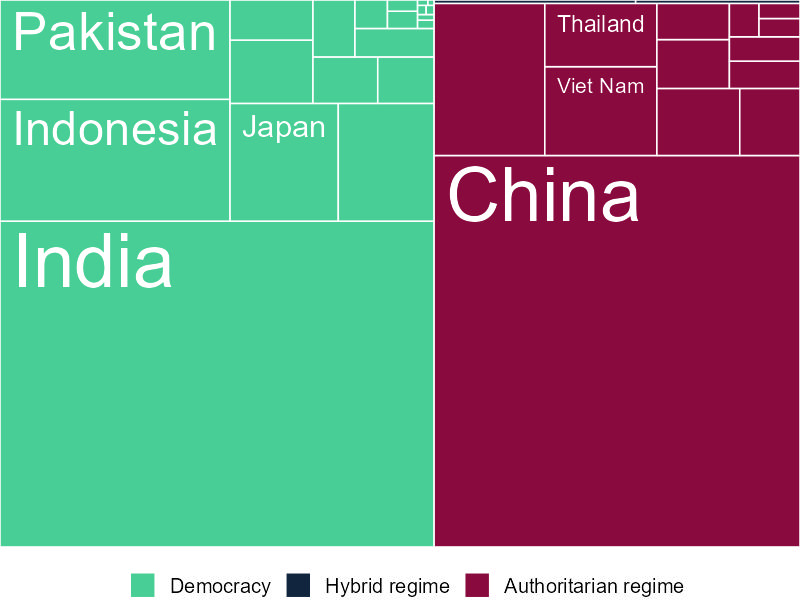 Notes: The size of the box indicates population size.
Source: International IDEA, The Global State of Democracy Indices v. 6.1, 2022, <https://www.idea.int/gsod-indices>, accessed 24 October 2022.
United Nations, Department of Economic and Social Affairs, Population Division, World Population Prospects, Online Edition, 2022, <https://population.un.org/wpp>, accessed 24 October 2022.
2.2.2. Trends in the region
Social contracts are being tested, renegotiated and disputed across the region, and subregional nuances are fundamental to understanding these tensions. In South Asia, where communal mistrust and competition have in some cases been addressed through power sharing, economic crises and the rise of illiberal forces have contributed to the resurgence of ethno-nationalism. Resulting violence against minority groups and increased societal polarization highlight the pressures exerted on the social contract. (72) The persistence of pandemic-instigated disruption to migrant flows and remittances on which South Asian economies heavily depend adds to the economic anxieties that fuel ethno- nationalism and remains an unsolved problem for the region. (73)
An active civil society and the strength of some key institutions—such as the judiciary and electoral management bodies (EMBs)—can act as bastions of democracy. India's active civil society have been key in denouncing some states' attempts to limit religious freedoms. In Nepal, citizen and civil society mobilizations demanding accountability, gender equality and good governance remain a fundamental and influential political force. (74)
The breakdown of democracy in Myanmar is the major event in Southeast Asian democratic development. Yet actors like the National Unity Government and the Committee Representing the Union Parliament, which are building new democratic institutions that reflect many longstanding concerns regarding minority rights and equal access to public goods, demonstrate the will to build a new social contract.
Cambodia, Laos and Vietnam remain firmly anchored in authoritarianism with no visible signals of change. Vietnam, like China and Singapore, has managed to provide economic prosperity without granting democratic rights, giving its communist regime a veneer of public legitimacy. An economic crisis and possible debt default in Laos have generated signs of popular dissatisfaction with the government but have not manifested in the kind of organized protest in favour of a responsive and accountable social contract seen recently in Kazakhstan, Sri Lanka and elsewhere. As Laos is politically and economically dominated by its stable authoritarian neighbours, China and Vietnam, its people may feel that democratic progress is currently infeasible or too risky. (75)
In the Philippines, an intensive disinformation campaign supported the ascent of the son of Ferdinand Marcos, known as Bongbong Marcos, to the presidency. Yet, pro-democracy movements in Thailand and Malaysia and the refusal to accept the military junta in Myanmar demonstrate that democracy remains a core aspiration for millions in Southeast Asia, even in the most repressive circumstances. In Thailand, protesters have demanded concrete policy changes, such as the elimination of the military's power to hand-pick senators and select the prime minister, and the reversal of the prohibition of some political parties. They have also challenged the country's political and economic elite model of governance, including by questioning the role of the monarchy for the first time in decades. However, the ghost of military dictatorships past is not always easy to exorcise; in Indonesia and the Philippines, the military's significant public role in the pandemic response dashed hopes that the armed forces' retreat from the political sphere during recent periods of democratization might be permanent. (76)
East Asia remains stable and, apart from China, predominantly democratic. During the last five years, democracy has expanded notably in South Korea and remained stable in Japan and Taiwan. Mongolia continues last year's trend of declines across all attributes except Representative Government. The rising tensions in the Taiwan Strait and mainland China's suppression of democracy in Hong Kong and incursion on Bhutanese sovereignty are clear examples of its willingness to exert its influence in the region. (77)
Oceania continues to stand out for its strong democratic performance, although declines in certain attributes, largely due to expanded pandemic-related restrictions, curb the region's overall performance. It is particularly vulnerable to climate change (78) and has been the site of intense geopolitical competition between China, Australia and the USA. Overall, the region has witnessed a slight drop in its Impartial Administration score; New Zealand and Papua New Guinea have experienced one- year declines in Predictable Enforcement, in the latter case accompanied by a significant and concerning drop in the Absence of Corruption.
Central Asia's democratic indicators continue to be marked by stagnation as national elites have proven adept at putting down, often violently, popular movements advocating more democratic and broadly accountable political institutions. The relaxation of Karimov-era social controls in Uzbekistan appears to have stalled, and protests over the loss of regional autonomy in the impoverished western Karakalpakstan region were put down with extreme violence. (79) Kyrgyzstan continues its slow and steady decline across many indicators; the 2020 electoral protests and installation of Sadyr Japarov as prime minister, and later president, are symptoms. Kazakhstan's 'Black January' and Tajikistan's bloody 2022 crackdown in the Gorno- Badakhshan Autonomous Region demonstrate how long-term stagnation in authoritarian regimes can be a source of, rather than a guard against, instability and violence. Russia's war on Ukraine has caused tens of thousands of Russian refugees to flee to Central Asia— primarily to Kyrgyzstan and Kazakhstan. (80) The economic impacts of the war, sanctions and refugee flows are complex and not necessarily negative, but managing them will be demanding for the region's democratic and authoritarian institutions. While there is genuine public solidarity with Russian refugees arriving in the region, there is also unease and hostility stemming from Russia's unresolved postcolonial relationship with its former Central Asian colonies. (81)
Box 7 - Social contract renewal in Sri Lanka
The spring of 2022 may prove to be a watershed moment for Sri Lankan democracy. Over the past two years, a fundamental breakdown of the social contract between the state and society has resulted in unprecedented (in both scale and the degree of unity) anti-government demonstrations. (82) What began as protests over food, fuel, power cuts and essential supply shortages quickly morphed into demands for system-wide reform, culminating in thousands of protesters storming the president's and prime minister's residences and offices on 9 July 2022 and leading to their resignations. Prime Minister Ranil Wickremesinghe became acting president shortly thereafter.
The months-long peaceful protests are a testament to the resilience of Sri Lankan democracy, though significant challenges lie ahead. Sri Lankans are eager to see greater transparency and accountability of elected representatives, but there are concerns that 'one has to work within the present system'. (83 )A key challenge is the power of status quo elites, who undermine key reforms. For example, the Colombo-based Centre for Policy Alternatives has called for the government's proposed 22nd Amendment to abolish the executive presidency to be rejected, deeming it to be a 'token reform' that does not sufficiently curtail the powers of the president or introduce meaningful checks and balances. (84) The Colombo Urban Lab similarly cautions that Sri Lankans should not be misled by the interim government's small gestures and proposals, which demonstrate its weak commitment to fundamental reforms. (85) This includes abolishing the executive presidency, repealing the Prevention of Terrorism Act, increasing social protection and planning for fresh elections. Superficial reforms will no longer satisfy Sri Lankans' grievances.
Ultimately, a new social contract can only be forged through deliberation that bridges the trust deficit between the public and policymakers. This, too, requires a reckoning with Civil War-era violations to build a more inclusive national identity. Small changes, including more power sharing in parliament and a greater representation of protesters' demands with the rise of the Frontline Social Party, could bode well for the democracy, if they materialize. (86) Indeed, opposition parties such as the National People's Power and Samagi Jana Balawegaya are perceived as more active in raising issues of accountability and transparency, albeit with limited powers. Nevertheless, it remains to be seen if (and how) political parties will transform protesters' demands into sustainable democratic reforms.
2.2.3. The concerning increase in repression of Freedom of Expression and Media Integrity
Despite the region's vast diversity, most countries are experiencing restrictions on the Freedom of Expression and Media Integrity. Overall, 35 per cent of democracies in Asia and the Pacific and 33 per cent of non-democracies have experienced erosion in either Freedom of Expression or Media Integrity over the last five years—a trend that predates the pandemic. Since 2018, at least 15 countries in the region have approved measures that restrict Freedom of Expression, especially online (Figure 16). (87) These measures, such as Bangladesh's Digital Security Act, (88) Vietnam's Cybersecurity Law, (89) Kyrgyzstan's False Information Bill (90) and Singapore's Protection from Online Falsehoods and Manipulation Act, (91) all target online content under the guise of fighting disinformation and protecting infrastructure against cyberattacks.
Figure 16 - Countries with new laws restricting freedom of expression online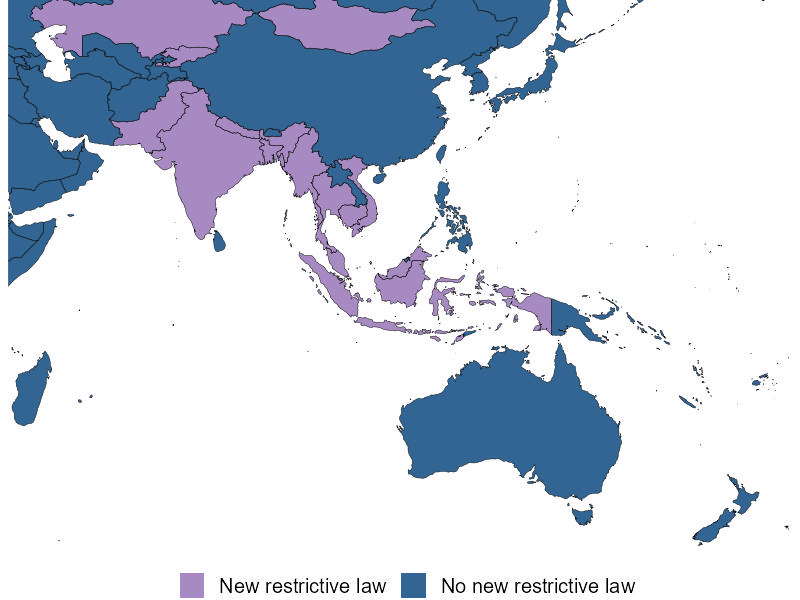 Source: Research by the Democracy Assessment Unit, International IDEA.
In most cases, governments employ these laws to selectively remove or block content and use social media giants as their executing arm online under the guise of fulfilling national legislation. (92) Such laws form part of a global trend in which the need to regulate online content is being used to restrict rights and fight an open Internet. Many countries are left with the worst of both worlds—a social media ecosystem in which key critical speech is censored and suppressed while disinformation that facilitates elite preservation is allowed to run rampant.
These contaminated information environments hamstring constructive political dialogue and erode key democratic institutions. They also have clear-cut effects on democratic outcomes; Bongbong Marcos and Sara Duterte won the Philippines 2022 election with the support of a well-funded social media disinformation campaign run by supporters, which whitewashed Bongbong's father's record as a dictator and vilified their critics. The information space had already been reshaped by Duterte's father, Rodrigo, who spent his time as president attacking the Filipino free press through judicial harassment and executive overreach. (93)
2.2.4. Conclusion
Given the region's varied history, including its colonial past, boisterous renegotiations of the social contract have often occurred within living memory. However, with the exception of the regional giants of China and India, the countries' post- and neocolonial relationships continue to dictate the scope of any new social contract that might arise. Countries across the region depend on economic systems and political alliances in which they are subordinate players.
The cases of Kazakhstan and Thailand, among others, reveal that governments are not upholding their end of the social contract. Beyond a simple shift in governance, democratic erosion is also tearing at the fundamental building blocks of the social contract in many countries. With the economic consequences of the pandemic and Russia's war on Ukraine stoking inflation and increasing the cost of living, and leading to unevenly distributed global shortages of basic goods and commodities, the perfect storm for unrest might be brewing in many countries in the region.
Box 8 - Kazakhstan unrest
In January 2022, protesters in Kazakhstan (Figure 17), motivated by soaring liquefied petroleum gas prices, took to the streets to demand that the government address socio-economic inequality. Under an Internet and telecommunications blackout that made definitive accounts of the roots of escalation and the identities of the main instigators nearly impossible, protests gave way to violent clashes, burning government buildings and armed conflict in the streets. President Tokayev ordered the security services to 'shoot to kill without warning' and called in troops from the Russia-dominated Collective Security Treaty Organization to put down the protests.
According to official estimates, over 200 private citizens and 19 members of the security services were killed, hundreds tortured, and over 9,000 arrested. (94) What began as a bottom-up demand for a renegotiation of the social contract of 'economics first, politics later' ended in mass state-administered violence, a reshuffling of elites, and a constitutional referendum of vague purpose and efficacy. (95) Rather than create a new social contract that guarantees rights and shared wealth equitably, the country's leadership instead seems set to refashion the old social contract around the promise of installing President Tokayev as the new national patriarch. (96)
The protests in Kazakhstan were the country's third such public uprising since 2010, and the second to be put down violently. (97) The mix of token reforms and indiscriminate repression may have temporarily quieted Kazakhstan's political chaos, but absent tangible changes in the socio- economic or political status quo, these tactics only delay the next inevitable confrontation between the state and its citizens. (98)
Figure 17 - Democratic quality in Kazakhstan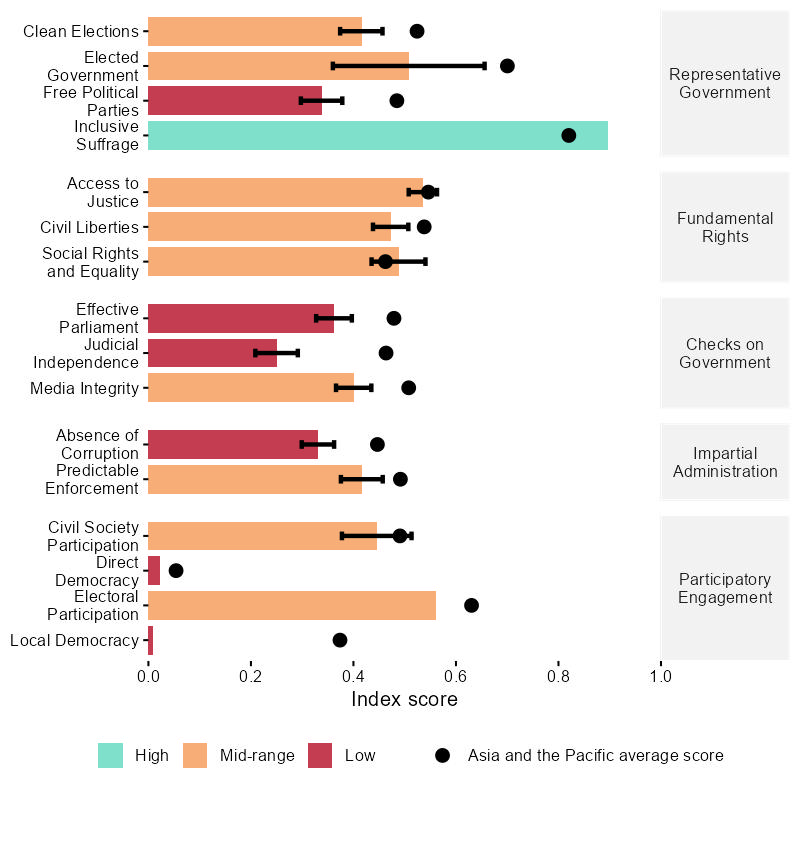 Source: International IDEA, The Global State of Democracy Indices v. 6.1, 2022, <https://www.idea.int/gsod-indices>, accessed 24 October 2022.
2.3. EUROPE
Key findings
Although democracy remains the main form of government in Europe, its performance is stagnant.
Nearly half (43 per cent) of democracies—a total of 17 countries—in Europe have suffered erosion in the last five years. These declines affect 46 per cent of the high-performing democracies.
Yet democratic values and institutions are increasingly seen as a fundamental barrier to Russia's irredentism and neocolonialism, especially in Ukraine, but also in most countries in the region.
Democratic stagnation, the pandemic and the cost of living crisis have reignited a much-needed debate in the region on the underpinnings of the social contract and its future.
2.3.1 Introduction
Russia's war against Ukraine has shaken Europe and sparked an unprecedented crisis that threatens the peace and stability that had long been taken for granted. High inflation, economic distress and stagnation, the rise of far-right parties, and energy supply concerns imperil the continent's democracy even further.
These phenomena come at a time when democracy is stagnating, and often contracting, in most of the region. Although democracy remains the main form of government (see Figure 18), 43 per cent of democracies in Europe have suffered democratic erosion in the last five years. The percentage is even higher for those that are considered high performing.
Figure 18 - Population under regime types in Europe
Notes: The size of the box indicates population size.
Source: International IDEA, The Global State of Democracy Indices v. 6.1, 2022, <https://www.idea.int/gsod-indices>, accessed 24 October 2022.
United Nations, Department of Economic and Social Affairs, Population Division, World Population Prospects, Online Edition, 2022, <https://population.un.org/wpp>, accessed 24 October 2022.
Russia's war of aggression in Ukraine has highlighted that democracy is central to the defence of peace and prosperity. By reinforcing democratic institutions and values, many countries are buttressing their defences against Russia. The expansion of democracy in Armenia, Moldova and Ukraine, for example, is a clear manifestation of the desire to root national identity and sovereignty in democratic institutions (see Figure 19). At the same time, they have intensified the fight against all types of Russian interference, from disinformation campaigns to direct military intervention. According to the Eurobarometer, the protection of democracy and its values has become more important to Europeans since the Russian invasion of Ukraine; it is now cited as the top value to be defended by the European institutions. (99)
The relative bright spots are overshadowed by the general democratic erosion in Europe. Two European countries—Poland and Hungary—are backsliding.
Six countries recorded statistically significant declines in Media Integrity. The declines affect Western Europe (Austria, Germany), Central Europe (Slovenia), the Balkans (Bosnia and Herzegovina), Southern Europe (Cyprus) and Eastern Europe (Azerbaijan). This decrease in Media Integrity comes at a time when reliable, impartial information is more valuable than ever, especially in the midst of armed conflict and a looming economic crisis. (100)
Europe's non-democratic regimes have been further consolidated in the last year. Russia has joined Belarus and Azerbaijan as the third autocratic regime in Europe. Authoritarianism in Belarus has deepened, with significant declines in nine subattributes in the last five years; Access to Justice and Freedom of Association and Assembly are the biggest decliners. The crackdown on protests and opposition has only exacerbated the situation. (101) Serbia and Turkey remain entrenched in hybridity with declines over the last five years, especially related to Clean Elections.
Figure 19 - Expanding democracies in Europe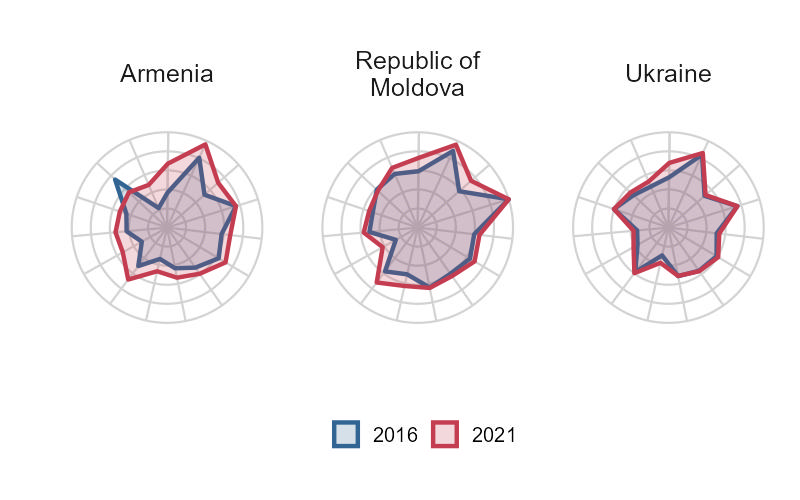 Source: International IDEA, The Global State of Democracy Indices v. 6.1, 2022, <https://www.idea.int/gsod-indices>, accessed 24 October 2022.
2.3.2 Moldova as a bright example of democracy in Europe
With the electoral victory of liberal democratic players in Moldova, first in the presidency and then as a majority in parliament, the country has entered an unprecedented phase of democratic expansion (Figure 20). Performance improvements since 2017 mean that Moldova is now among the top 25 per cent of countries globally in terms of Representative Government (including Inclusive Suffrage and Free Political Parties), Social Rights and Equality, and Gender Equality, as well as Media Integrity.
However, corruption has persistently undermined Moldova's post-Soviet transition to democracy. Although the fight against corruption has improved in recent years, as reflected in the Absence of Corruption subattribute, it remains a key challenge. Other indicators, such as Basic Welfare, continued to stagnate, performing below Eastern European averages.
Figure 20 - Trends in the Republic of Moldova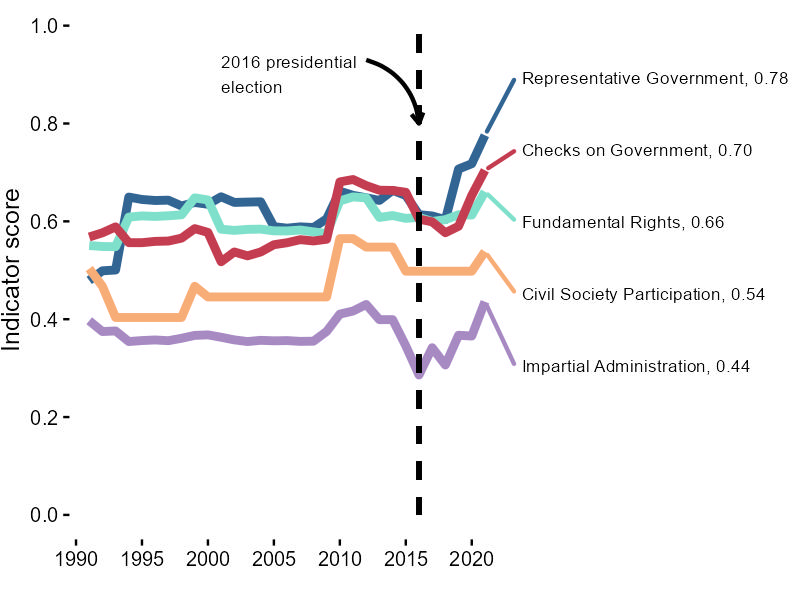 Source: International IDEA, The Global State of Democracy Indices v. 6.1, 2022, <https://www.idea.int/gsod-indices>, accessed 24 October 2022.
Moldova faces both old and new challenges, from ethnic tensions that led to a separatist movement in Transnistria and continuing disputes with the ethnic Turkic Gagauz minority to—more recently—threats from Russia's war of aggression in neighbouring Ukraine.
In this context, Moldova's democratic expansion is noteworthy and deserves close attention as it seeks to deliver on the pro-reform and anti-corruption mandate secured in the 2020/2021 elections, and to pursue integration into the European Union.
2.3.3 The social contract in Europe
The promise of democracy as a bedrock of shared prosperity has faded in recent years, causing people to question whether this social contract is fair, or even desirable. The region, including the wealthiest countries in Western Europe, is facing a deepening cost of living crisis. (102) Unemployment, worsening labour conditions, decreasing standards of living, underinvestment in key public services, such as education and healthcare, and the rising cost of living are creating more unequal economies that generate uncertainty for many. (103) European societies are also undergoing notable changes as a result of migration and ageing populations. (104) These changes are now at the top of the list of concerns and priorities for Europeans, showcasing the tensions in the social contract. (105)
There is increasing support for nativist and illiberal populist parties all over Europe. (106) In general, these parties promise a renegotiation of the social contract, albeit in discriminatory, regressive and often unrealistic terms. Their agendas promote nationalistic, nativist, anti-immigration or illiberal policies, which threaten the rights of marginalized groups as well as those of racial, ethnic and political minorities. Another manifestation of tensions is an increasing detachment from the democratic process, seen both in the dissatisfaction with democracy and in voter turnout (see Figure 21). (107) The link between economic pessimism and dissatisfaction with democracy signals the need to forge a new social contract. But the full impacts of this poly-crisis may be yet to come. Far-right forces question some key democratic principles and might carve out political space among voters who feel politically under- represented.
Figure 21 - Trends in voter turnout in parliamentary elections in Europe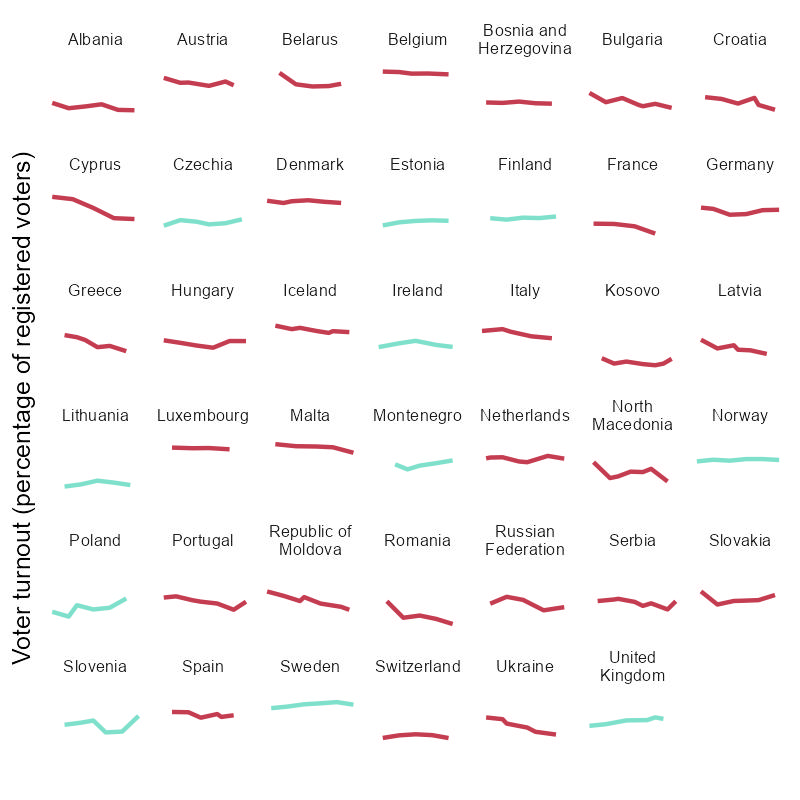 Notes: Red lines indicate decreases relative to 2001; green lines indicate improvement.
Source: International IDEA, Voter Turnout Database, [n.d.], <https://www.idea.int/data-tools/data/voter-turnout>, accessed 24 October 2022.
A broader conversation involving all sectors of society about how to renovate the social contract is crucial and urgent. With a negative view of politics and institutions, especially political parties, and with three out of four Europeans not trusting parties, few spaces remain available for a dialogue on a renewed social contract in Europe. (108)
The social contract in European countries is tearing at both the economic and political levels. Economic crises, such as the current situation or the 2008–2012 financial crisis, detach the population from the political process. (109) This disenfranchisement creates further space for illiberal trends by reducing popular support for democratic voices. To prevent this from happening, attempts have been made to expand political participation and international pressure for good governance. For example, Belgium has lowered the voting age for European Parliament elections to 16, reflecting a change in the terms of the social contract. (110) There was also progress in efforts to increase the implementation of recommendations by the Group of States Against Corruption (GRECO) in 2021. (111) Moldova and Armenia, for instance, have significantly improved their performance in Absence of Corruption. In addition, innovative forms of political participation have been tested all over Europe, including citizens' assemblies (see Box 9), participatory budgeting in cities like Paris or Milan, sortition and new participation platforms in Estonia and Madrid. (112) Political parties have also experimented with new forms of membership, including in France, Latvia, Portugal, Spain and Sweden. (113)
Box 9 - Citizens' assemblies in Europe
In a context of declining trust between citizens and governments, there is renewed enthusiasm for participatory and deliberative mechanisms—especially citizens' assemblies—all over Europe. Through different forms of institutionalization, these representative microcosms of the broader public have grappled with a wide range of policy issues. (114)
Citizens' assemblies have been used in many countries and at various levels of governance. (115) Policy issues related to the environment were among the most discussed by both national and local assemblies, whereas urban and strategic planning, environment, health and infrastructure were frequently addressed at the local level. (116) At the supra-national level, during the Conference on the Future of Europe, the EU launched the European Citizens' Panels, which deliberated and provided recommendations on issues such as migration, security, the environment, education and digital transformation. (117) Since then, tangible steps have been taken to incorporate the final report's suggestions, which include a proposal to incorporate amendments to the current EU treaties. (118)
Sceptics have worried about ordinary citizens' limited ability to address complex political situations and the sustainability of the model. However, evidence suggests that citizens have the capacity to make sound policy decisions, especially when the deliberative process is well designed. (119) In this context, citizens' assemblies should be viewed as a democratic process that—like elections—requires a set of standards to ensure legitimacy and sustainability. (120) At the same time, limited representation and inclusion in citizens' assemblies, particularly of marginalized communities, and the ad hoc way in which participatory governance is often carried out, continue to hamper this instrument. (121) Cases in which the authorities discard the majority of citizens' assemblies' recommendations, mainly due to special interest lobbying, further hinder their impact. (122) Whether this deliberative system works in Europe depends heavily on the commitments of governments and the EU to ensure they do not weaken citizens' drive and ambitions to keep these assemblies alive and active.
2.3.4 Conclusion
Europe is facing the most challenging times in decades. Democratic stagnation is compounded by economic shocks and the diverse impacts of Russia's war of aggression in Ukraine. President Putin's nuclear threats, as well as his strategy to weaponize Europe's winter energy needs, call for strengthened unity in the region. The debate around the social contract is resurfacing with intensity, pushed by the unprecedented economic, political, and social shocks and the unhealed wounds of the pandemic. While democracy is being used as protection against Russian irredentism, voters in many longstanding democracies in Europe are increasingly supporting far-right and nativist parties that disregard some of the basic principles of democracy, such as press freedom or the inclusion of minorities in decision making. How European countries address the crisis will define the fate of democracy in the coming decades.
2.4. THE AMERICAS
Key findings
While the Americas is the world's second-most democratic region, Haiti, Nicaragua and Venezuela have joined Cuba as autocracies in the region.
A third of democracies in the region have experienced declines in at least three subattributes in the last two years. Bolivia, Brazil, El Salvador, Guatemala and the USA exhibit the most declines.
In the USA, threats to democracy persist after the Trump presidency, illustrated by polarization, counter-majoritarianism and the rolling back of long- established rights.
Rising threats to democracy include toxic polarization, disinformation and fake news, restrictive laws and bans on rights, intimidation of the press, and increasing attacks on courts and EMBs.
Discontent is also on the rise. Fuelled by poverty, inequality, insecurity, corruption and the effects of the pandemic, people are turning to the ballot box and the streets, looking for change.
While discontent can (and has) resulted in democratic options on the ballot, populist authoritarians manipulate this dissatisfaction in an attempt to dismantle democracy from within. Democracy is an ally, not an obstacle, in revising the social contract. It offers institutional channels that can deliver for all citizens, especially the most vulnerable.
2.4.1 Introduction
The Americas is the world's second-most democratic region (after Europe). Over the past five decades, the proportion of democracies in Latin America and the Caribbean has grown from 32 per cent to a stunning 84 per cent (Figure 23). Democracy reached its peak in 2006–2007, when Cuba was the lone authoritarian country in the region.
This is no longer the case. Nicaragua and Venezuela have become consolidated authoritarian regimes, and in 2021 Haiti slipped into authoritarianism and has recently requested foreign assistance to quell extreme gang violence (Figure 23). Established democracies have also experienced setbacks, and declines have been especially severe in Brazil, El Salvador and the USA.
Figure 22 - Population under regime types in the Americas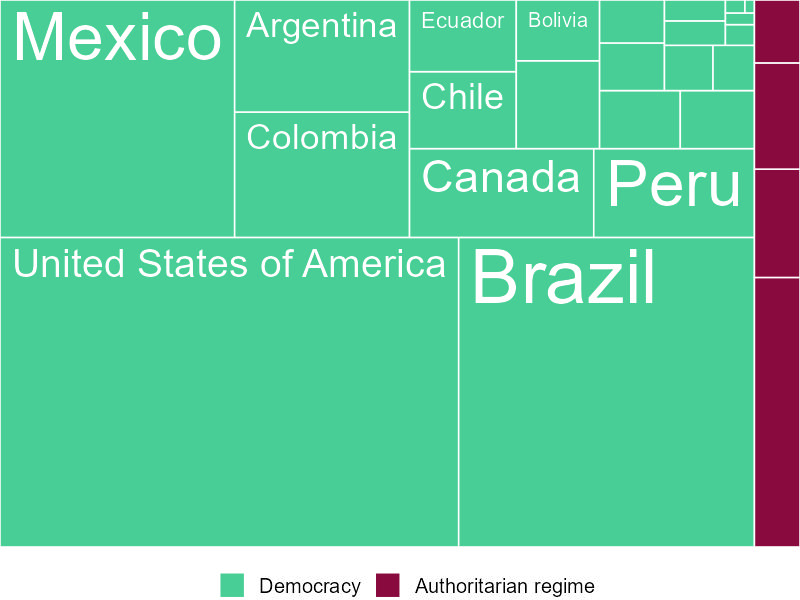 Notes: The size of the box indicates population size.
Source: International IDEA, The Global State of Democracy Indices v. 6.1, 2022, <https://www.idea.int/gsod-indices>, accessed 24 October 2022.
United Nations, Department of Economic and Social Affairs, Population Division, World Population Prospects, Online Edition, 2022, <https://population.un.org/wpp>, accessed 24 October 2022.
Figure 23 - Trends in regime type in Latin America and the Caribbean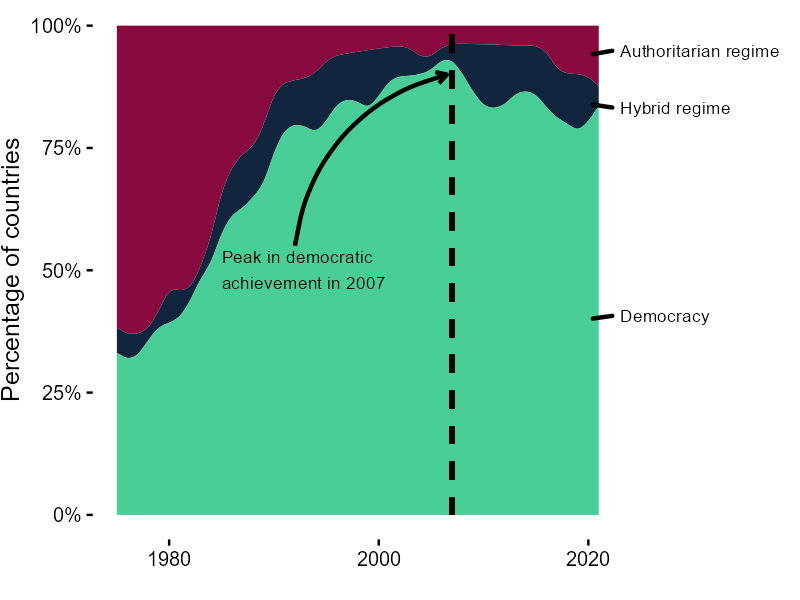 Source: International IDEA, The Global State of Democracy Indices v. 6.1, 2022, <https://www.idea.int/gsod-indices>, accessed 24 October 2022.
Figure 24 - Latin American countries with improved performance
Source: International IDEA, The Global State of Democracy Indices v. 6.1, 2022, <https://www.idea.int/gsod-indices>, accessed 24 October 2022.
A diverse set of issues challenges the quality and sustainability of democracy in the Americas. The last decade has witnessed growing threats, including polarization, (123) disinformation, (124) restrictions on rights, (125) and increasing attacks on environmental and human rights activists (126) as well as key democratic institutions. (127)
However, there is hope. Last year, Honduras re-joined the democratic ranks after Xiomara Castro, the region's only female president, won a credible election, (128) with results accepted by all actors (Box 11). (129) Ecuador and the Dominican Republic have also strengthened their democratic institutions (Figure 24). In Ecuador, Civil Liberties and Checks on Government (including Judicial Independence and Effective Parliament) have improved in the last two governments. The Dominican Republic has experienced improvements in seven subattributes, including Civil Liberties, Media Integrity, Judicial Independence and Access to Justice.
Figure 25 - Democratic performance in the Americas, 2021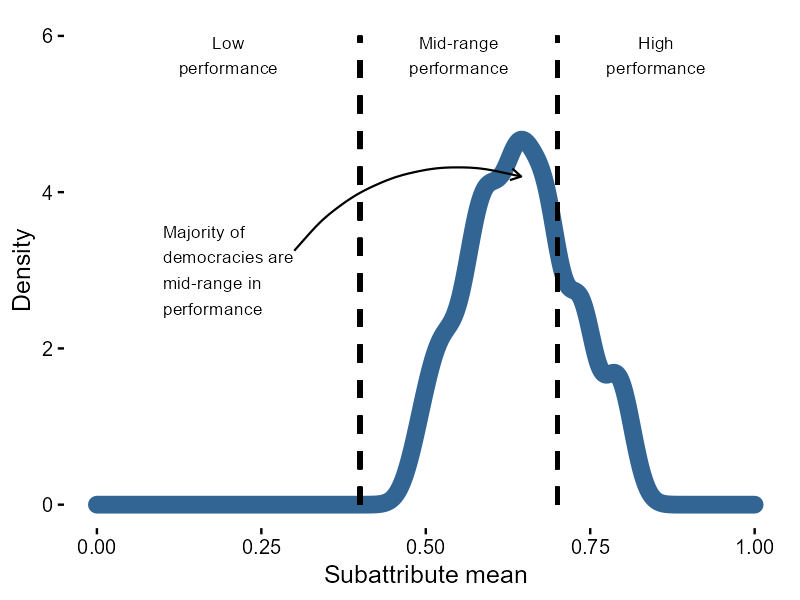 Source: International IDEA, The Global State of Democracy Indices v. 6.1, 2022, <https://www.idea.int/gsod-indices>, accessed 24 October 2022.
2.4.2 Beleaguered democracy
While the Americas is overwhelmingly democratic, most countries' performance has been mid-range or lower; the average score across all subattributes for all democracies is slightly lower than the average in 2010.
A third of countries have experienced declines in at least three subattributes in the last two years, including Bolivia, Brazil, El Salvador (see Box 10), Guatemala and the USA. In Bolivia, the elected government has begun baseless criminal proceedings against all opposition leaders and even against election officials who oversaw the 2020 vote. (130) In Guatemala, Impartial Administration and Checks on Government scores have dropped further, with indications of severe government corruption and politicians' involvement in organized crime (131) resulting in at least 13 former prosecutors now in exile. (132)
Figure 26 - Latin American countries with the most declines in 2020 or 2021, by subattribute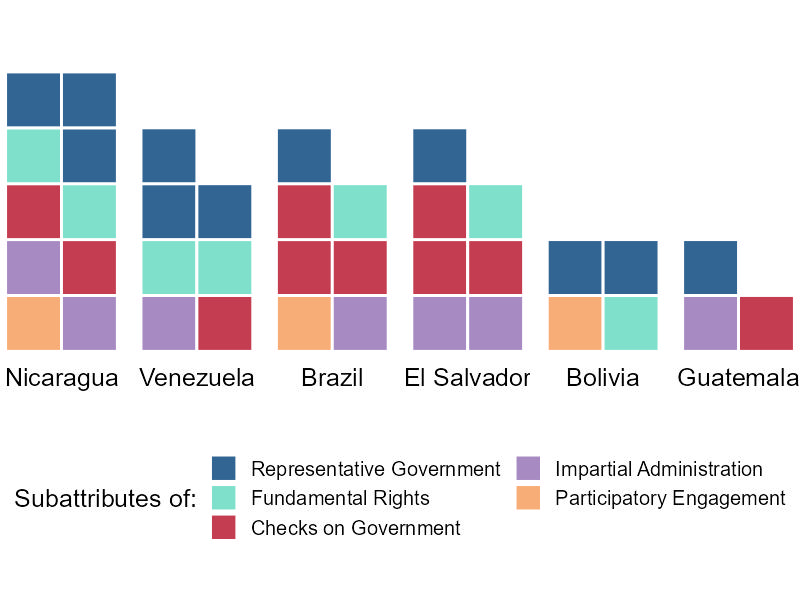 Source: International IDEA, The Global State of Democracy Indices v. 6.1, 2022, <https://www.idea.int/gsod-indices>, accessed 24 October 2022.
In addition, Brazil and the USA are backsliding democracies. In Brazil, Fundamental Rights, Checks on Government and Clean Elections scores have dropped in the last few years. The growing influence of the military in politics and the state (133) and President Jair Bolsonaro's attacks on the country's election system are causes for concern. (134) Attacks on US democracy during the Trump presidency, (135) polarization and threats to long- established rights (such as the overturning of Roe v. Wade on abortion rights) (136) continue.
Box 10 - El Salvador moves towards authoritarianism
In the Global State of Democracy in the Americas 2021 report, International IDEA called for 'careful attention to be paid to the evolution of the democratic status of El Salvador', (137) which declined from a mid-performing to a weak democracy in 2020. This trend has worsened in 2021, with significant declines in key indicators such as Civil Liberties, Effective Parliament and Judicial Independence. However, El Salvador's situation has worsened further; it is likely to be classified as hybrid next year based on 2022 data.
Last year's report highlighted attacks on the rule of law, through measures such as 'the full dismissal of the magistrates of the Constitutional Chamber of the Supreme Court of Justice and the Attorney General, or the expulsion from the country of journalists belonging to media criticism of the government'. (138) The 2021 report also focused on the decision of the Constitutional Chamber, with new members selected by the current government, to issue a ruling that authorizes presidential re-election. This decision allowed Nayib Bukele to announce, in September 2022, his plan to run for re-election in 2024, in violation of the Salvadoran Constitution (articles 75, 88 and 131 expressly prohibit immediate presidential re-election).
The six-time extension of the state of emergency has led to arbitrary arrests and severe restrictions on press freedom, actions that have been seriously questioned by human rights organizations. (139) Amnesty International has accused the Bukele government of immersing its country 'in a human rights crisis', pointing to its authorities as authors of 'widespread and flagrant violations of human rights, and criminalizing people in poverty'. (140)
The region is also experiencing worrying restrictions on Fundamental Rights and Checks on Government (Figure 27). Across the region, harassment and persecution of, and violence against journalists and media outlets are on the rise. In 2022 alone, authorities raided the offices of La Prensa, Nicaragua's oldest newspaper, (141) arrested journalist José Rubén Zamora in Guatemala (142) and harassed journalist Carlos Loret de Mola in Mexico, in a period when violence against journalists is the highest ever in the country. (143) More journalists have been killed in Mexico so far in 2022 than anywhere else in the world. (144)
Figure 27 - Percentage of countries with declines in at least one subattribute, Americas 1980–2021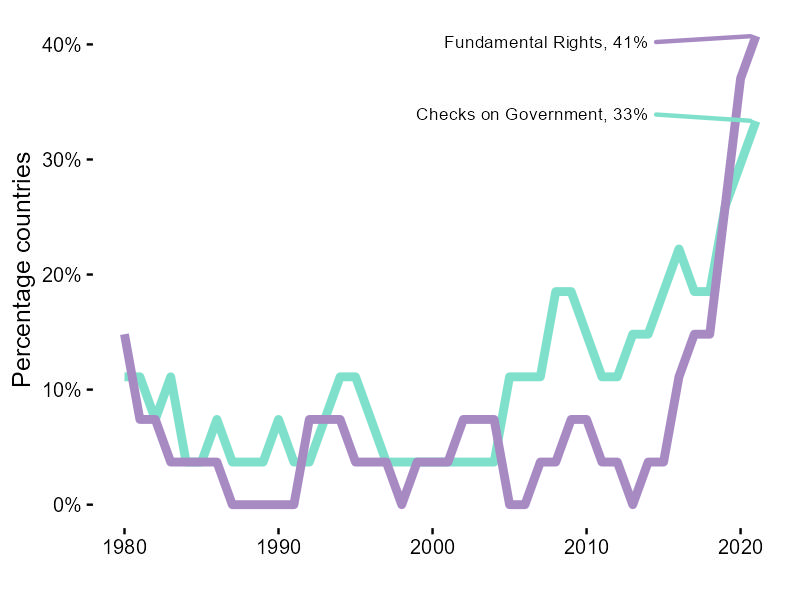 Source: International IDEA, The Global State of Democracy Indices v. 6.1, 2022, <https://www.idea.int/gsod-indices>, accessed 24 October 2022.
Populist authoritarian leaders are increasingly attempting to dismantle democracy from within after being democratically elected. (145) These leaders understand people's frustrations and offer seemingly easy solutions for complex problems such as poverty, inequality and lack of opportunity. However, once in power, instead of delivering inclusive new social contracts, they promote the opposite and weaken rights and key democratic institutions such as legislatures, courts and election bodies. For example, Mexican President López Obrador and his party have tried to weaken several autonomous constitutional bodies, including the National Electoral Institute (146) and local electoral institutes, by slashing their budgets and questioning their relevance. (147) In Brazil, President Bolsonaro has raised baseless allegations against the Supreme Electoral Tribunal and the electronic voting system. (148) In the USA, Donald Trump's 'big lie' about the 2020 election continues to spread. (149) Similar actions can be observed in Peru, where allegations of fraud in the aftermath of President Pedro Castillo's victory weakened public trust in the EMB. (150) These actions not only damage institutions; they have also been used to pressure elected officials, destabilize governments and condone violence. In other regions, such allegations have been used to justify coups d'état. (151)
Box 11 - Honduras
In Honduras, historically disadvantaged groups have pushed to renew the social contract through activism that targets longstanding challenges to the protection of human rights.
Six years after human rights defender Berta Caceres was murdered for her work protecting the environment and the rights of the Lenca people, stakeholders have increased pressure on the government to accede to the 2018 Escazu Agreement. (152) This is particularly relevant in a country where over 130 defenders of the environment have been killed since 2009, according to the government's own records. (153) Symbolically, Congress declared Caceres a national hero this year, (154) but the government still claims implementation challenges impede immediate accession (155) to the agreement on which environmental activists depend for the free and safe exercise of their work, and for accountability in case of abuses.
Women's rights organizations continue to push for the decriminalization of abortion, undeterred by a 2021 constitutional amendment that further consolidated its absolute prohibition. (156) In 2021, the 'Somos Muchas' platform presented a judicial appeal, pleading for decriminalization in certain circumstances. (157) The case is currently under consideration in the Supreme Court, and different organizations have presented amicus briefs this year with a view to continue their advocacy. (158)
LGBTQIA+ activists face challenges associated with attaining further protections against hate crimes and legalizing same-sex marriage. (159) Yet President Xiomara Castro issued an apology for the state's responsibility for the 2009 murder of Vicky Hernandez, a trans woman activist. This was in accordance with a judgment against Honduras by the Inter-American Court of Human Rights. In compliance with the ruling, President Castro announced that trans people will be allowed to revise their documents to match their gender identity. (160)
Many have set their hopes on President Castro delivering on her campaign promises, which included a relatively progressive rights agenda and a social equality platform. (161) As the country's first female president she undoubtedly faces further scrutiny in the implementation of rights-based and feminist policies to address persistent inequalities and gender-based discrimination and violence. (162)
2.4.3 Renewing the social contract
Latin America is the most unequal and violent region in the world. (163) One-third of its population lives in poverty, (164) and the Covid-19 pandemic caused major economic damage. The drop in per capita GDP is not expected to recover to pre-pandemic levels until 2023–2024. (165) The economic and social fallouts of the pandemic have disproportionately affected informal workers. According to recent International Labour Organization estimates, more than 60 per cent of workers across Latin America are informally employed. (166) The region's informal economy is associated with greater inequality and weaker governance, (167) viewed as an expression of a lack of trust in public institutions with limited access to social security. (168)
Governments in the region have also failed to adequately protect their citizens. A stunning 47.5 per cent of the region's population has no social protection for pensions, (169) and those who receive them do not get enough. In Chile, 82 per cent of the population that gets a pension receives less than minimum wage. (170)
In addition, the latest available data show that the average health expenditure in Latin America is well below the global average. (171) As in the rest of the world, the marginalized and poor suffer the most. These challenges have fuelled frustration and discontent in the region. The number of massive protests (of over 10,000 participants) has almost doubled, (172) from 44 between 2013 and 2016 to 71 between 2017 and 2020. (173)
This discontent is reflected at the ballot box. Between 2018 and 2022, 76 per cent of all national-level elections in Latin America and the Caribbean resulted in an opposition victory. In Colombia, citizens recently elected a left-wing president for the first time in history. (174)
Figure 28 - Incumbent defeats in Latin America, 2018–2022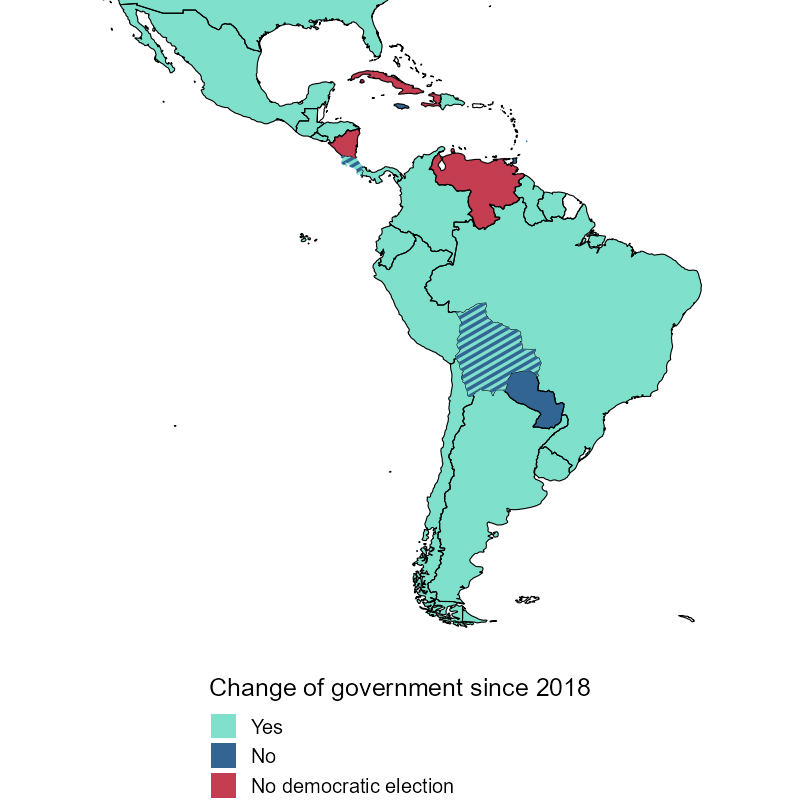 Notes: Costa Rica and Barbados have had two elections since 2018, one of which resulted in a change of government. Bolivia had a temporary change of government in 2019 with the resignation of President Morales. Morales' Movement for Socialism was reinstated as the ruling party following the 2020 election. Haiti has not held an election since 2016; the election scheduled for 2021 has been postponed indefinitely.
Source: Research by the Democracy Assessment Unit, International IDEA.
In Chile, discontent has been channelled into a constitutional process that used participatory mechanisms and sought to strengthen social and economic rights, gender equality and environmental protection, and to highlight the plurinational character of the state. (175) Nevertheless, the referendum on 4 September 2022 resulted in an overwhelming rejection of the new constitution. Electors seem to favour a more moderate approach to some of the profound changes proposed, (176) including on Indigenous peoples' rights. Surveys showed contentious reactions to the provisions on quotas to ensure political representation, self-determination and self-government of Indigenous peoples. Some—including members of Indigenous communities—expressed concerns about whether the measures would be efficient or bring about division. (177)
President Boric's subsequent call on Congress to present a timetable for the drafting of a new constitution that is acceptable to the majority of citizens, (178) as well as modifications to his cabinet following the results, (179) illustrates the government's recognition that the renewal of the social contract must take into account the diverse views of the population. Before the UN's General Assembly, President Boric emphasized that, despite the result, demands for change were addressed in a constitutional manner, and not through violence as they had been in the past. (180)
In the USA, recent mass mobilizations called for government action on climate change. (181) Political compromises facilitated the inclusion of important energy and climate provisions in the Inflation Reduction Act, albeit weaker measures than the administration had pledged. (182) A boom in the gig economy during the pandemic also contributed to increased demands for labour protection in a sector in which migrants and people of colour are the most affected; the Labor Department is currently considering these demands. (183) Backlash against the Supreme Court's decision in Dobbs v. Jackson Women's Health Organization, which effectively overturned the reproductive rights protected by Roe v. Wade, also led to protests to prevent further rollbacks in states such as Kansas, where a referendum's results conveyed discontent with a judicial decision viewed as detached from public opinion. (184)
2.4.4 Conclusion
Recent developments in the Americas show that governments and institutions at all levels must listen to citizens, include them in their decision making, and work with them to ensure that social contracts remain valid or are adequately renewed to address popular demands. Community organizers and grassroots movements in the region will continue to mobilize to influence policymakers to that end. This is evident in the Green Wave movement that has delivered ground-breaking achievements
for abortion rights in Latin America, (185) despite some setbacks in the region due to conservative and religious influence. (186) The traction gained in the past few years in Argentina, Mexico and, most recently, Colombia, has also invigorated local activism in countries where women face greater restrictions on their reproductive rights. (187) The Feminist Recovery Plan for Canada, which features an intersectional approach to economic reactivation, exemplifies an inclusive new social contract. (188) Activists and citizens expect to be heard by their institutions; if they are not, this could lead to further discontent. The social contract needs to be revised in an inclusive way; for this, democracy is an ally, not an obstacle. (189)
Chapter 3 - Recommendations
3.1. GLOBAL RECOMMENDATIONS
Governments should prioritize the implementation and enforcement of strategies and policies that reduce corruption and rebuild public trust.

Social contracts are based on mutual trust. Accountability and transparency are essential prerequisites for successfully renewed social contracts.
Adopting recommendations by regional anti- corruption bodies, such as GRECO in Europe, the Follow-Up Mechanism for the Implementation of the Inter-American Convention against Corruption in the Americas, and the Open Government Partnership, are strong first steps.

Governments, in close partnership with civil society actors, must ensure the protection of Freedom of Expression, especially online, as enshrined in article 19 of the International Covenant on Civil and Political Rights and in general comments 25 and 34.

Country-based legislation should be adapted and updated to take the realities of digital communications into account.
Legal frameworks protecting Freedom of Expression should be enlarged and reinforced by synchronizing them with new digital rights, such as right to privacy or to accessible Internet.
Online content moderation legislation should effectively prevent hate speech and incitement to violence without being overly restrictive. Such regulations should not cripple market innovation by establishing complex and costly requirements that only large social media companies can fulfil.
The Government of Spain's Charter of Digital Rights extensively covers the protection of Freedom of Expression online, among and synchronized with other digital rights.

Governments and civil society organizations should offer youth dedicated spaces, including in established bilateral and multilateral forums, to meaningfully participate in politics and help develop policies that impact them. Youth advisory councils at the Council of Europe and at the subnational levels in Canada and Australia could serve as models.
Governments and, when relevant, international partners and organizations, must prioritize addressing all forms of inequality, especially in light of inflation and the rising cost of living. Traditionally marginalized groups' needs must be at the centre of activities such as citizen assemblies, new legislation, local dialogue and mobilization, climate action and other such efforts.

Colombia's designation of the Andes-Amazon rainforest as a civil society nature reserve allows Indigenous women to repurpose their knowledge of medicinal plants, gardening, artisanship, women's self-care and ecological stewardship. (190)

Regional organizations should utilize bilateral and multilateral relationships to hold countries to the highest democratic standards.

Such organizations should take a firm public stance against democratically illegitimate governments. They should regularly convene multisector stakeholders who can share lessons learned across regions and develop common and contextually appropriate goals for democratic growth and innovation.
Human rights experts from the UN and the Inter-American Commission on Human Rights have collaborated to call attention to Nicaragua's repression of its civic space through joint statements. (193) The Commission established a Special Monitoring Mechanism for Nicaragua in 2018; its work documenting rights violations has increased international awareness of the actions that undermine the rule of law and weaken the liberties of a democratic state. (194)

International actors should re-commit to supporting electoral integrity, which is the bedrock of democracy.

Donors and assistance organizations should focus on helping domestic actors to mitigate vulnerabilities in the electoral cycle, especially those that impact public perceptions of electoral credibility.
Peer-to-peer learning across borders, and cooperation between EMBs and judicial institutions, can effectively improve electoral integrity. Regional EMB networks, such as the Organization of Arab Electoral Management Bodies, are good examples of such peer learning and cooperation. (195)
3.2. REGIONAL RECOMMENDATIONS
Africa and West Asia
Regional bodies and member states should condemn coup leaders as politically illegitimate. They should further demonstrate their rejection of such actions by fully implementing the African Charter on Democracy, Elections and Governance and the African Peer Review Mechanism, and the relevant norms and instruments, including the African Peace and Security Architecture and African Governance Architecture frameworks, as well as the resolutions of the Malabo Summit on combatting unconstitutional changes of government. At the same time, due consideration must be given to the causes of coups d'état and the development of early warning systems, as longer processes of democratic decline that often presage coups have tended to attract less attention.
Donors must be more assertive in their responses to the shrinking civic space in Africa. (196) The collective reinforcement of relevant human rights norms in intergovernmental forums such as the African Union is particularly important.

Donors should strengthen their support to African civil society organizations by developing flexible modes of funding that can adapt to changing contexts and which reflect civil society organizations' administrative capacity limitations.
The Swedish International Development Cooperation Agency's results-based funding, which focuses on results and objectives rather than a fixed set of activities, has enabled it to be an agile and effective donor in contexts of closing civic space. (197)
Asia and the Pacific
Governments in the region should roll back and limit the spread of legislation that undermines freedom of expression and privacy under the guise of security and fighting disinformation. In addition, they should develop legislation that is aligned with international standards to protect data privacy and secure the treatment and storage of personal data, ideally with a human rights focus. The EU's General Data Protection Regulation and the standards set by the UN Human Rights Council are good benchmarks.
Donors should focus on empowering civil society groups and other independent actors that are mobilizing public demonstrations and protests for change. Demands must be channelled into meaningful political dialogue, and mechanisms should be created through which people's grievances are heard and documented. Transparent oversight structures should also be developed that can monitor responses and action. Sri Lanka's Aragalaya political party, which grew out of mass protests, will likely generate important lessons learned.
Donors and democracy assistance organizations should support states' capacities regarding oversight of security forces, anti-corruption and tackling election-related disinformation. They should pay special attention to weak and mid-performing democracies that are making slow but steady progress such as Fiji, the Maldives and Pakistan.
Regional bodies, especially the Association of Southeast Asian Nations (ASEAN), should uphold the highest standards of democracy and human rights by fully implementing the 2009 ASEAN Human Rights Declaration and reinforcing the role of the ASEAN Intergovernmental Commission on Human Rights. ASEAN member states should energetically condemn the crimes committed by the junta in Myanmar.
Europe
Donors to European countries that are most vulnerable to Russian aggression and influence should prioritize flexible and comprehensive support to domestic pro-democracy actors. This is especially important for civil society watchdog organizations focused on the integrity of the electoral process, the information environment and corruption, as these aspects have proven to be backdoors for Russian influence operations designed to destabilize democracy.
Regional bodies and civil society organizations should lead the expansion of regional cooperation
in support of media integrity in line with article 10 of the European Convention on Human Rights, including in responses to violations of media freedoms, and through swift passage and implementation of the European Media Freedom Act.
The EU, donor organizations and public authorities should regularly invest more resources in experimenting with, supporting and building knowledge around innovative participation mechanisms to identify forms that work in different contexts. More attention is also needed to ensure that these mechanisms are as inclusive as possible and that there are systems in place to channel recommendations into policy action. European authorities at the local, regional and national
levels should provide increasing decision-making power to successful initiatives that enhance public participation.

Innovative participation mechanisms have included the European Home Parliaments initiative, which allows small groups of citizens to debate EU policy issues and provides a direct link with EU politicians as the results are aggregated and submitted to policymakers.
The European Platform for Participatory Budgeting for Youth was designed to promote coordination between selected cities (members of the European Youth Capitals network) to encourage young people to engage in local participatory budgeting mechanisms.
The Americas
National human rights institutions and government agencies should develop participatory mechanisms through which protesters' demands can be discussed and acted upon, if necessary.

Civil society groups and activists should be consulted and involved in defining these mechanisms' methods of work and schedule of meetings, consultations and agreements.
Canada's Human Rights Commission has taken steps to tap into participatory processes to guide decision making on social issues. For example, the Federal Housing Advocate, housed at the Commission, relies on public submissions from Canadians suffering housing issues and homelessness to inform policy recommendations.

In times of declining trust in institutions and disinformation, election bodies must update their civic education efforts. Civic education programmes and campaigns should go beyond technical information about how elections work to focus more on 'citizenship building' with the visibility, promotion and replication of successful citizen participation experiences and lessons learned. Election bodies also need to socialize people on the importance of key democratic principles, from the importance of participation to the need to be critical and sceptical. This effort should consider wider audiences and underrepresented groups, such as Indigenous peoples, youth, persons with disabilities and persons belonging to the LGBTQIA+ community.

Peru's National Office of Electoral Processes conducts comprehensive electoral voter education and civic education programmes on matters related to the promotion of democratic elections. (198)
Mexico's National Electoral Institute developed a Civic Culture Strategy that aims to empower citizens and increase their participation in public debate, advocacy and strengthening the accountability of political institutions. (199)
Panama's Electoral Tribunal has promoted civic education through a Digital Ethical Pact that seeks to engage citizens in the responsible use of social media during elections. (200)

It is widely known that for elections to be credible, EMBs should follow fundamental guiding principles. (201) Chief among these is autonomy: EMB members must act independently, and the government must not unduly interfere in their decisions. There are several options for building structurally independent EMBs, including a law that creates an autonomous institution that is entitled to a fixed percentage of the national budget. Another option is to establish an election civil service with members appointed through a transparent and impartial process.

A country's legal framework and EMB design have limits. It is becoming increasingly important for other democratic institutions— from intergovernmental organizations to local civil society—to raise their voices when EMBs are under attack. Governments and electoral assistance organizations should support forums such as the Summit for Electoral Democracy, (202) which has issued a statement advocating EMB autonomy.
International bodies, including the UN Human Rights Council and the Inter-American Commission on Human Rights, should
consider creating a Special Rapporteur on the independence of EMBs, similar to current initiatives supporting the independence of judges (203) or freedom of opinion and expression. (204)
Chapter 4 - Conclusion
Democracies are declining or stagnating in the face of a rapidly changing global context. Even countries previously considered 'established' democracies have vulnerabilities that cannot be ignored. At the same time, democratic regimes have not convincingly made the case that they can deliver what people need. Current challenges, such as an impending recession, the rising cost of living and the increasingly severe effects of climate change highlight this weakness. People's faith in the importance and effectiveness of democratic institutions is thus decreasing to a worrying extent.
The world is at a critical crossroads. Given current trends, democracies are under urgent pressure to deliver. Fortunately, as this report details, efforts are already underway to put the appropriate and corresponding mechanisms in place. One key mechanism is the social contract, which must be reconceptualized to reflect a new reality and respond to new and evolving public needs and demands. Around the world, groups are attempting this reconceptualization through a variety of channels, including new constitutions, citizens' assemblies, local political associations and governmental dialogue mechanisms.
Governments, civil society, media, expert groups, academics and individuals each have a role to play in supporting and participating in the renovation of social contracts. Our collective ability to come together, locally and internationally, to pursue the citizen-centred design of these contracts will determine the fate of democracy in the years to come.
About International IDEA
The International Institute for Democracy and Electoral Assistance (International IDEA) is an intergovernmental organization with the mission to advance democracy worldwide, as a universal human aspiration and enabler of sustainable development. We do this by supporting the building, strengthening and safeguarding of democratic political institutions and processes at all levels. Our vision is a world in which democratic processes, actors and institutions are inclusive and accountable and deliver sustainable development to all.
WHAT DO WE DO?
In our work we focus on three main impact areas: electoral processes; constitution-building processes; and political participation and representation. The themes of gender and inclusion, conflict sensitivity and sustainable development are mainstreamed across all our areas of work.
International IDEA provides analyses of global and regional democratic trends; produces comparative knowledge on democratic practices; offers technical assistance and capacity building on reform to actors engaged in democratic processes; and convenes dialogue on issues relevant to the public debate on democracy and democracy building.
WHERE DO WE WORK?
Our headquarters are located in Stockholm, and we have regional and country offices in Africa, Asia and the Pacific, Europe, and Latin America and the Caribbean. International IDEA is a Permanent Observer to the United Nations and is accredited to European Union institutions.
About the Global State of Democracy initiative
International IDEA launched the Global State of Democracy (GSoD) initiative in 2016. This Initiative provides evidence-based and balanced analysis and data on the state and quality of democracy globally and for 173 countries across all regions of the world. It aims to contribute to the public debate on democracy and inform policy interventions to strengthen democracy. Its main products include the annual Global State of Democracy report, the annual Global State of Democracy indices, the monthly Democracy Tracker, In Focus reports, blogs and op-eds.
GSOD REPORT
International IDEA's The Global State of Democracy Report aims to influence the global debate and analyses current trends and challenges to democracy. It offers specific policy recommendations to spark new and innovative thinking for policymakers, governments and civil society organizations supporting democracy.
GSOD INDICES
The Global State of Democracy Indices (GSoD Indices) quantitatively measure democratic trends at the country, regional and global levels across a broad range of different attributes of democracy in the period 1975– 2021. They do not provide a single index of democracy.
They produce data for 173 countries across the globe. The GSoD Indices are based on 116 individual indicators devised by various scholars and organizations using different types of sources. The GSoD indices consist of attribute and subattribute scores per country per year for the period 1975–2021.
<https://www.idea.int/gsod-indices/democracy-indices>
DEMOCRACY TRACKER
The Democracy Tracker provides comprehensive qualitative data on the state of democracy and human rights in 173 countries. The tool monitors and flags events, highlighting those that are significant enough to impact the status quo of each country. It provides policymakers and other stakeholders with timely analysis of the events and developments that merit attention and intervention.