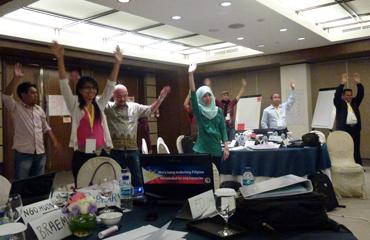 The Asia-Pacific region is a centre of political and economic change with vastly diverse societies: some are firmly established democracies, others are undergoing democratic transition, while some face a long and difficult road to any form of democracy and rule of law.
We work with electoral management bodies to create space for engagement of citizens in democratic constitution reform efforts at regional and country levels through our citizen-centered State of Democracy Assessment frameworks.
International IDEA works in the region from our regional office in Canberra, Australia and country offices in Bhutan, Fiji, Myanmar and Nepal.
In response to the February 2021 military coup, International IDEA has temporarily closed its offices in Yangon and Naypyitaw and provides its democracy assistance from outside the country.
We support democratic reform processes
Our work contributes to support selected processes of democratic reform within the region, for which IDEA's global comparative knowledge resources and tools—notably in electoral processes and constitution building—provide an invaluable base. In responding to requests for assistance in specific countries International IDEA's approach tailors support to each country, emphasizes local ownership and sustainability and respects the role and relevance of traditional customs and frameworks in people's understanding of democracy, law and service provision.
We promote understanding and debate on democracy
We encourage citizens to use its State of Democracy (SoD), State of Local Democracy (SoLD) and Democratic Accountability in Service Delivery tools. These tools have been developed by International IDEA to enable people to turn the spotlight on the strengths and weaknesses of their own institutions and government. We are supporting partners in assessments of local democracy in Mindanao, Philippines and in Indonesia. We are exploring both how democratic processes can realize popular aspirations and result in tangible advancement of people's lives, and how citizen participation, engagement and monitoring can best contribute to and ensure effective service delivery.
Our previous activities in the region
In Indonesia, between 1998 and 2006, we provided strategic advice to national actors in government and civil society on options relating to the electoral system and on the management of election management bodies. Our institute has facilitated the publication of voter-education material and has translated the International IDEA Handbooks Women in Parliament: Beyond Number and Democracy and Deep-rooted Conflict into Bahasa Indonesian as a resource for political dialogue. International IDEA also held workshops on inter-faith dialogue and gender and reconciliation in Sri Lanka. Attendees included policy makers and representatives from the Sinhala and Tamil communities.