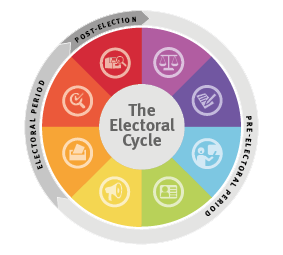 Electoral processes are experiencing profound transformation while simultaneously placed under enhanced scrutiny. Globally, electoral institutions face multiple challenges from increasing political interference, an evolving digital landscape and extreme weather events. These challenges pose a threat to electoral processes but also opportunities. The threats are unpredictable but increasingly well known, often deliberate and targeted in nature. Effective responses to these threats should protect but also enable democracy.
Through the Electoral Processes workstream, International IDEA will support the improvement and protection of the integrity of electoral institutions and processes. The focus will be on: (a) improving tools and practices of electoral assistance; (b) the quality of legal and institutional frameworks, procedures and practices in elections; (c) electoral authorities' capacity to implement their mandate; (d) gender equality and inclusive participation in electoral processes; and (e) the role of civil society, democracy defenders, and the media in ensuring the accountability of electoral institutions and the integrity of the electoral process. International IDEA will build on its convening power to articulate and exemplify options and best practices for electoral reform and regulatory policy.
Voter Turnout Trends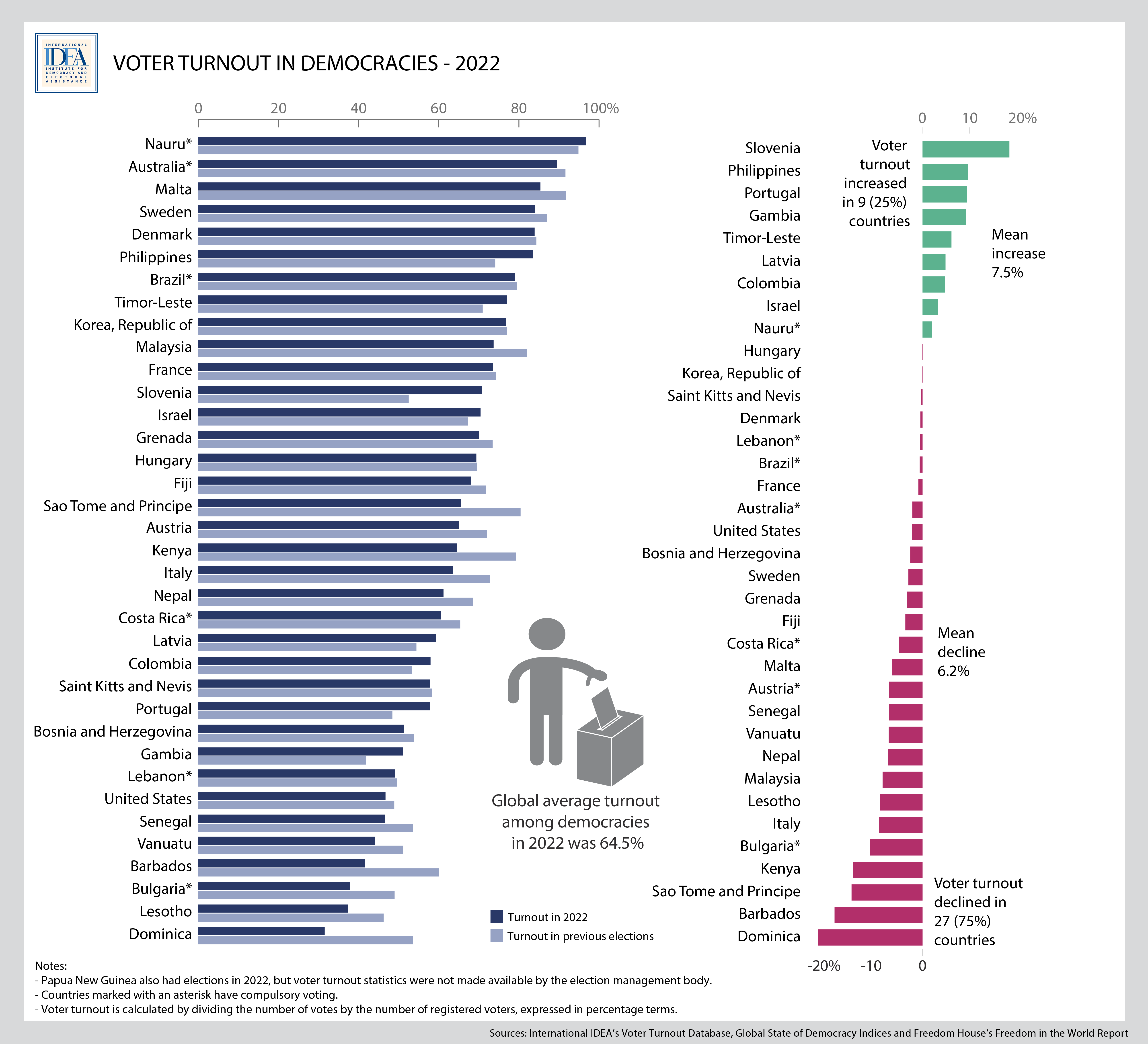 Topic Areas
Risk Management in Elections
Elections are complex undertakings. Regardless of where they take place, election management bodies face numerous risks in organizing them. These risks are linked to the legal, operational, technical, political, and security aspects of electoral processes. When risks become certainties, the consequences can be serious in both well-established and transitional democracies. For more information on the topic, International IDEA has published Risk Management in Elections: A Guide for Election Management Bodies (2021), Risk Management in Elections policy paper (2016), and an Electoral Risk Management Tool (ERM Tool). For more information on our work on electoral resilience building and crisis management see Protecting Elections Project.
The Impact of Natural Hazards on Elections
Election management bodies have always had to cope with the risk of natural hazards, but the threat posed by such phenomena has become more apparent in recent years. According to the Institute for Economics and Peace, the number of natural disasters, including floods and cyclones, has tripled in the last four decades. This dramatic development is consistent with the predictions of climate scientists, and it is thus highly likely that elections will more frequently be affected by natural hazards in future years. For analysis, publications, and audio content, visit the Impact of Natural Hazards on Elections multimedia report.
Covid-19 and Elections
During 2020–2021, the Covid-19 pandemic profoundly affected elections worldwide. In the first place, fast decisions needed to be made about whether to continue with planned elections, postpone or cancel them—balancing political rights with public health and safety concerns. For elections that went ahead, the pandemic necessitated rapid adjustments. Throughout the pandemic period, International IDEA published a range of knowledge resources on elections and Covid-19, which are all available via the Global Overview of COVID-19: Impact on Elections report. In May 2023, International IDEA and the Electoral Integrity Project published 'Elections during Emergencies and Crisis'. The volume brings together a comprehensive set of 26 country cases and a thematic analysis of electoral integrity.
Transitional Elections
When elections take place in countries transitioning from authoritarianism to democracy, from deep political crises to stability, or from war to peace, their significance is greater than usual. In such instances, elections are expected to bring legitimacy of government and contribute to consolidation of democracy, peace and stability. If, however, decisions on the timing and sequencing of transitional elections are not well- thought through, the elections can instead exacerbate tensions and thereby increase the risk of renewal of conflicts or democratic backsliding. For more information see Policy paper Timing and Sequencing of Transitional Elections (2019) and Stories of Democracy (Timeline, 2022).
Training, Education, and Research in Electoral Administration
Training and professional development is an investment in the EMBs ability to perform its primary task, administering an electoral contest. Poor or inadequate training hampers service delivery and increases the risk of election blunders that negatively impact the reputation of the EMB or the election outcome itself. Building the EMB workforce's capacities reinforces and inculcates electoral administration values and principles. For analysis and publications, and audio content on the topic please visit the Training, Education, and Research in Electoral Administration report.
Information, Communication and Technology in Electoral Processes
The lack of clarity related to the types of threats that manifest, as well as the roles and responsibilities for protecting elections in the information environment, can lead to the unfitted allocation of resources and ineffective strategies for prevention and protection. Measures should be focused on the impact, with clear delimitation of competencies and responsibilities in addressing the different types of malign practices that have the potential to affect trust in elections and the acceptance of the electoral outcome. Our knowledge and resource hub seeks to guide evidence-based policy-making and context-suitable interventions to protect elections in the information space. Technology has significantly impacted the way elections are conducted, from the use of electronic voting machines to online voter registration. However, the use of technology in elections has also raised concerns about security and privacy. On the topic of elections and technologies, International IDEA has produced several knowledge products including Cybersecurity and Elections (2019), Introducing Biometric Technology in Elections (2017), Open data in electoral administration (2017), Certification of ICTs in Elections (2015) and Introducing Electronic Voting (2011),
Money and Politics
Money is a necessary component of any democracy: it enables political participation, campaigning and representation. However, if not effectively regulated, it can undermine the integrity of electoral processes and jeopardize the quality of democracy. To provide solutions to the challenges relating to the funding of political parties and election campaigns (commonly known as political finance), International IDEA has developed a dedicated Money in Politics (MiP) programme and been working on electoral reforms from political finance perspectives over the last 15 years.
Electoral Justice
An effective electoral justice system is a key element in the unfolding of a free, fair and genuine democratic process. Without a system to mitigate and manage inequality or perceptions of inequality, even the best management of an electoral process may lead to mistrust in the legitimacy of the elected government. International IDEA has developed several knowledge products on the topic including the Electoral Justice: The International IDEA Handbook (2010), Electoral Justice Database (n.d), and the Electoral Justice System Assessment Guide (2019).
Special Voting Arrangement
Special voting arrangements (SVAs) are designed to expand voting opportunities to individuals who are otherwise not able to vote and thus to facilitate the principle of universal suffrage. SVAs are defined as arrangements that allow voters to exercise their right to vote by alternative means to casting their ballot in person, on election day, in the default polling station in the voter's constituency. In recent decades, electoral stakeholders have been keen to study and explore the opportunities of how to make voting more accessible and convenient to voters, especially in the face of declining voter participation across the globe. International IDEA has developed several knowledge products on the topic including the SVA Tool (2021) and Voting from Abroad Handbook (2007).
Foundations of Electoral Management
Elections are the cornerstone of democratic political processes, serving as a mechanism for political parties or candidates to compete for public office under equal conditions before the electorate. For an election to be credible, the competition must be fair, requiring impartial management of the process.  International IDEA has published a range of foundational knowledge resources on the topic, this includes Independence in Electoral Management (2021), Evolution of Ballot Papers, a Virtual Exhibition (Timeline, 2021), Financing of Elections  multimedia report (2020), Electoral Management Design Handbook (2014),  Electoral System Design Handbook (2005), and the Code of Conduct for Ethical and Professional Administration for Elections (1997).
PROJECTS
Protecting Elections
Inspired by its work on electoral risk management, democracy resilience, and conduct of elections during emergencies and crises, International IDEA will develop an Integrated Framework for Protecting Elections that promote the use of risk management, resilience-building, and crisis management methods. While these concepts are indispensable in many sectors that face high risks, the original research conducted by International IDEA confirms that they remain mostly unexplored in the field of democracy and electoral assistance. For more information visit the project landing page.
BRIDGE
BRIDGE stands for Building Resources in Democracy, Governance and Elections and represents a unique initiative where five leading organisations in the democracy and governance field have jointly committed to developing, implementing and maintaining the most comprehensive curriculum and workshop package available. BRIDGE is designed to be used as a tool within a broader capacity development framework. Rather than relying heavily on traditional lecturing, BRIDGE is focused on practical issues and is activity-based, with each module offering a range of activities designed to convey clearly identified key understandings, and to achieve specified learning outcomes. In the past 20 years, 2,295 BRIDGE workshops have been run in more than 50 countries. To learn more please visit http://www.bridge-project.org/en/.
ACE Electoral Knowledge Network
The ACE Electoral Knowledge Network is the world's largest online community and repository of electoral knowledge. It provides comprehensive information and specialised advice on any aspect of electoral processes. ACE Electoral Knowledge Network includes a one-stop-shop 'Topics Pages' which provide in-depth encyclopaedia reading and related information for more than 20 topics covering key electoral issues and steps of the electoral cycle; a comparative database, which includes a systematic collection of election-related data for more than 200 countries and territories; and an election observation portal with more than 2,000 election observation reports. To learn more about ACE and its various features please visit aceproject.org.
MEPA
MEPA stands for Master in Electoral Policy & Administration and is an online Programme that provides advanced learning on electoral processes for current and aspiring election professionals. It targets mid/upper-level professionals who want to acquire the specific knowledge and skills to work as election administrators, and/or to work as a part of EMBs. Individual modules are also available in Arabic, English, French, Portuguese, leading to the attainment of a Certificate of Completion of the specific module taken and the respective academic credits. To learn more please visit the San't Anna website.
DATABASES
Tools
For more tools visit our Data and Tool page.
Latest Analysis and Publications
Our joint projects
We are active partners in a number of joint projects that support knowledge sharing on best practices and practical tips, as well as capacity building for election practitioners and policymakers.
ACE Electoral Knowledge Network
The ACE Electoral Knowledge Network is an online knowledge repository for information and customized advice on electoral processes. Established in 1998, ACE has eight partners: The Electoral Institute for Sustainable Democracy in Africa (EISA), Elections Canada, Instituto Nacional Electoral (INE), the International Foundation for Electoral Systems (IFES), International IDEA, the United Nations Development Programme (UNDP), the Electoral Assistance Division of the UN Department of Political Affairs (UNEAD) and The Carter Center (TCC).
ACE is the world's first online resource of its kind in the field of elections and the world's largest online source of electoral knowledge, with more than 2 million annual visits per year. It provides more than 10,000 pages of specialized thematic information, country and regional information, comparative data, a global election calendar and an election observation portal. It also provides real time knowledge services and exchange through the ACE Practitioners' Network, an online network of more than 1000 election professionals from around the world sharing electoral experience and knowledge. Membership is free and politically non-affiliated. To learn more please visit aceproject.org.
Building Resources in Democracy Governance and Elections (BRIDGE)
BRIDGE is a modular professional development programme with a particular focus on electoral processes. BRIDGE was established in 2001 by five organizations leading the democracy and governance field: the Australian Electoral Commission, International IDEA, the International Foundation of Electoral Systems, the United Nations Development Programme and the United Nations Electoral Assistance Division.
The five BRIDGE partners have committed to developing, implementing and maintaining the most comprehensive curriculum and workshop package available, designed to be used as a tool within a broader capacity development framework. It is the main tool for face-to-face capacity development in the field. Since 2001, thousands of BRIDGE workshops have been delivered in more than 100 countries to more than15, 000 participants. Currently, there are several modules being updated or developed for release in 2018. To learn more please visit: http://www.bridge-project.org/en/.
Master in Electoral Policy and Administration (MEPA)
MEPA was developed by International IDEA, in partnership with the Scuola Superiore Sant'Anna and the United Nations Institute for Training and Research (UNITAR), to provide comprehensive and advanced learning about electoral processes to current and aspiring election professionals. Boasting the most reputed international experts in the field, MEPA is based on International IDEA's 2014 Model Curriculum, drawing on International IDEA's concept of the 'electoral cycle'. International IDEA also financially sponsored and developed the material for seven of the 19 modules available. Please direct all inquiries to the Scuola Superiore Sant'Anna via email: mepa@santannapisa.it
Databases
Tools
For more tools visit our Data and Tool page.
Latest analysis and publications
Contributors
Voter turnout trends: Abdurashid Solijonov
International IDEA, Asplund, E. (editor), Global Election Monitor (GEM), 12 May 2023
Global Election Monitor (GEM) country brief authors: Bianca Lapuz, Bill McDonald, Hyowon Park, Reuben Pickering, Carolyne Wilhelm