Global overview of COVID-19: Impact on elections
Elections postponed due to the outbreak of COVID-19 (coronavirus disease) span the globe. Here is a list of the current elections schedule and plans, as reported by electoral management bodies and news media. Please note that this list is not comprehensive but represents a snap shot of decisions and events across the globe.
This page was updated on 7 April 2020.
Please note that the below lists are not comprehensive. Check back on this page for updates and guidelines, based on International IDEA's research.
Please contact International IDEA via elections@idea.int if any of the information requires further updates.
This page is divided into six main parts:
Postponed elections (by region)
Change in elections date discussed as a result of COVID-19 period
COVID-19 implications on election preparations
Featured cases of prevention and mitigation efforts
From 1 March 2020 until 6 April 2020:
at least forty-seven (47) countries and territories across the globe have decided to postpone national and subnational elections due to COVID-19;
at least thirteen (13) countries and territories have decided to hold national or subnational elections as originally planned despite concerns related to COVID-19.
Africa
Americas
Asia
Europe
Oceania
Local government elections in New South Wales, Australia for a year (originally scheduled for September 2020)
By elections for Central Honiara and North East Guadalcanal Constituencies, Solomon Islands (originally scheduled for June 2020)
Government General Elections, Autonomous Bougainville Papua New Guinea (originally scheduled for June 2020)
Countries with postponed elections (in blue) as a result of COVID-19. (Map generated using www.amcharts.com/visited_countries)
Examples of elections and referendums that proceeded in March 2020 include: legislative elections in Israel (2 March 2020); kuomintang chairperson elections, Taiwan (7 March 2020), local elections in France (15 March 2020); local elections in Bavaria, Germany (first round 16 March 2020 and second round 29 March 2020); local elections in Hâncești, Moldova (15 March 2020); municipal elections in the Dominican Republic (15 March 2020); and primary elections in Arizona, Florida and Illinois (17 March 2020); General elections in Vanuatu (19 March 2020); six by elections in Poland (22 March 2020) and a constitutional referendum in Guinea (22 March 2020), general elections in Mali (29 March 2020), local elections in Queensland, Australia (29 March 2020), local elections in Luzern, Switzerland (29 March 2020).
Examples of elections and referendums that proceeded in April 2020 include: second round municipal elections in Geneva, Switzerland (4 April 2020) by postal voting only.
Special health and safety measures were introduced for many of the above elections.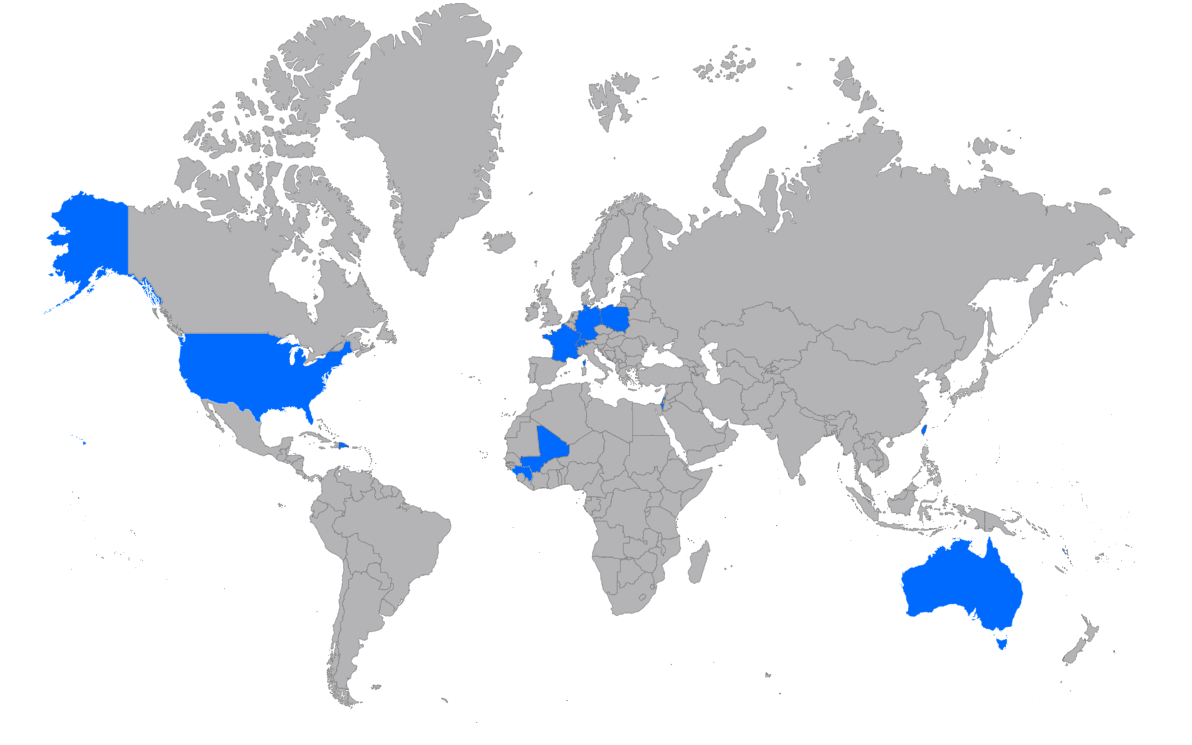 Countries that have held elections amid COVID-19 (in blue). Map generated using www.amcharts.com/visited_countries
Several countries across the world are discussing the possibility of postponing elections and referendums as a result of COVID-19. Examples include: Singapore, (Ivory Coast) Côte d'Ivoire and Romania.
Elections in South Korea (parliamentary elections, 15 April 2020), Mali (parliamentary elections, second round of voting 19 April 2020), Poland (presidential elections set for 10 May 2020), Dominican Republic (presidential and legislative elections, 17 May 2020), Tasmania, Australia (legislative council elections, 30 May 2020), Mongolia (parliamentary elections, 29 June 2020), New Zealand (General election and referendums set for 19 September 2020) are being held as originally scheduled despite concerns related to COVID-19. Also many primary elections in the USA will take place in April and May. A large proportion of the primaries will be held through postal voting only as a result of COVID-19. Moreover, the U.S. Presidential Election is still on schedule for 3 November 2020.
Election preparations in South Africa and Ghana have been affected by COVID-19 in particular voter registration. Also election preparation in particular training of members of electoral commissions in Wroclaw, Poland ahead of the presidential election on 10 May 2020 may be inadequate.The funding for the local elections scheduled for October 2020 in Ukraine may decrease and redirected to help combat COVID-19. The draft law on amendments to the budget of Ukraine if passed will have an impact on the Central Election Commissions ability organizing, preparing and holding elections.
Israel
4 March 2020, National Elections
In Israel separate polling stations made of plastic sheeting were set up and staffed by election officials in protective clothing for more than 5,500 voters who were under precautionary home isolation after returning home from abroad.
South Korea
15 April 2020 , Legislative Election
In South Korea—where there are more than 8,000 cases of COVID-19 and more than 100 reported deaths— patients will be able to vote during the 15 April parliamentary elections from home and hospitals based on a recent EMB ruling of the election code. Also, the National Election Commission is preparing a Code of Conduct for citizens to participate in voting. Voters will be expected to wash their hands before going to the polling station and have masks and ID cards ready. Also voters are expected to keep a safe distance from others as well as refraining from discussions in or outside the polling station.
United States of America
28 April 2020, Special election
In Maryland, the electoral management body (EMB) is planning to hold one special election in late April that will be shifted to solely mail voting in response to COVID-19. This special election is regarded as a test case for local EMB officials to determine whether mail voting could be used as a model throughout the United States.
Germany
29 March 2020, Local elections in Bavaria
The German state of Bavaria held the first round of local elections on 16th March 2020, offering in-person voting at polling stations and postal voting. The second-round run-off election held on 29th March 2020, is an all-postal vote election decided in response the COVID-19 pandemic and the health risk of contagion posed through social contact. The all-postal vote was decided, and logistical arrangements made after the first-round election was held.
Austria
March 2020 local elections in Vorarlberg and Styria
In an emergency session of parliament on 15th March 2020, Austria passed the 'COVID-19-Law'during a one-day procedure. The law does not mention elections, but allows for far reaching restrictions to public life, including bans of assembly for more than five persons. Local elections scheduled for 15th March 2020 in the State of Vorarlberg and for 22nd March 2020 in Styria have both been cancelled. New dates will be announced. Indefinitely postponing elections is not in Austria's Constitution and its election laws prescribe: "In the event of circumstances that prevent the beginning, continuation or completion of the election, the election administration can extend the election or postpone it to the next day."
The United Kingdom
May 2020 local elections
The United Kingdom (UK) Electoral Commission recommended to parliament that elections for the London Mayor, London Assembly, local elections in England and Wales and elections for regional Police and Crime Commissioners scheduled to be held on 7th May 2020, should be postponed to mitigate social contact during election campaigning for elections. Based on this advice the UK government brought forward legislation to postpone the elections until 6th May 2021.
New Zealand
19 September 2020 General Elections and referendums
Ahead of the elections, the EMB has announced that they will enact a range of contingency plans as a result of COVID-19. Furthermore, the EMB has highlighted alternative voting methods and clearly communicated the legal framework for a potential change in the election date.
United States of America
March 2020
On 9 March 2020 the Centers for Disease Control and Prevention (CDC) published recommendations for election polling stations as a result of COVID-19. The guidelines include preventative actions for election officials and the general public in advance and during election day. It also includes guidelines for handling mail-in ballots. Also, the U.S. Electoral Assistance Commission created a dedicated page that includes multiple election management resources (Coronavirus Covid-19 Resources) developed for U.S. election officials who are considering health and safety measures as well as postal voting .
Australia
28 March 2020 Queensland's Local Government Elections
The Electoral Commission Queensland has published a list of COVID-19 protection measures ahead of the elections. Voting in Australia is compulsory.
Indonesia
26 September 2020 Regional Elections
NGOs in Indonesia have been urging for the suspension of the regional (Gubernatorial, Regent/Mayoral) elections due to the fact that the Electoral Commission has on 21 March suspended four major activities surrounding the updating of voters' lists as a result of the need to keep "physical distance" among the population. This virtually makes the September election date hard, if not impossible, to keep. The Commission met on 30 March 2020, to "comprehensively" strategies the next steps. In the end, all parties agreed to postpone the election and to reallocate the unused electoral budgets to regional governments for COVID-19 pandemic response. A "Government Regulation In Lieu of a Law" will be issued as legal basis until the parliament can put it into law at their next session.
Mongolia
29 June 2020 Parliamentary Elections
Much public debate has occurred ever since the President made a public address on 23 March proposing a postponement to the forthcoming parliamentary elections to save costs. The Prime Minister and Cabinet have since responded that the situation does not yet require postponement. International IDEA has been informally informed that the ruling party has put the use of internet voting on the table, but implementation would be challenging for elderly people in the countryside and also due to poor internet connection.
Chile
26 April 2020 Constitutional Referendum
Chile postpones constitutional referendum for six months Chile had set a national plebiscite on whether or not to draft a new constitution for 26 April 2020. On 19 March 2020, following a broad political agreement among 15 political parties, it was rescheduled for 25 October 2020. The decision came after Sebastían Piñera, Chile's President, declared a 90-day state of catastrophe in the country, with the objective of strengthening the government's ability to contain the virus. This is an important decision, especially since the demand for a new constitution has been at the heart of the large-scale protests engulfing the country since October 2019. In order to bring into effect this new date for the plebiscite, a constitutional reform bill was presented and required the approval of two thirds of parliamentarians.