This publication is only available in electronic format
Lessons for future elections can been drawn from both the success and failures of the Republic of Korea's 20th presidential election in 2022, which was, in part, significantly informed by the 2020 National Assembly election.
Deliberate efforts were deployed to ensure previously marginalized or excluded voters from the 2020 polls were purposively enfranchised in the 2022 presidential election, using interventions including early and overseas voting. Despite some minor early irregularities related to the placement of ballots marked by Covid-19 patients, the election was widely received as free and fair, with high rates of electoral integrity.
This follow-up Technical Paper builds on the previous analysis of the Republic of Korea's 2020 National Assembly election.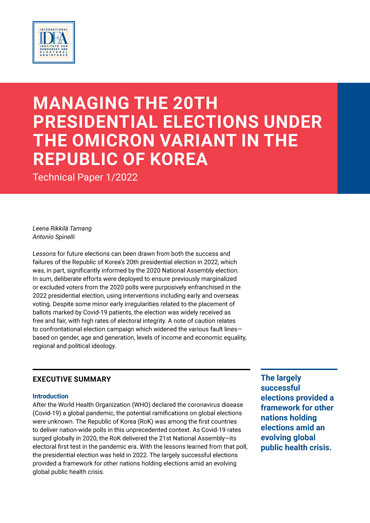 Contents
Executive summary
1. Introduction
2. Background
3. Key considerations
4. Main findings
5. Conclusions
References