Managing Elections under the COVID-19 Pandemic: The Republic of Korea's Crucial Test
Technical Paper 2/2020
COVID-19 pandemic has placed unprecedented pressure on countries and states as to whether to hold or postpone scheduled elections, amid controversies in either case.
Striking a balance between these two choices is not an easy call. Should the fulfilment of the social contract between a government and its citizens come at the expense of endangering their health and lives? Or should concerns of exacerbating the outbreak as a result of the mass gatherings inherent to the societal ritual of voting, prevail over other considerations?
This Technical Paper looks at the experience in the Republic of Korea which is one of the first countries to hold national elections under the threat of the COVID-19 pandemic.
Details
Publication date
18 April 2020
Author(s)
Antonio Spinelli
Contents
1. A national test for public confidence
2. A test run for managing elections under a pandemic
3. Extraordinary measures for extraordinary circumstances
4. How the 2020 National Assembly elections unfolded
5. What can be learned from this experience?
6. Every context is unique
Useful links
Give us feedback
Do you have a question or feedback about this publication? Leave us your feedback, and we'll get back to you
Send feedback
Managing Elections under the COVID-19 Pandemic: The Republic of Korea's Crucial Test
Technical Paper 2/2020
19759
2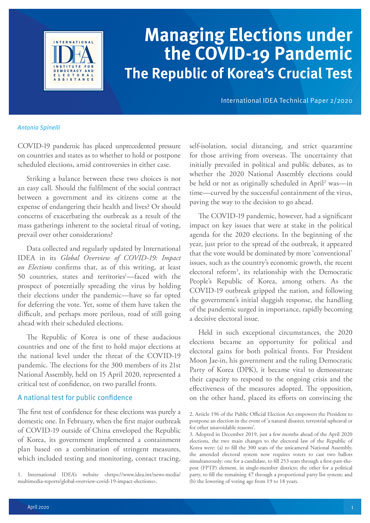 | | |
| --- | --- |
| Total views | 19759 |
| Downloads | 2 |
| Rating | |
Authors
Give us feedback
Do you have a question or feedback about this publication? Leave us your feedback, and we'll get back to you
Send feedback