The Impact of Natural Hazards on Elections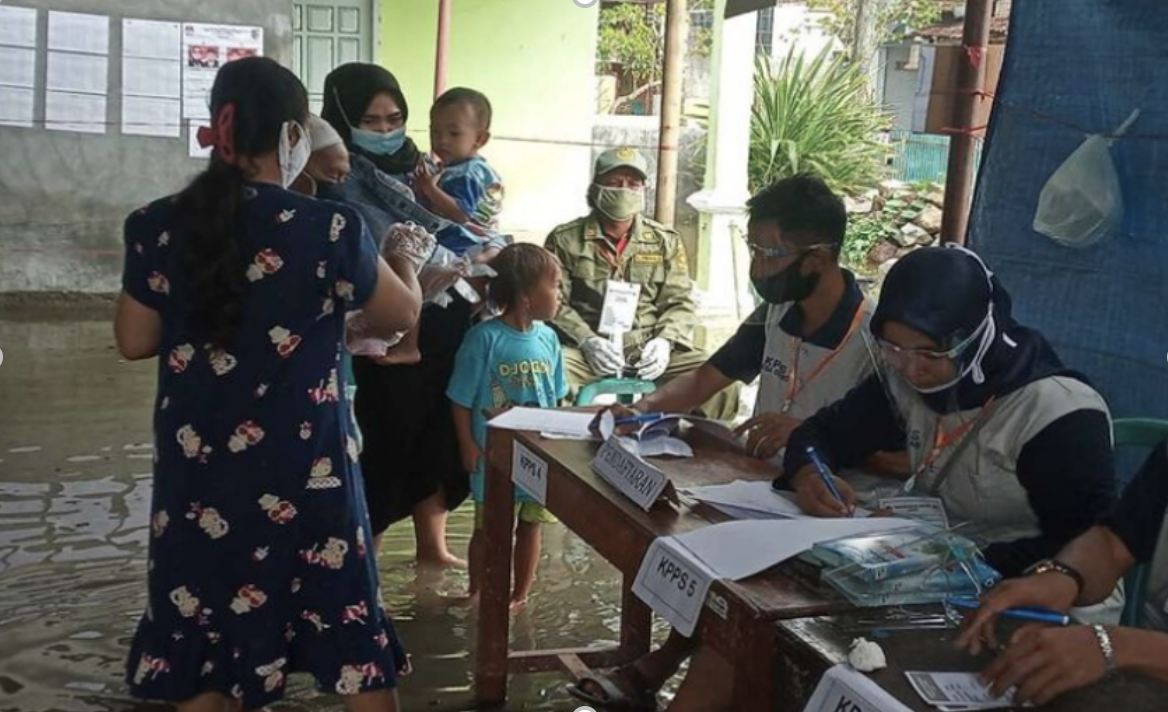 Election management bodies (EMBs) have always had to cope with natural hazards, but the threat posed by such phenomena has become more apparent in recent years. In recent decades, the number of natural disasters increased from under 300 per year in the 1980s to over 800 per annum in the 2020s. This dramatic development is consistent with the predictions of climate scientists, and it is thus highly likely that elections will more frequently be affected by natural hazards in future years.
Because elections are a key element of political system, electoral crises may disrupt functioning of democracies. Though most election activities are not seriously impaired by such events, electoral administrators should protect elections from this threat.
The aim of the report, Impact of Natural Hazards on Elections (which will be updated on a regular basis), is to provide an overview and share various strategies that can be used to protect elections from adverse effects. The report considers hazards that are likely to increase with climate change, such as floods and wildfires, as well as non-climate change specific disasters such as earthquakes.
Through our report including analysis, publications and podcasts, we will keep you informed and welcome your participation in our dialogue.
This report was first published on 1 September 2022 and is updated on a regular basis. Please contact us at elections@idea.int for any further information.
International IDEA's analyses and publications on natural hazards and electoral processes
Analyses
Podcast
Case Studies
Case Study, 1 September 2022

Voting in the first round of Haiti's 2010 presidential and legislative elections took place on 28 November 2010, 10 months after the country had been hit by a Richter Scale-7 earthquake, 23 days after the passage of Hurricane Tomas and in the midst of a rapidly spiralling cholera epidemic.

Case Study, 1 September 2022

The 2019 presidential, legislative and provincial elections in Mozambique were held in the midst of disasters caused by Cyclones Idai and Kenneth, as a result of which schools, power grids and roads were destroyed and people were forced to move to safer locations.

Case Study, 1 September 2022

This case study examines the Californian wildfires occurring from September 2015 to November 2018 to assess their effect on two electoral cycles in the state (2016 and 2018), and to study how electoral practitioners cope with these challenges in a developed democratic setting.

Case Study, 30 November 2022​

This study explores how flooding (originating from sea level rise) and Covid-19 interact and how the election management bodies (alongside others) dealt with these hazards simultaneously during the 2020 direct local elections, with a focus on two contrasting districts: Semarang City and Demak.
Working Findings and Recommendations
The working findings from analysis and publications on the topic of natural hazards and elections provide scope for preliminary recommendations relevant to the work of electoral management bodies, lawmakers, civil contingency/disaster agencies, political parties, civil society organizations, academia and international electoral assistance providers. These highlight the need for:
the legal framework of elections to account for emergency situations with an emphasis on natural disasters (flooding, sea-level rise, hurricanes, wildfires, earthquakes, etc.) and timing of elections;
flexibility in the legal framework of elections to allow for a variety of alternative arrangements to ensure effectiveness in the event of a declared emergency. Alternative arrangements can include the extension of special voting arrangements which can increase voters' access to polls, especially in places that are vulnerable to the effects of disasters and severe weather events;
EMBs and other state agencies involved in elections (such as postal services, and education facilities used as polling stations) to be considered as part of a state's critical infrastructure;
EMBs to adopt risk management frameworks and crisis management procedures and resilience-building measures to reduce election disruption caused by natural disasters;
EMBs to strengthen their inter-agency cooperation with national and sub-national state agencies involved in elections and disaster preparedness, prevention, and mitigation;
EMBs to have a strategic communication plan and messaging so that voters understand any procedural or location changes associated with the election as a result of the natural disaster.
Additional Resources
---
Contributors
The project is led by Erik Asplund (International IDEA), Sarah Birch (King's College, University of London) and Jeff Fischer (Independent consultant)
Case study authors: Sarah Birch (King's College, University of London), Jeff Fischer (Independent consultant), David Towriss (International IDEA), Domingos M. Rosario (Eduardo Mondlane University), Yogi Setya Permana (Royal Netherlands Institute of Southeast Asian and Caribbean Studies)
The Impact of Natural Hazards on Elections: A Global Overview (Dashboard): Erik Asplund (International IDEA) and Hyowon Park (International IDEA)