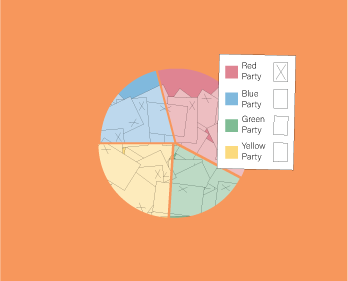 Political parties are crucial for the functioning of representative democracy because multiparty democracy generates different policy options for the electorate. Political parties provide a mechanism through which citizens express diversity of interests and aspirations.
Under the Political Participation and Representation Programme, International IDEA supports political parties through technical assistance and comparative knowledge production in the areas of political party organization, political party finance, gender equality and inclusion, interparty dialogue and citizens' engagement. Our Toolkit provides an overview of International IDEA's work on Political Parties Strengthening.
Political Party Dialogue
In many young democracies, especially those with weak legal and political systems, fundamental reforms are highly needed but often also highly contested. Political parties have an important role to play in developing communication channels and consultation processes for building consensus. Stimulating greater political cooperation in the competitive arena of national politics is crucial to avoid conflict and regain citizen confidence in a country's democratic system.
Gender and Political Finance
The impact of economic resources on the political participation of women has become a prominent issue in the field of comparative political finance.
The four-year Respect for Women's Political Rights (WPR) Programme developed by International IDEA, the Netherlands Institute for Multiparty Democracy (NIMD) and other partners aims to strengthen the political leadership of women in three countries—Colombia, Kenya and Tunisia—by improving the political environment for equal participation and leadership of women and men in political parties.
The WPR Programme works directly with political parties in the above-mentioned countries to:
Assess, reform and transform both formal and informal barriers that impede and discourage progress on gender equality and women's political rights;
Enhance the capacity of women candidates, as well as men and women politicians in general to be more effective fundraisers, campaigners, and leaders; and
Build political parties' institutional capacities on gender-sensitive policymaking and legislation.
Level Up: Political Finance with Integrity
The Level Up project aims to improve political finance regulatory frameworks in Moldova, Mongolia and Paraguay. Together, the partners are working to level the playing field, particularly for women and youth, and to protect public policy from the undue influence of money in politics. This two-year project, which is co-funded by the European Union, focuses on how these regulations could better empower women and young politicians; and how they can protect the integrity of public policy making from the influence exerted by money in politics. The International Institute for Democracy and Electoral Assistance (International IDEA) is the project's managing organization and works together with three other implementing partners: The Centre for Continued Electoral Training (CCET) in Moldova, Open Society Forum in Mongolia and Semillas para la Democracia in Paraguay. These four organizations have an established track record as impartial and honest brokers of expertise on political finance.
Learn more about the activities of Level Up.
Digital Parties Portal
Many political parties struggle with utilizing new technologies in their work, whether it is online fundraising or mastering innovative outreach and communication channels.
International IDEA's Digital Parties Portal contains the tools a political party needs to work effectively. The portal contains niche tools used by political parties as well as more mainstream tools that may be useful in the political realm. The tools were chosen carefully so that they can be used by established and upcoming parties, in contexts with stable internet infrastructure as well as in settings that lack sufficient connectivity.