This publication is available in print and electronic format
ISBN:
978-91-87729-43-0 (Print)
Co-Publisher(s):
Netherlands Institute for Multiparty Democracy, Oslo Center for Peace and Human Rights
La coopération entre les partis politiques est tout aussi indispensable pour garantir l'ancrage de la démocratie, au-delà de la compétition électorale.
Le dialogue entre partis politiques se déroule généralement dans le cadre d'institutions démocratiques, telles que les parlements nationaux. Toutefois, le dialogue parlementaire seul ne permet pas toujours d'aller au bout du consensus ou du compromis. C'est pourquoi ce guide souligne aussi l'importance de disposer d'espaces plus dynamiques de dialogue entre partis politiques.
Ce guide, qui s'appuie sur des études de cas issues de plusieurs pays, permettra aux acteurs concernés d'évaluer les conditions générales d'un dialogue entre partis politiques, d'instaurer la confiance, de mettre en place et d'organiser des dialogues, d'en établir les objectifs et l'agenda, de faciliter en douceur le passage des différentes étapes de leur évolution, de veiller à ce qu'ils aboutissent à des résultats significatifs et, enfin et surtout, de favoriser la mise en oeuvre des ententes et accords obtenus.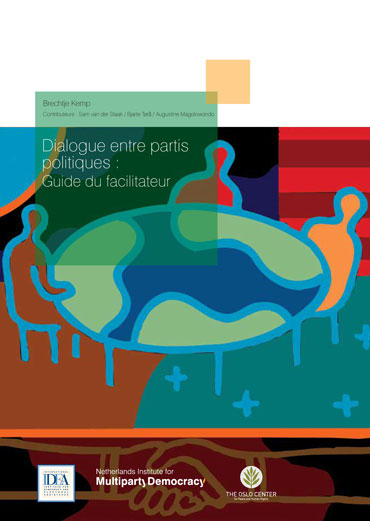 Contents
Avant-propos
Préface
Remerciements
Résumé
À propos de ce guide
Première partie : Caractéristiques générales du dialogue entre partis politiques
1. Définition du dialogue entre partis politiques
2. Le rôle du facilitateur
3. Évaluation de l'environnement politique
Deuxième partie : Le dialogue entre partis politiques en pratique
4. Étapes et dynamique du dialogue
5. Définition des objectifs et de l'agenda
6. Soutien à la réforme politique et au développement national
7. Calendrier et le cycle électoral
8. Conception de la structure organisationnelle du dialogue
9. Les règles du jeu du dialogue
10. Instaurer la confiance entre les partis politiques
11. Recherche de consensus par le biais d'un dialogue structuré
12. Communication et préparation au sein des partis
Troisième partie : Le dialogue inclusif
13. Déterminer quels partis inviter au dialogue
14. Choisir les représentants au dialogue entre partis politiques
15. Égalité de participation et de représentation entre hommes et femmes
16. Représentation des minorités et diversité
17. Participation des organisations de la société civile et des médias
18. Conclusion : aller au-delà de la poignée de main
Annexe 1 : Études de cas
Annexe 2 : Facteurs à prendre en considérations lors de la conception d'un processus de dialogue entre partis politiques