This publication is available in print and electronic format
ISBN:
978-91-87729-85-0 (Print)
Co-Publisher(s):
Netherlands Institute for Multiparty Democracy, Oslo Center for Peace and Human Rights
Los partidos y organizaciones políticas necesitan tener capacidad tanto para competir como para cooperar.
El diálogo entre partidos políticos por lo general tiene lugar dentro de instituciones democráticas, tales como los parlamentos nacionales. Sin embargo, el diálogo parlamentario como tal no siempre puede satisfacer la necesidad de una exploración genuina de consenso o acuerdo. En tal sentido, esta Guía se enfoca en la necesidad de contar con espacios más dinámicos para el diálogo entre partidos políticos.
Con base en ejemplos prácticos de diferentes países, esta Guía facilitará a los actores el valorar las condiciones generales para diálogos entre partidos políticos; fomentar confianza; convocar y organizar diálogos; fijar objetivos y preparar la agenda; facilitar su evolución tranquila a lo largo de varias etapas; asegurar resultados significativos; y finalmente, pero no menos importante, promover la implementación de los convenios y acuerdos alcanzados.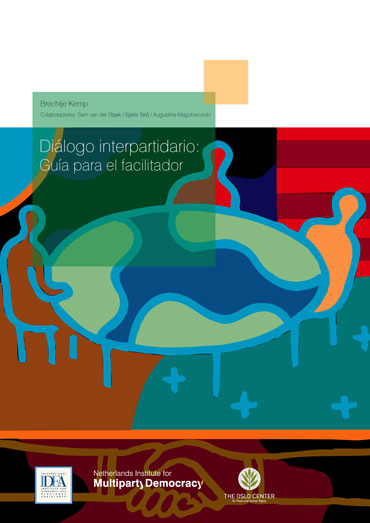 Contents
Prólogo
Prefacio
Agradecimientos
Resumen ejecutivo
Sobre esta Guía
PARTE I: El diálogo entre partidos políticos: características generales
1. Definición de diálogo entre partidos políticos
2. El papel del facilitador
3. Evaluación del ambiente político
PARTE II: El diálogo interpartidario en la práctica
4. Fases y dinámicas del diálogo
5. Definición de los objetivos y la agenda
6. Apoyo a la reforma política y al desarrollo nacional
7. Momento de realización del diálogo y ciclo electoral
8. Diseño de la estructura organizativa del diálogo
9. Las reglas del juego del diálogo
10. Construcción de la confianza entre los partidos políticos
11. La construcción de consensos mediante el diálogo estructurado
12. Comunicación y preparativos al interior de los partidos
PARTE III: El diálogo inclusivo
13. La decisión sobre cuáles partidos se invita al diálogo
14. Selección de los representantes en el diálogo interpartidario
15. Igualdad de participación y representación de mujeres y hombres
16. Representación de las minorías y diversidad
17. Interacción con organizaciones de la sociedad civil y con los medios de comunicación
18. Observaciones finales: más allá del apretón de manos
Apéndice 1. Estudios de casos
Apéndice 2. Consideraciones sobre el diseño del proceso de diálogo
Acrónimos y abreviaturas
Referencias bibliográficas
Notas de final de texto
Colofón