War in Sudan 15 April 2023: Background, Analysis and Scenarios
August 2023
The aim of this Report is to provide a situation analysis with a view to informing relevant political and third-party actors on the core issues that require resolution and negotiation.
Sudan's post-independence history is characterized by durable disorders. The peak of these disorders was reached in 2011 when the South Sudanese voted overwhelmingly for secession. Between 1956 and 2019, Sudan had three short democratic governments and long military dictatorships.
An end to the ongoing war in Sudan should be sought through addressing the causes of lengthy conflicts and durable disorders which characterize the history of post-independence Sudan. The war has inflicted human suffering and has involved destruction of infrastructure, looting, pillaging and ransacking of homes and private enterprises. Millions of Sudanese have been displaced within the country and hundreds of thousands have sought refuge in neighbouring countries, fleeing under difficult conditions.
Details
Publication date
31 August 2023
Author(s)
Munzoul A. M. Assal
Contents
Abbreviations
Executive summary
Introduction
Objectives of the report
Methodology
1. Pre-conflict developments: December 2018 and its aftermath
2. The October 2021 coup and its implications
3. The Political Framework Agreement
4. The war of 15 April 2023
5. Potential future scenarios and priorities for better civilian–military relations
6. Conclusions and recommendations
Recommendations
References
About the author
About International IDEA
Give us feedback
Do you have a question or feedback about this publication? Leave us your feedback, and we'll get back to you
Send feedback
War in Sudan 15 April 2023: Background, Analysis and Scenarios
August 2023
891
133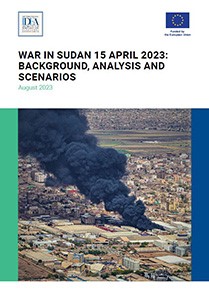 | | |
| --- | --- |
| Total views | 891 |
| Downloads | 133 |
| Rating | |
Give us feedback
Do you have a question or feedback about this publication? Leave us your feedback, and we'll get back to you
Send feedback