Democracy, Peace and Security: The Role of the United Nations
Democratization in conflict-affected countries is a multidimensional challenge. Implementing democracy-assistance programs requires more sustained and strategic security, political and development support.
In March 2010 International IDEA, together with the UN Department of Political Affairs, the UN Department of Peacekeeping Operations and the UN Development Programme, organized a round table on the United Nations' role in promoting democracy, peace and security.
The event brought together more than 80 policymakers, practitioners and academics working on different aspects of peace, security and democracy to review the work of the UN at the critical juncture between democracy assistance, peacemaking, peacekeeping and peacebuilding.
This summary document highlights the key conclusions and recommendations that were developed by participants at the round table.
Details
Publication date
31 December 2011
Author(s)
Massimo Tommasoli
Co-Publisher(s)
United Nations, United Nations Development Programme
ISBN
978-91-86565-84-8 (Print)
Contents
Key Recommendations
Executive Summary
1. Introduction
2. UN Policies and Practices in Supporting Democratic Governance, Peace and Security: An Overview
3. Elite Accommodation and Leadership Capacities
4. Sequencing and Prioritization
5. Democratization, Local Governance and Peacebuilding
6. Responsive Institutions
7. Promoting Coordination, Comprehensive Planning and Integrated Approaches
8. The Role of the UN in Supporting Democracy, Peace and Security: Conclusions and Recommendations
Give us feedback
Do you have a question or feedback about this publication? Leave us your feedback, and we'll get back to you
Send feedback
Democracy, Peace and Security: The Role of the United Nations
7027
10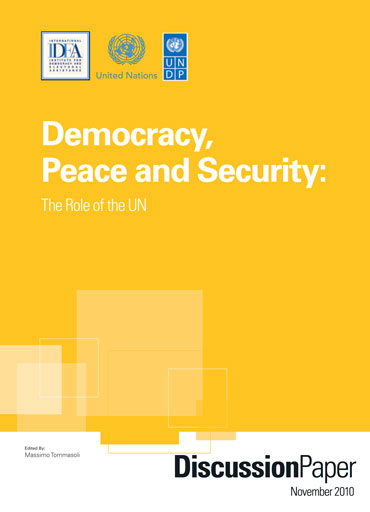 | | |
| --- | --- |
| Total views | 7027 |
| Downloads | 10 |
| Rating | |
Authors
Give us feedback
Do you have a question or feedback about this publication? Leave us your feedback, and we'll get back to you
Send feedback