Interim Governance Arrangements in Post-Conflict and Fragile Settings
Sixth Edinburgh Dialogue on Post-Conflict Constitution-Building, 2019
Interim governance arrangements are an institutional framework established to create a 'bridge' from a situation of governance that has been interrupted by political or violent crisis often situated in an authoritarian past, towards a more peaceful, inclusive and democratic government.
This Report provides an understanding of how temporary governance during major political transitions is structured and how it works in practice.
In December 2019, International IDEA—together with the Edinburgh Centre for Constitutional Law, the Global Justice Academy and the Political Settlements Research Programme at the University of Edinburgh, and with financial support from the UK Foreign, Commonwealth & Development Office (FCDO)—hosted the Sixth Edinburgh Dialogue on Post-Conflict Constitution-Building. The Edinburgh Dialogue is an annual event that brings together experts and practitioners from the fields of constitution-building, conflict resolution and mediation to advance research on a specific issue in post-conflict constitution-building.
Details
Publication date
24 September 2020
Contents
Acknowledgements
Summary
1. A bridge from crisis
1.1. The components of interim governance arrangements
1.2. Factors impacting on the selection of reform processes
1.3. Role of international actors
1.4. Sub-state interim governance arrangements
2. Challenges inherent in interim governance arrangements
2.1. Inclusion and participation
2.2. Deliberation modalities
2.3. Sequencing of modalities and reform processes
2.4. Security challenges
3. Stumbling blocks during the interim period
4. Ways of easing the pressure on interim governance arrangements
References and further reading
Peace agreements and constitutions
Annex A. List of states with interim governance arrangements
Annex B. Agenda
Give us feedback
Do you have a question or feedback about this publication? Leave us your feedback, and we'll get back to you
Send feedback
Interim Governance Arrangements in Post-Conflict and Fragile Settings
Sixth Edinburgh Dialogue on Post-Conflict Constitution-Building, 2019
5146
15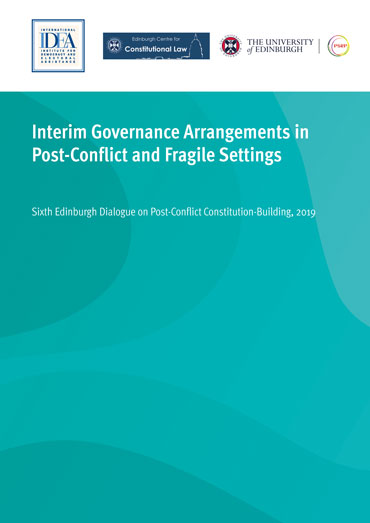 | | |
| --- | --- |
| Total views | 5146 |
| Downloads | 15 |
| Rating | |
Give us feedback
Do you have a question or feedback about this publication? Leave us your feedback, and we'll get back to you
Send feedback