Back to overview
Women leaders translate rights into outcomes in Central African Republic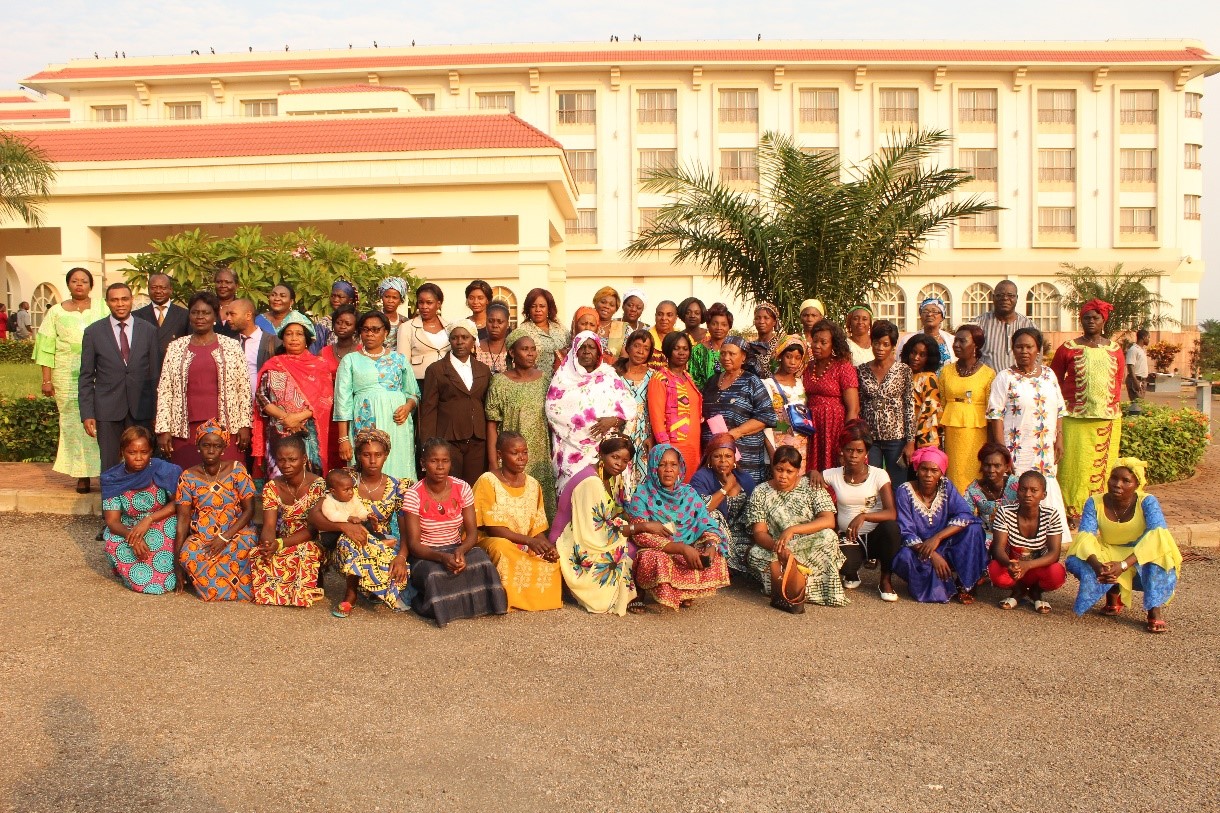 Participants of the 'Capacity Building Workshop for Women Leaders for a gender-sensitive Implementation of the Political Agreement for Peace and Reconciliation in Central African Republic' held in June 2019 in Bangui. Photo credit: International IDEA
<p>The Political Agreement for Peace and Reconciliation</p>
The Political Agreement for Peace and Reconciliation
Women leaders suffered unspeakable atrocities during the conflict in the Central African Republic in which militias killed thousands and displaced many more. These women remain devoted to forging peace in their country and are doing so with help and support from International IDEA.
International IDEA hosted the 'Capacity Building Workshop for Women Leaders for a gender sensitive Implementation of the Political Agreement for Peace and Reconciliation in Central African Republic' held in Bangui on 17–18 June 2019. Participants included parliamentarians, 40 constituents from provinces occupied by rebel groups that have signed the Peace Agreement, as well as representatives of other armed groups, five members of the agreement's monitoring mechanism, the first deputy speaker of the National Assembly, women members of government, senior experts from FEMWISE/African Union and the AU representative to the Central African Republic. The monitoring mechanism includes the Executive Follow-up Committee, the National Implementation Committee, the Prefectural Implementation Committee, and the National Programme for Demobilization, Disarmament, Reinsertion, Reintegration and the Repatriation Implementation Unit.
The workshop helped develop the capacity of women leaders in two ways. First, it created awareness of how women leaders can translate the rights assigned to women in the Khartoum Agreement into tangible actions. Second, it strengthened the participants' willingness and capacity to ensure the gender-sensitive implementation of the agreement.
An important outcome of the workshop was that the participants drafted a tentative action plan on how to put these insights into practice. In response to the participants' request—and in order to further promote gender-sensitive peace enforcement initiatives, advocacy and widescale women's oversight of the implementation process—the African Union Commission's Department For Political Affairs and International IDEA will provide 10,000 printed copies of the French and Sango versions of the Political Agreement for Peace and Reconciliation to the women leaders in the Central African Republic in 2020.
'This training gives me a unique platform to vent, to hear the travails of my fellow women leaders and know that I am not alone in this struggle; to rekindle hope and re-channel that painful experience towards my leadership drive and efforts to implement the Khartoum Agreement; so that such horrendous crimes would not be repeated, and victims would find due justice.' — Workshop participant
International IDEA supports women leaders' capacities to engage with representative institutions in a democratic and effective way to ensure a gendersensitive implementation of the Khartoum Agreement.
Read more stories about International IDEA's results in our Annual Outcome Report 2019: Democracy In Action.