Back to overview
Supporting Bangsamoro Autonomous Region in Muslim Mindanao at a critical juncture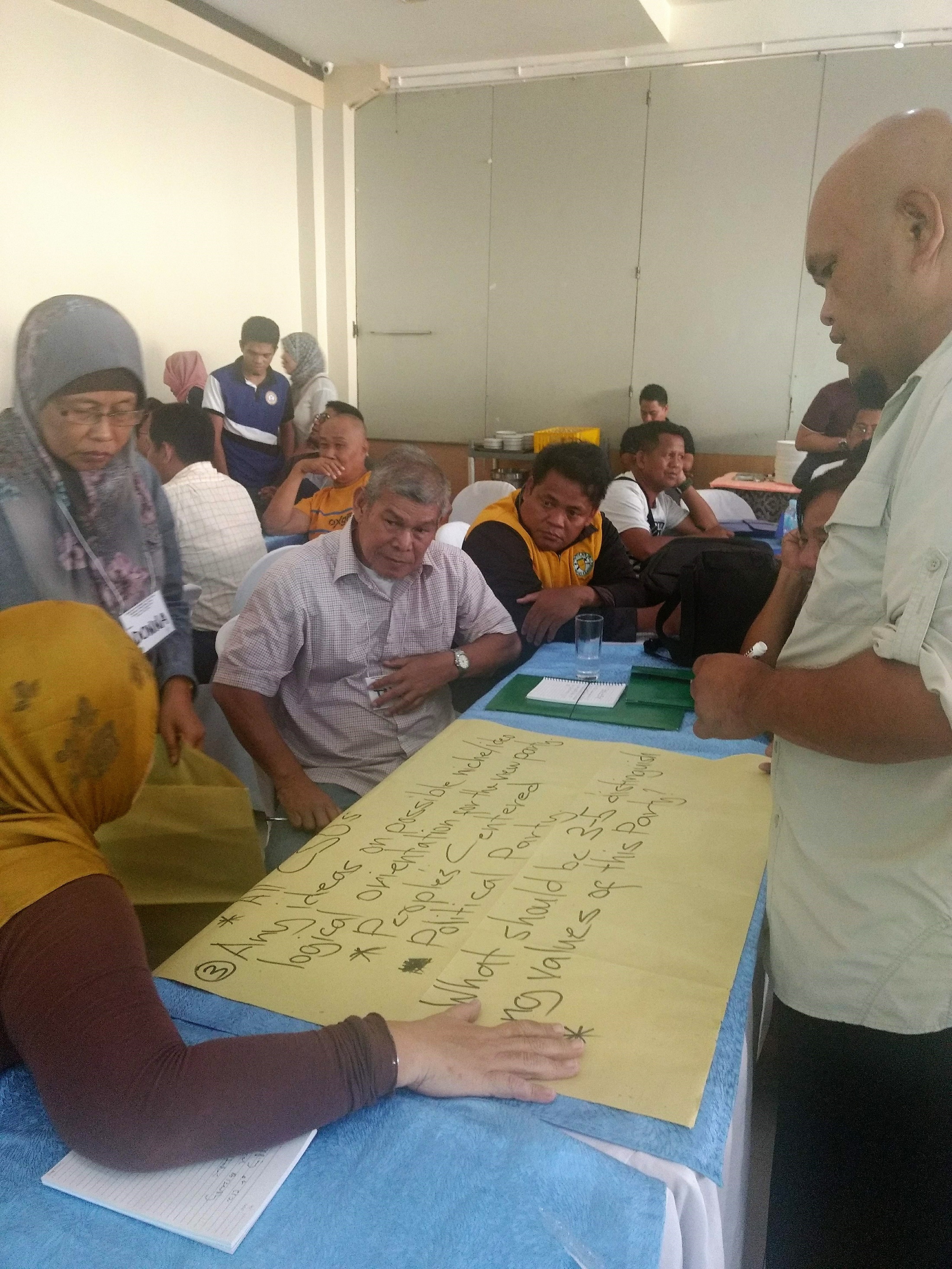 International IDEA and the Consortium of Bangsamoro Civil Society facilitated a workshop on strategic planning for political parties for various civil society groups in Bangsamoro in support of the BARMM transition in October 2019. The participants brainstormed on an action plan for establishing regional political parties in Bangsamoro. Photo credit: International IDEA
<p>Supporting an inclusive approach for democratic institutions and processes in a post-conflict region</p>
Supporting an inclusive approach for democratic institutions and processes in a post-conflict region
In early 2019, the citizens of Bangsamoro Autonomous Region in the Philippines voted in favour of the Bangsamoro Organic Law, which began the transfer of power from the previous regional government to the newly formed Bangsamoro Autonomous Region in Muslim Mindanao (BARMM) and hence ending the previous regional government of the Autonomous Region of Muslim Mindanao (ARMM).
The new law led to the formation of an 80-member transition authority—appointed by the Philippine president and led by Interim Chief Minister Ahod Ebrahim, and Al Haj, chairman of the Moro Islamic Liberation Front—whith both executive and legislative powers. However, as much as BARMM is considered a major milestone towards peace and democratic transition in this historically restive region, it has several fundamental challenges to overcome. These include deep sociopolitical polarization, patronage politics and clan wars following almost half a century of conflict, and related displacements and traumas.
Additionally, BARMM is expected to hold its first parliamentary elections in 2022, hence the next three years of transition are crucial for the interim government to establish well-functioning democratic institutions and processes. International IDEA and the Consortium of Bangsamoro Civil Society facilitated a workshop on strategic planning for political parties for various civil society groups in Bangsamoro in support of the BARMM transition in October 2019. The participants brainstormed on an action plan for establishing regional political parties in Bangsamoro.
Upon consultation with representatives from the transition authority and other stakeholders, International IDEA found a niche to support the parliamentary ad hoc committees tasked to draft eight priority laws. With the committees on electoral, administrative and indigenous peoples' affairs codes, the Institute has conducted various activities for members of the Bangsamoro Transition Authority, including an orientation workshop on drafting an electoral code. We have provided expertise on the challenges and opportunities associated with parliamentary systems, that informed the Administrative Code committee on the best fit for the BARMM, and have answered a request for review and advice on the draft Indigenous Peoples' Affairs Code.
We brought in Professor Cheryl Saunders, a senior advisor on constitution-building, and Hadar Gumay, former chairman of the Indonesian Election Commission, to provide in-depth information on elections, political parties, parliamentary systems and federalism. Parallel to working with the transition authority, the Institute, in partnership with the Consortium of Bangsamoro Civil Society, facilitated a workshop for local CSOs on establishing political parties in the BARMM, using International IDEA's Strategic Planning for Political Parties: A Practical Tool.
Through this workshop, more than 50 participants discussed political party organization in post-conflict situations, understanding the challenges and opportunities for political parties and brainstorming action plans for party building in the BARMM. As the transition has only just begun, International IDEA hopes to provide continued support to strengthen BARMM's democratic institutions and processes.
This workshop has helped find answers to key questions of whether there is a need for political partybuilding in BARMM, and what is the incentive for CSOs in supporting the formation and strengthening of regional political parties. — Guiamel Alim, Chair of Consortium of Bangsamoro Civil Society
Download the assessments: The State of Local Democracy assessments for the Philippines
International IDEA supported the Bangsamoro Transition Authority in Bangsamoro Autonomous Region in Muslim Mindanao (BARMM) in the Philippines to make more informed choices regarding constitutional design and process.
Read more stories about International IDEA's results in our Annual Outcome Report 2019: Democracy In Action.