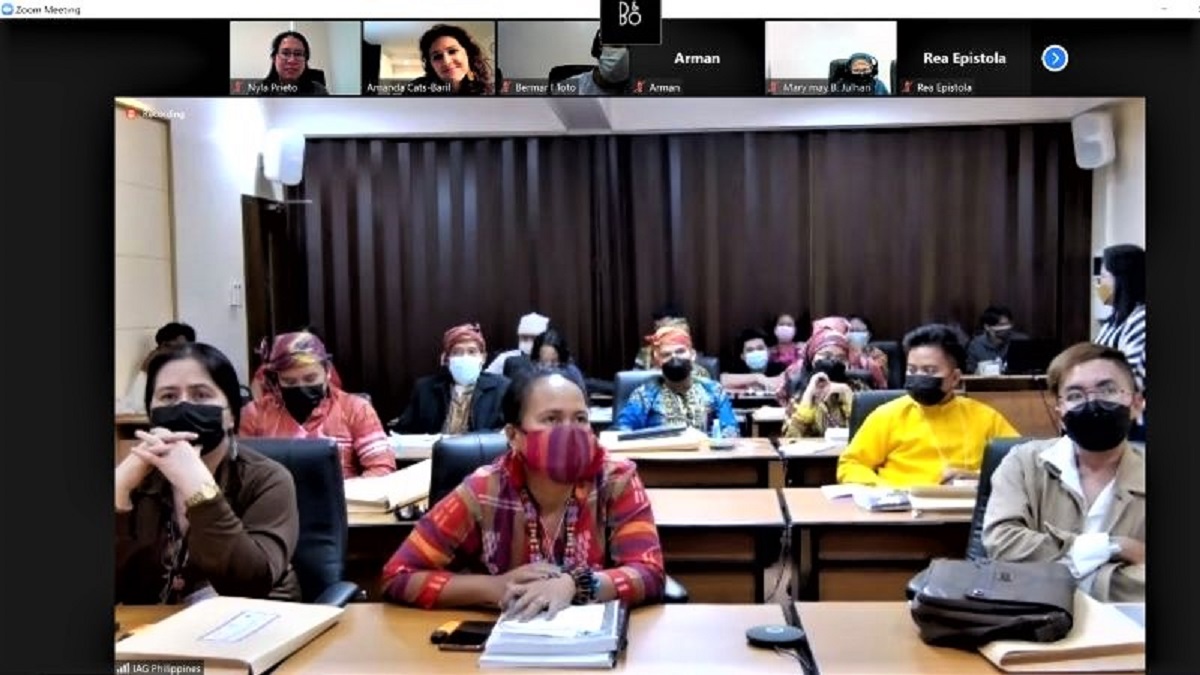 Image credit: International IDEA
"We have to first recognize ourselves before being recognized by others."
A statement made by one of the Indigenous Peoples (IP) Champions from the Bangsamoro Autonomous Region in Muslim Mindanao (BARMM), at the workshop on Indigenous Peoples' Rights in Constitutions Assessment Tool (IPCAT) encapsulates the importance for indigenous peoples to unite in their ongoing struggle for recognition, autonomy and rights.
Such awareness was shared during the workshop on IPCAT where the selected 20 IP Champions, representing six indigenous tribes in BARMM, were introduced to the IPCAT methodology as the tool that will guide them to assess and analyze the Philippine Constitution, the Bangsamoro Organic Law and other national and local legal frameworks from perspective of IP rights. Their assessment of the constitution and local laws will be transformed into action plans of their respective advocacies.
The week-long workshop held on 23-27 August 2021 was formally opened by Leena Rikkilä-Tamang, Regional Director of International IDEA's Asia and the Pacific, and Benedicto Bacani, Executive Director of Institute for Autonomy and Governance. Amanda Cats-Baril, International IDEA's Regional Advisor on Constitution-Building in Asia and the Pacific, guided the IP Champions through the assessment process including discussions on key concepts on IPCAT and indigenous rights, constitutional implementation, constitutions and conflict mitigation, and being a constitutional advocate.
The participants also had the opportunity to interact with key local experts such as Vicky Tauli-Corpuz, Executive Director of the Tebtebba Indigenous Peoples' International Centre for Policy and Research and Education who discussed IP rights entrenched in the 1987 Philippine Constitution, challenges of the Indigenous Peoples' Rights Act (IPRA) and some comparative experiences during her stint as former UN Special Rapporteur on Indigenous Peoples' Rights. They also discussed with Timuay Alim Bandara of the Timuay Justice and Governance who talked about the challenges and issued faced by Mindanao IPs and how these can be addressed; and with Romy Saliga, Member of the Parliament of BARMM who presented the rights and tasks for the Bangsamoro Transition Authority (BTA) on behalf of IPs as defined by the BOL, and the draft IP Code yet to be passed by the BTA.
The workshop capped off with group presentations on applying the IPCAT where the IP Champions focused on issues of recognition and citizenship, autonomy, and protecting and promoting indigenous peoples' rights.
This initial workshop on IPCAT is part of an EU-funded project IP Champions: Advancing Indigenous Peoples' Rights in the Philippines implemented by International IDEA and the Institute for Autonomy and Governance. Under this project, 40 IP Champions were selected—20 from BARMM and 20 from Cordillera Autonomous Region—who are tasked to use the IPCAT tool in developing action plans and advocacies to promote IP rights in the Philippines. The project also identifies institutional Champions to inform policies and open-up dialogues and collaborative opportunities between government and IPs in strengthening IP rights. Aside from trainings, the IP Champions will also undergo peer-to-peer mentoring, field research, and dialogues with the Institutional Champions.