Back to overview
Is democracy a divider or a unifier at the UN General Assembly?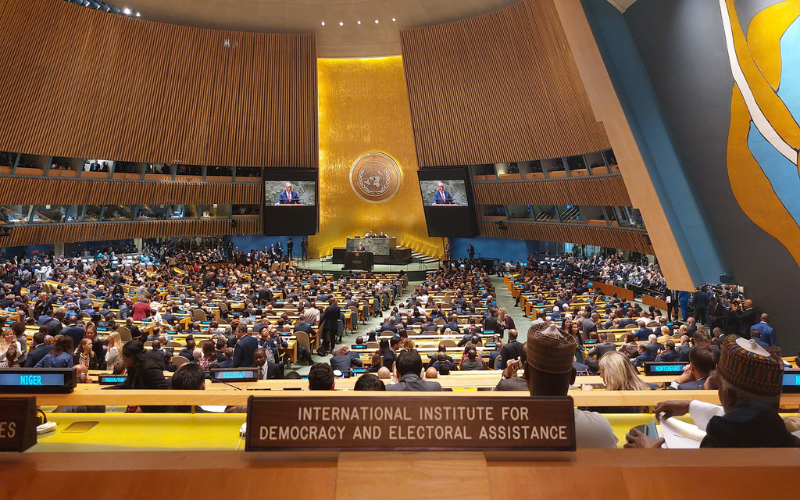 United Nations General Assembly, New York, September 2023. Image Credit: Annika Silva-Leander
The UN General Assembly convened 192 world leaders and delegated officials last week in New York in a context of global polycrises: the war in Ukraine, high debt burdens and economic fragility of developing countries resulting from the lingering effects of the pandemic and the climate emergency.  
International IDEA holds Permanent Observer status at the General Assembly and, as the only intergovernmental organization solely dedicated to advancing and strengthening democracy worldwide, contributes to and assesses UN debates and processes through the lens of democracy.  
Against a backdrop of democratic backsliding in many parts of the world, including in newer and older democracies, rising authoritarianism, and a worrying spike of military coups in Africa, an assessment of the 192 statements made by countries during the high-level debate shows that democracy was on the agenda of a significant number this year. More than a 1/3 (37 per cent) of countries participating in the high-level discussion explicitly mentioned democracy, an increase from last year's 32 per cent.
Chile stood out as the country with the most references to democracy, followed by countries such as Bosnia and Herzegovina, Moldova, Cape Verde, Timor Leste and Spain.  
Image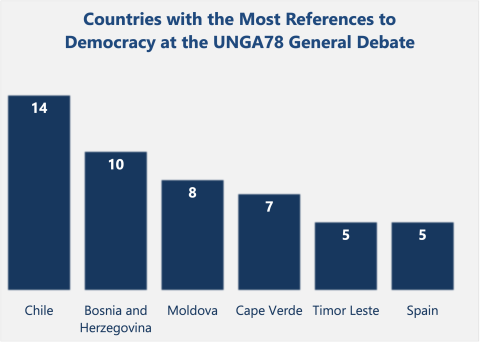 The references often embraced the universal values of democracy, while some (mainly authoritarian regimes) denounced the democracy agenda as an attack on national sovereignty. Interestingly, the positive references to democracy did not align with the global North/South divide that has permeated UN discussions in recent times, with both high- and low-income democracies from all regions of the world priding themselves on embracing democratic values and elevating its importance in underpinning development efforts.  
Image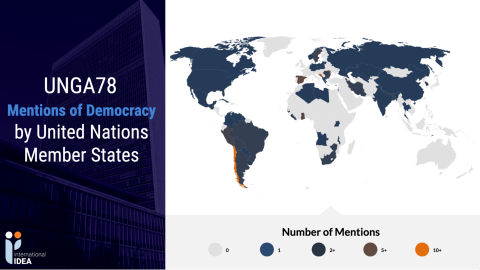 A frequent mention this year was concern about the recent unconstitutional coups in Africa and their negative impact on the rule of law and protection of civil liberties, poverty reduction and the achievement of the 2030 agenda. The concern was voiced by neighboring African nations (Angola, Ghana, Guinea Bissau, Eswatini, Nigeria) and Western countries, mainly from Europe (Austria, Iceland, Luxemburg, Spain) and the United States. Representatives of countries recently undergoing coups (Burkina Faso, Guinea) justified these military interventions by pointing out their underlying intentions: to revert to poor, corrupt and often undemocratic governance. A recent study by UNDP indicates significant initial popular support for coups, driven by perceived democratic (and economic) deficits of the toppled government rather than an embrace of authoritarian governance per se (UNDP 2023).  
Breaking with preconceived notions, praise for democracy as the best form of government was not just repeated by the usual proponents of democracy, such as the United States or Europe, but interestingly by several traditionally non-aligned members of the G77 group of developing countries. Countries such as Argentina, Armenia, Bhutan, Ghana, Gambia, Mauritius, Nepal, South Africa, South Korea, and Timor-Leste proudly depicted themselves as vibrant democracies and their commitment to continue strengthening their democratic frameworks. A number of countries also commended democracy as the best model of governance to deliver economic and social wellbeing to citizens (Albania, Cape Verde, Gambia, Ghana, Moldova, Nepal, North Macedonia, and South Korea).
A number of countries in Europe emphasized the need to strengthen democracy globally and work with others to enhance countries' capacities to tackle global challenges (Chezck Republic, Lithuania, Moldova).  
This year, several countries emphasized the opportunities presented by the development of Artificial Intelligence (AI) and the need for AI to be underpinned and governed by democratic principles (United States, Bulgaria, Barbados).  
Some countries also approached democracy from a multilateral angle, denouncing double standards on democracy given the undemocratic nature of the UN system. Such criticism was voiced both by democracies (Ghana, Kenya, Malawi) as well as countries on the authoritarian spectrum (Zimbabwe).  
Some authoritarian regimes in the assembly juxtaposed democracy with national sovereignty (Uganda, China) and the need to respect regime differences to tackle common challenges. Iran took a more brazen approach, predicting that democracy was "nearing the end of its journey".  
Others emphasized the cultural context of democracy, with Eswatini referring to a kind of democracy based on African values and India – referring to its Hindu name Bharat – described India's "ancient traditions of democracy" supported by "deep modern roots".  
Framing the war in Ukraine as an attack on democracy was still mentioned by some (Greece), but less frequently than last year. However, over half (52%) of countries denounced the war or called for a peaceful resolution of the conflict.  
Several countries called for the return of democracy in countries such as Myanmar, Haiti, and Venezuela.  
The UN Secretary-General was a lone voice expressing the most poignant concern about democracy "under threat" and the "rising march of authoritarianism". He called for a return to democracy in Myanmar, pointing out the danger of AI amplifying political divisions.  
As the UN stands on the cusp of celebrating the 75th anniversary of the Universal Declaration of Human Rights, almost half the countries in the assembly referred to the importance of human rights. This celebration should provide a significant opportunity to remind UN member states of the inextricable linkage between democracy and human rights. While not all democracies have a flawless human rights record, they are more likely to have a record than countries that do not embrace democracy in all its forms. This year's UN General Assembly ultimately showed that democracy is not a divider of nations but a unifier. And a precondition for effectively achieving the 2030 agenda.