Risk Management in Elections
Elections are complex undertakings. Regardless of where they take place, election management bodies (EMBs) face numerous risks in organizing them.
These risks are linked to the legal, operational, technical, political and security aspects of electoral processes. When risks become certainties, the consequences can be serious in both well-established and transitional democracies.
Risk management has been endorsed by many professions for dealing with complex tasks, and is now emerging as an area of increased importance for EMBs, electoral assistance providers and democracy researchers.
This Policy Paper demonstrates the importance of institutionalizing risk management in elections. It discusses key terminological and methodological aspects of risk management in order to derive election-specific definitions, and outlines the key ingredients of risk management in elections.
The paper takes stock of existing electoral risk-management practices, based on the results of a global survey of 87 countries carried out by International IDEA, and case studies provided by EMBs in Australia, Bosnia and Herzegovina, Canada, India, Mexico and South Africa, as well as a comparative case study of Kenya, Nepal and Nigeria.
Details
Publication date
23 November 2016
ISBN
978-91-7671-075-3 (Print)
Contents
Acknowledgements
Key recommendations
Executive summary
1. Introduction
2. Terminology and methodological considerations
3. The state of risk management in elections worldwide
4. Implementation options
5. Conclusions and recommendations
References
Annex A. Case Studies
1. Electoral risk management: an Australian perspective
2. Electoral risk management practices in Bosnia and Herzegovina
3. An overview of Elections Canada's risk-management activities
4. Management of conflict and security risk for elections in India
5. Electoral risks in Mexico's 2015 electoral processes
6. Electoral risk management practices in South Africa
7. Electoral risk management in Kenya, Nepal and Nigeria
About the authors
More International IDEA Policy Papers
Give us feedback
Do you have a question or feedback about this publication? Leave us your feedback, and we'll get back to you
Send feedback
Risk Management in Elections
12809
3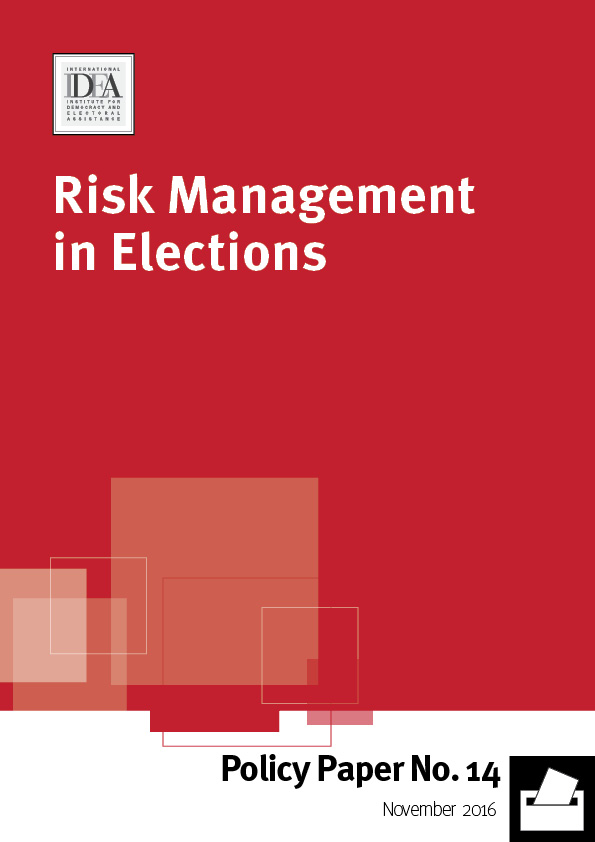 | | |
| --- | --- |
| Total views | 12809 |
| Downloads | 3 |
| Rating | |
Authors
Give us feedback
Do you have a question or feedback about this publication? Leave us your feedback, and we'll get back to you
Send feedback