Back to overview
New report on COVID-19 and Democracy calls for urgent measures by governments and civil society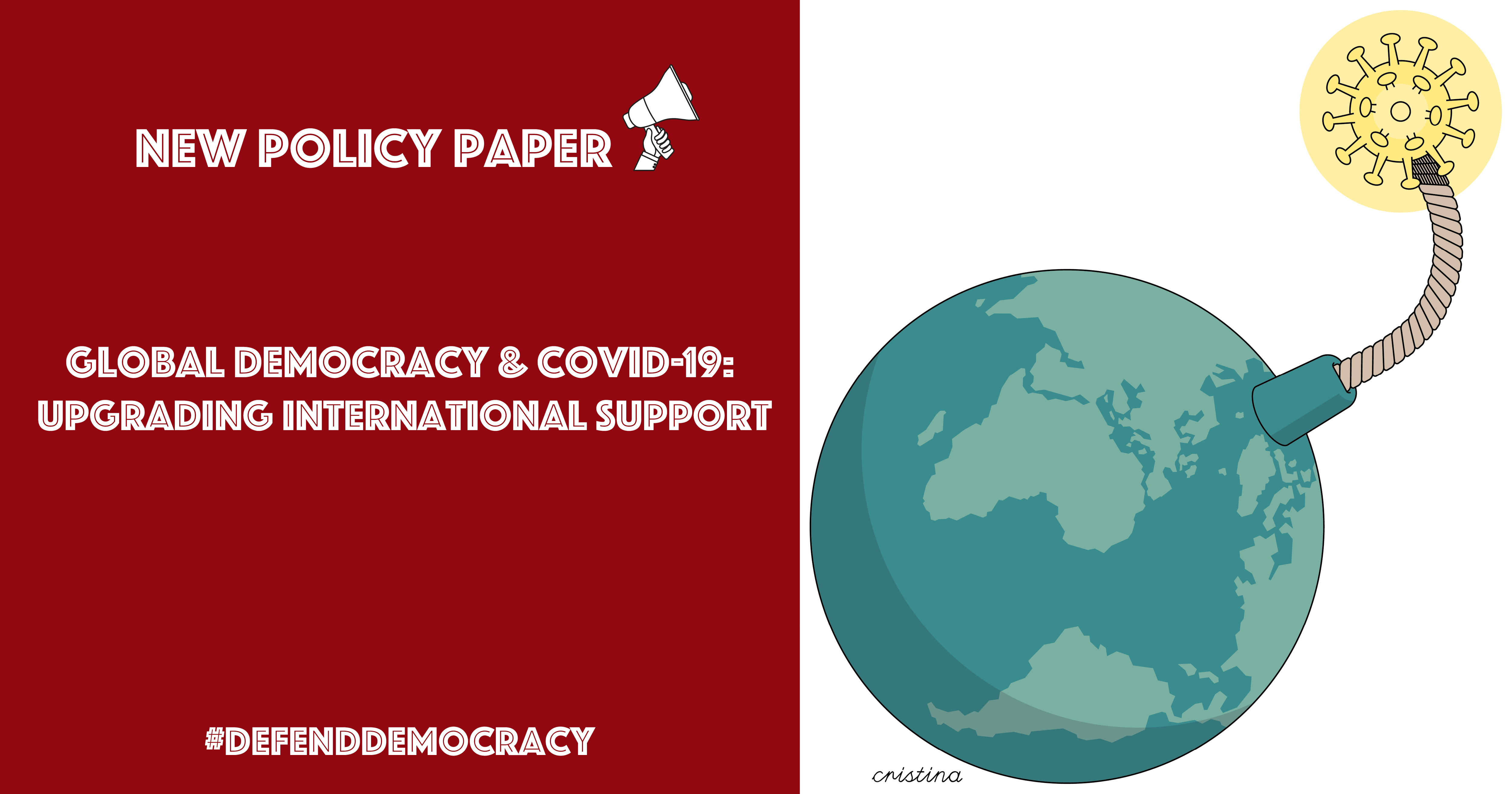 The COVID-19 pandemic poses an unprecedented challenge to democracies. A new report identifies initiatives that governments and civil society need to take to rise to this challenge.
STOCKHOLM—Democracies around the world need to adopt new initiatives to ensure the lasting protection of democracy and civil liberties threatened by the COVID-19 pandemic.
A new report, 'Global Democracy and COVID-19: Upgrading International Support', highlights how some governments are using the public health crisis to further curtail democratic activities and provides recommendations for policymakers and civil society to counteract the negative impacts of COVID-19 on democracy.
The report, endorsed by 11 pro-democracy institutions, is aligned with a recent 'Call to Defend Democracy' that was signed by almost 100 organizations from all over the world, as well as nearly 500 prominent individuals from 119 countries, including 13 Nobel Laureates and 62 former Heads of State or Government.
"The post-COVID environment will look different and require new ideas and approaches to safeguard democratic practices and combat authoritarian abuses," the report says. "Those concerned with democracy need to help governments, international organisations and civil society reformers lift their heads from the immediate tragedy of the pandemic and factor in these longer-term political issues."
The five report recommendations include:
1)  Establishing a comprehensive monitoring mechanism to track restrictive emergency measures, and guide potential international responses
2)  Incorporating democracy support into COVID-19 emergency and recovery aid
3)  Investing in multilateral cooperation to safeguard democratic norms and practices
4)  Providing support to new civic participation initiatives that have emerged as a result of the pandemic
5)  Harnessing emergent innovations in democratic participation, such as on-line protests, parliamentary digitalisation and steps to improve accountability mechanisms for oversight of elections, and democratic institutions   
Many governments are restricting human rights and fundamental freedoms, such as the freedoms of assembly and of movement, under the guise of battling the pandemic. The report highlights how some governments are interrupting elections, clamping down on political opponents, discriminating against minority and vulnerable groups, censoring media and increasing disinformation and digital surveillance.
"The COVID-19 pandemic is posing unprecedented challenges to democracy. We have observed how governments worldwide have enacted emergency powers to enforce lockdowns, and how some have used this crisis to further restrict democratic voices and to silence the critical voices in their societies. EED is delighted to be one of the leading supporters of this policy paper, which as well as identifying the challenges faced to democracy during these COVID-19 times, also identifies the ways democracy activists have responded to this crisis. We believe that the recommendations offer a way forward to defend democracy during and after the pandemic," says Jerzy Pomianowski, Executive Director of the European Endowment for Democracy which led the report.
While certain restrictions can be justified under democratic constitutions, they must be temporary, proportionate, and subject to oversight. It is paramount that any extraordinary actions are ended as soon as the crisis period is over. 
"Democracy needs to be defended more than ever. Without rising to the challenge, we risk losing fundamental freedoms that we have long taken for granted," says International IDEA Secretary General Kevin Casas-Zamora.
The report can be accessed here .
Organisations endorsing the report are: European Endowment for Democracy, International IDEA, The Carter Center, European Partnership for Democracy, European Network of Political Foundations, The International Foundation for Electoral Systems (IFES), The International Republican Institute, The National Democratic Institute, The National Endowment for Democracy, The Parliamentary Centre and The Westminster Foundation for Democracy.
Media queries:
Kevin Casas-Zamora, Secretary-General of the Stockholm-based International IDEA, is available for interviews in English and Spanish.
Media contacts:
Alistair Scrutton, Head of Communications, A.Scrutton@idea.int, +46 707 211098
Lynn Simmonds, Communications Manager, L.Simmonds@idea.int
The International Institute for Democracy and Electoral Assistance
The International Institute for Democracy and Electoral Assistance (International IDEA) is an intergovernmental organization with the mandate to support and advance democracy worldwide. International IDEA contributes to the public debate on democracy and assists in strengthening process, reforms, institutions and actors that build, advance and safeguard democracy, with a focus on electoral processes; constitution-building processes; and political participation and representation. Mainstreamed across all of our work is gender and inclusion, conflict sensitivity and sustainable development.
International IDEA is one of the most trusted global sources of data on the impact of the COVID-19 crisis and democracy. Our research on COVID-19 and Democracy has been quoted in international media from CNN to The New York Times, The Washington Post and Le Figaro. For more information, visit www.idea.int
Engage with us!
Facebook: https://www.facebook.com/InternationalIDEA
Twitter: https://twitter.com/Int_IDEA
Hashtags: #defenddemocracy #IDEA25years
LinkedIn: https://www.linkedin.com/company/international-idea