This publication is only available in electronic format
Co-Publisher(s):
European Endowment for Democracy, The Carter Center, European Partnership for Democracy, European Network of Political Foundations, IFES, IRI, NDI, NED, Parliamentary Centre, WFD
NEW REPORT ON COVID-19 AND DEMOCRACY CALLS FOR URGENT MEASURES BY GOVERNMENTS AND CIVIL SOCIETY
A new report, 'Global Democracy and COVID-19: Upgrading International Support', was published on 15 July and highlights how some governments are using the public health crisis to further curtail democratic activities and provides recommendations for policymakers and civil society to counteract the negative impacts of COVID-19 on democracy.
The report, endorsed by International IDEA and ten other pro-democracy institutions, is aligned with a recent Call to Defend Democracy. The letter, initiated by International IDEA, was signed by almost 100 organizations from all over the world, as well as nearly 500 prominent individuals from 119 countries, including 13 Nobel Laureates and 62 former Heads of State or Government.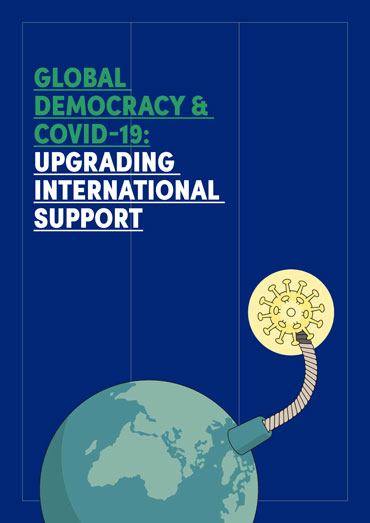 Contents
Summary
Introduction
Democracy in the Pandemic
Unpacking the Threats to Democracy
Democratic Pushback
Democracy Support in The Pandemic & Beyond
Recommendations
Endnotes