Mixed Electoral Systems
Design and Practice
Thirty years on from its initial democratic transition and after several changes of system, Mongolians are still seeking to improve the electoral process by addressing the mechanism for converting votes cast in elections to seats gained in the Great Hural. There is particular interest in mixed systems.
The report seeks neither to advocate, nor to discourage the adoption of a mixed system instead, it describes the detailed design choices that flow from the adoption of a mixed system, and illuminates their possible effects both generally and in the specific Mongolian context.
Details
Publication date
15 March 2023
ISBN
978-91-7671-609-0 (PDF)
978-91-7671-610-6 (Print)
Contents
1. Parallel or mixed member proportional?
2. The Mongolian context
3. Electoral system design in the constitution
4. Summary
Annex 1. Mixed electoral systems: Simple examples and resources
Annex 2. Mixed system resources and simulations
Give us feedback
Do you have a question or feedback about this publication? Leave us your feedback, and we'll get back to you
Send feedback
Mixed Electoral Systems
Design and Practice
3012
38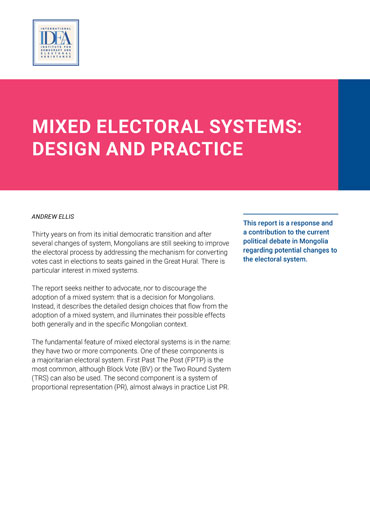 | | |
| --- | --- |
| Total views | 3012 |
| Downloads | 38 |
| Rating | |
Give us feedback
Do you have a question or feedback about this publication? Leave us your feedback, and we'll get back to you
Send feedback