Back to overview
Yet Another Covid-19 Elections in Mongolia, but the Young were Unenthusiastic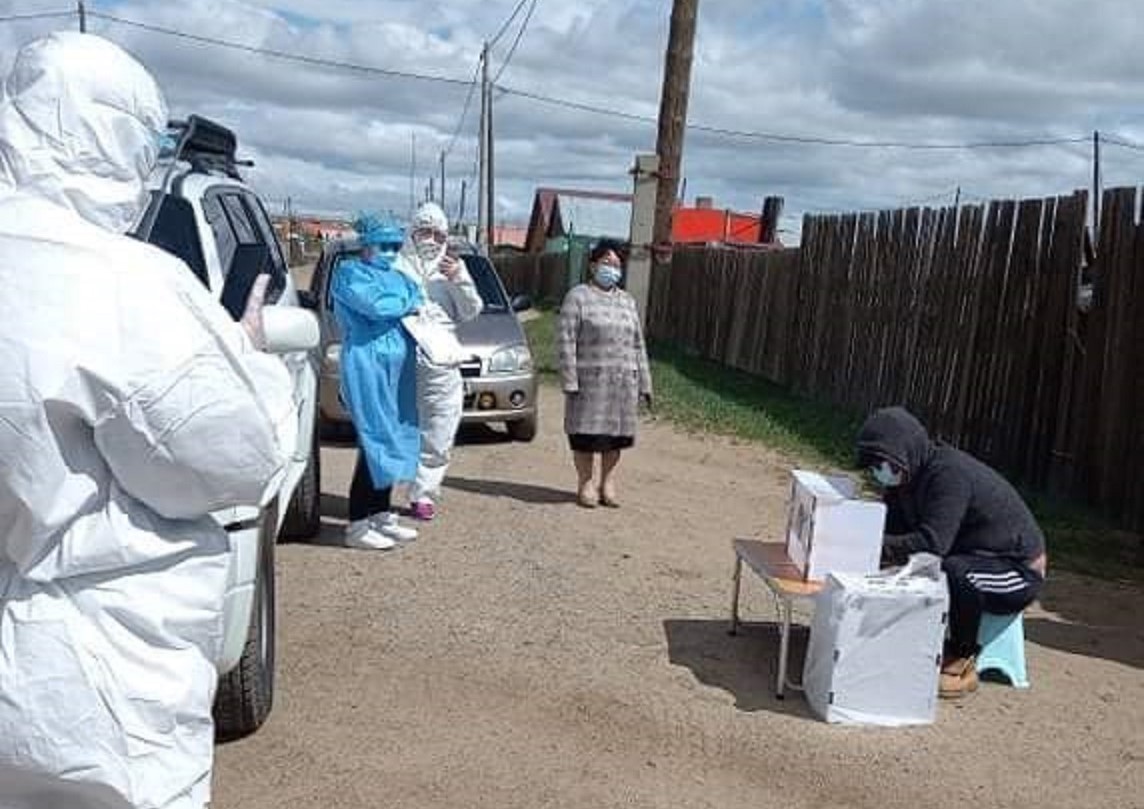 A voter in self-isolation casting his vote at a mobile voting facility. Image credit: twitter.com/@miigaasbntv
Mongolia's presidential elections were concluded on 9 June 2021 with the party in government, the Mongolian People's Party, consolidating power further by taking the presidency with a landslide victory. However, voter turnout declined very slightly compared to 2017 and young voters are still not coming to vote in droves.
Disclaimer: Views expressed in this commentary are those of the author. This commentary is independent of specific national or political interests. Views expressed do not necessarily represent the institutional position of International IDEA, its Board of Advisers or its Council of Member States.
When Mongolians went to vote for their parliamentarians on 24 June 2020, little did they know that they will be voting for their next president under the same conditions a year later. Indeed, the pandemic has actually gone worse since last year's parliamentary elections. The bar graph in Figure 1 from Worldometer below tells it all.
Figure 1. Graph showing daily new cases in Mongolia since the start of the pandemic until 10 June 2021.
As Figure 1 clearly shows, there were hardly any cases in Mongolia from February to November 2020. Despite of that, Mongolia's General Election Committee (GEC) took much precaution when conducting the Parliamentary Elections in June 2020. This time around is no different.
One significant advancement in the electoral procedures is the appearance of special mobile voting facilities provided for Covid-19 patients and those in self-isolation as shown in the cover picture. The polling officials, wearing full personal protective equipment moved from place to place ensuring voters down with the virus are not disenfranchised. This could not happen for the 2020 Parliamentary elections according to D. Enkhtsetseg of the Civil Society Monitoring Network for Fair Elections. Last year, she continued, Covid-19 patients were centralized at the Centre for Contagious Diseases. Given the constituency-based nature of the parliamentary elections, it required ballots from many constituencies to be made available and the counting machines (scanners) had to be programmed accordingly, which was logistically too difficult for the GEC to perform. Commendations to the GEC for this advancement.
Figure 2. The use of special voting arrangements for in-country voters around the world.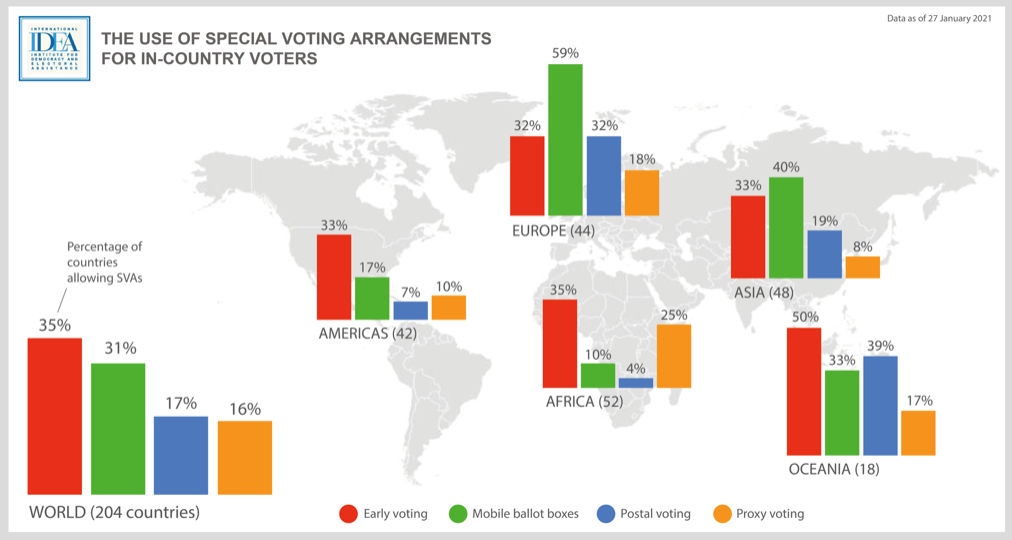 Figure 3. Countries that have adopted mobile voting around the world.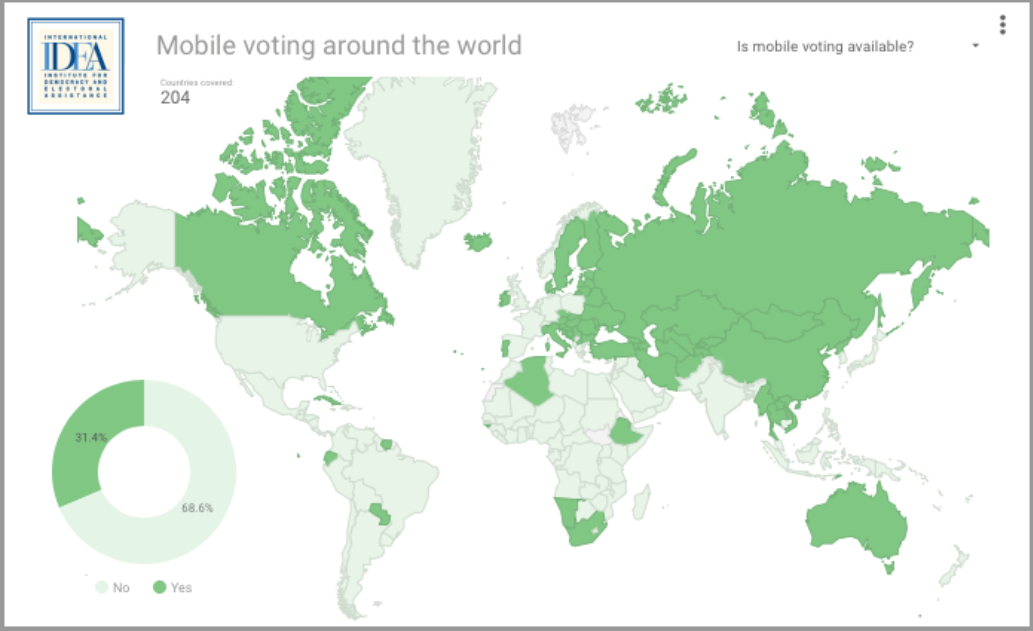 International IDEA recognizes mobile voting (or mobile ballot boxes) as a type of special voting arrangements for in-country voters (see Figure 2) as presented in its recently published online microsite. It is most widely used in Europe followed by Asia. Figure 3 shows the countries that have already implemented mobile ballot boxes. 
Low Voter Turnout
Figure 4. Bar graphs showing the levels of voter turnout (in percentages) for each Mongolian general election since 2008. The data shown for the 2017 Presidential Elections is for the first round.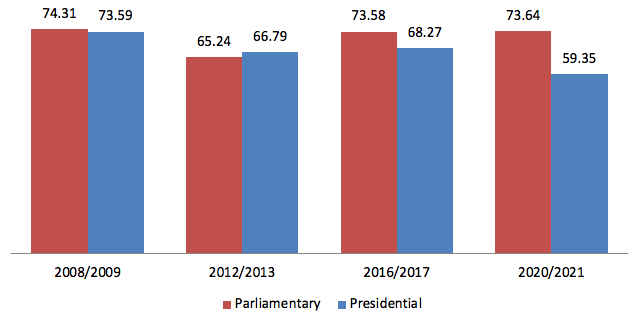 Since 2008, voter turnout in Mongolia's presidential elections have mostly been lower than that of parliamentary elections as Figure 4 shows. Over the past two electoral cycles, the difference has grown significantly where as of 2021, they have been in excess of 13 per cent. Indeed, voter turnout numbers have been falling from the time the first elections were held, particularly presidential elections (see Figure 5). The semi-presidential system of governance and ever decreasing presidential powers could be the reason. Interestingly, parliamentary election turnout rose sharply in 2016 and remained steady in 2020 despite of the pandemic.
Figure 5. A chart showing the levels of voter turnout for each Mongolian general election since 1990.

Several international news reports' have noted that this was the lowest ever voter turnout. While that is true, the bigger worry is the low turnout among young voters.
Young Voters Were Not Enthused
Aljazeera news network reported that not all Mongolians are happy with elections held during such stricken times. Tamir Ider, a 33-year-old carpenter told the AFP, "[…] we shouldn't hold an election when we have a high number of COVID cases". On the other hand, 18-year-old Naran-Erdene Bayarkhuu seemed enthusiastic to vote. Judging from Figure 6, Naran-Erdene's generation is the most enthusiastic amongst young people.
Figure 6. Bar graphs showing the levels of turnout per age group based on final results from 100 per cent of polling stations. From top to bottom: number of registered voters; percentage of turnout; the number of voters that casted their votes; age group.

Unfortunately, Figure 6 also shows that voting in elections is a dying tradition, if nothing is done to reverse it. Less than half of voters aged 20-29 years turned out to vote. While 56.44 per cent of first time voters came out, possibly due to their fresh enthusiasm, they might lose interest as they grow older as the statistics clearly show. This highlights the need to keep civic and voter education up for young people.
Enter the Ugloo campaign, which was successful in urging young people (and those young at heart) to vote wearing their deel (Mongolian traditional costume) during the 2020 Parliamentary Elections. According to the campaigners, they were then successful in increasing voter turnout by 12.8 per cent, up from 50.3 per cent in 2016 to 63.1 per cent for the 18-25 years age group. They continued their campaign for the 2021 Presidential Elections, but rather abruptly stopped their campaign on 30 May 2021 according to an announcement on their Facebook account. Such efforts to entice young voters to go out and vote should continually be encouraged and supported for democracy to perpetuate in Mongolia.