Back to overview
Accountability in social services: The case of Ulaanbaatar City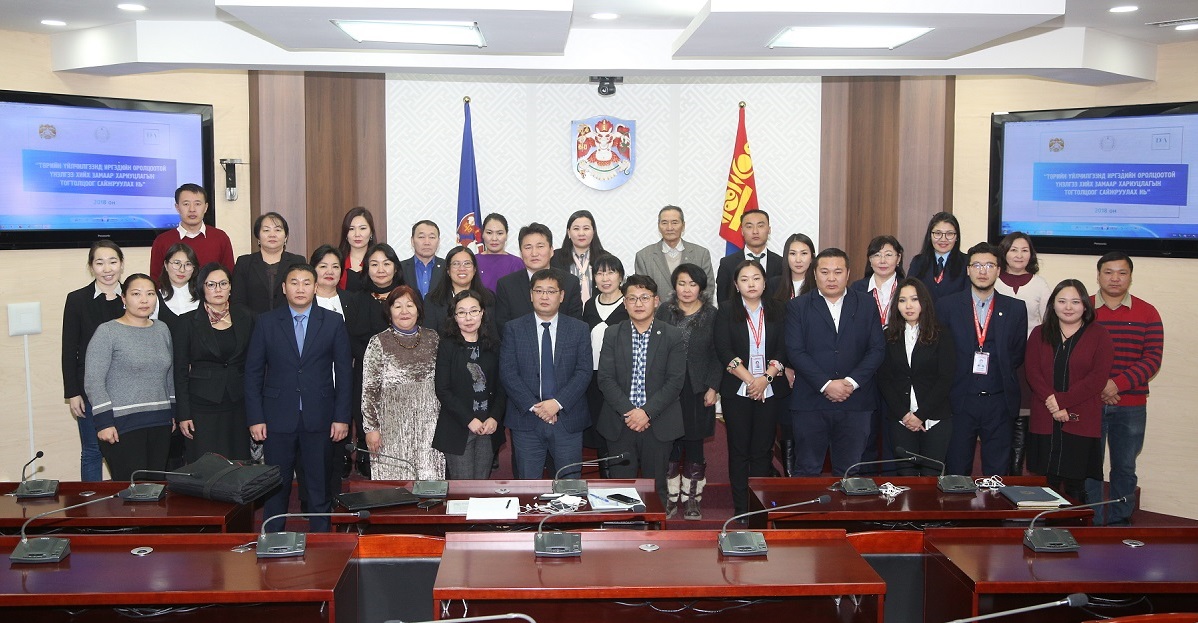 Participants of the public forum on Strengthening Public Service Accountability through Citizen Participation in Ulaanbaatar on 6 December 2018. Image credit: Municipality of Ulaanbaatar.
"Government and civil society have a role to play to ensure that democratic reforms are well-implemented", said U. Ganbold, Head of the Public Administration Department, Governor's Office in Ulaanbaatar City at the Public Forum on Strengthening Public Service Accountability through Citizen Participation held on 6 December 2018 at the Khangarid Palace, Ulaanbaatar City.
Ganbold's statement sums up the outcome of a project on enhancing accountability of institutions and processes involved in service delivery in the Municipality of Ulaanbaatar. This project, a collaboration between International IDEA, the Mongolian Academy of Sciences (MAS) and Municipality of Ulaanbaatar applied International IDEA's State of Local Democracy and Democratic Accountability in Service Delivery assessment frameworks.
Ulaanbaatar's one-stop shop service centers
In 2015, Ulaanbaatar City, Mongolia's Capital, where nearly half of the country's population resides, introduced "One-Stop Service Centers" in different parts of the city. These service centers allow citizens from across the city to have access to 380 public services offered, ask questions, and file complaints. Since then, the Municipality has ventured into online systems as well, for easy access of the services and for feedback mechanisms.
The service centers already have an analysis system in place in order to identify and improve flaws in existing service delivery. However, there is no system in place for the long-term assessment of accountability in relationships, decision-making processes and management—a shortcoming identified by the local government. 
With this in mind, the city capital decided to apply the Assessment tools, initially focusing on three social welfare services to ascertain what and where the gaps are in the accountability mechanisms, analyze the challenges and identify improvements to the delivery of these services. The team led by the Institute of Philosophy of MAS, and composed of representatives from the municipality, and local civil society organizations, decided to pilot the tools on social welfare: rehabilitation and resort and sanatorium service for elderly, and the public transportation digital card for people with disabilities. These were chosen among other services due to their demand and high volume of recipients. These services also often receive criticisms from users, certainly due to additional challenges faced by people with disabilities and the elderly.
For the members of the assessment team, it took a while to understand and adopt the assessment frameworks.
"Some concepts and terms are not easily translated into Mongolian context", said N. Bayarsaikhan, Head of Steps without Boundaries, a non-governmental organization and part of the assessment team. "But we had the same goal and commitment to this study. It was a remarkable teamwork; there was strong cooperation from stakeholders and from the municipality. We were able to reach wider audience willing to participate in the assessment".
On another aspect, the team has also learned along the process was that better governance is a two-way process—citizens should also exert more effort to exercise their rights, find out what services are afforded to them and provide feedback.
Democracy assessments for reform agendas
On 6 December, the project culminated in a Public Forum, discussing the findings and recommendations of the assessment.
Key findings were aimed at improving policy, planning and operational aspects. Recommendations included; a) creating new policies that would enhance capacity of social workers at khooroo (village) level; b) ensure coverage of all elderly citizens and people with disabilities to receive appropriate welfare service; c) enhanced community monitoring and evaluation systems including spaces for feedback to avoid corruption and improved public transportation system; and d) more spaces where non-governmental organizations can support and bring forward citizens' concerns. 
As a result, the municipality decided to adopt and institutionalize these recommendations in-line with their strategic framework to improve local governance. 
As Ganbold aptly describe these efforts, "we (the local government) should provide an enabling environment where we hear people's advice and inputs".
One concrete outcome was a decision to streamline the assessment process and use the tool to assess public services on an annual basis and to ensure engagement by citizens in the assessment process. The city government is also moving forward with the recommended improvements of these three social welfare services in the four one-stop shop service centers.
This encouraging response from the capital is merely the onset of possibly long-term improvements to good governance and accountability that the citizens of Ulaanbaatar can look forward to.