Open List Proportional Representation: The Good, the Bad and the Ugly
International IDEA & Friends' Asia & the Pacific Online Lecture No. 1
The open-list proportional representation (OLPR) system, as opposed to the closed-list version, allows voters to pick their favourite candidate from the party list while retaining proportionality of the election results.
In the Asia & the Pacific region, this system is used in among others: Fiji, Indonesia and Sri Lanka. What are the upsides, downsides and unintended consequences of this system? Follow the lecture and/or read the paper for the answers.
Details
Publication date
02 June 2021
Contents
1. Different versions of OLPR
2. Voting methods
3. Who is permitted to contest an OLPR election?
4. Ballot design
5. Disadvantages of OLPR
6. Misconceptions about OLPR
Conclusions
References
Annex 1. Thresholds, district magnitudes, numbers of entities represented in parliament and seat allocation methods in countries using OLPR
Annex 2. Voting methods and contestants in OLPR systems
Give us feedback
Do you have a question or feedback about this publication? Leave us your feedback, and we'll get back to you
Send feedback
Open List Proportional Representation: The Good, the Bad and the Ugly
International IDEA & Friends' Asia & the Pacific Online Lecture No. 1
6419
97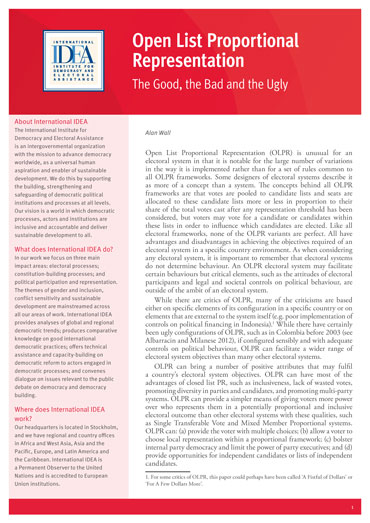 | | |
| --- | --- |
| Total views | 6419 |
| Downloads | 97 |
| Rating | |
Give us feedback
Do you have a question or feedback about this publication? Leave us your feedback, and we'll get back to you
Send feedback