About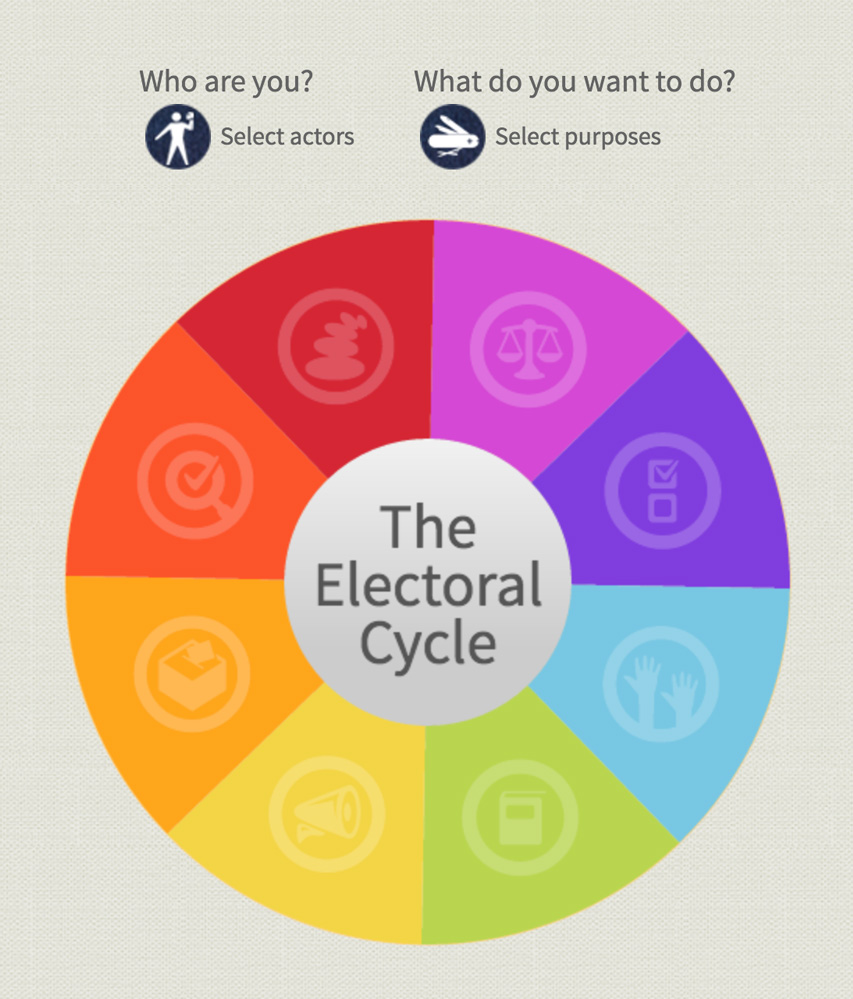 The Online Electoral Cycle is an online, user-friendly, customizable cycle that illustrates the phases during an election and the period between two elections and that covers the actions that should be taken by a wide array of actors throughout these phases.
The electoral cycle was conceptualized by International IDEA and the European Commission in 2005. The purpose was to illustrate the fact that elections are not events but processes, and to mainstream this knowledge throughout the plan and implementation phases of all electoral assistance projects – aiming at longer term commitments of funds and other resources, a focus on sustainability within electoral institutions and an overall commitment to the democratic development of a country far beyond the immediate event to be supported.
The Online Electoral Cycle has been developed as a more comprehensive version of the original electoral cycle. Instead of focusing only on electoral assistance providers, the Online Electoral Cycle covers all stakeholders of the electoral process. Also, it highlights specific actions rather than general areas and gives guidance on where to find information on the various topics. Finally, the Online Electoral Cycle will be an all-encompassing version of the electoral cycle that can be continuously changed and updated, which will ensure that there is no longer a need for different reproductions and tweaked versions of the electoral cycle.
How to use the Online Electoral Cycle
The Online Electoral Cycle can be accessed via a computer or a smart phone and that does not require any specific software.
You can tailor the Online Electoral Cycle to your interests or needs by choosing your interests.
On the initial page of the Online Electoral Cycle, the main menu shows two options. The first one—"Who are you?"—asks the user to specify which actor(s) he or she is interested in. A menu of possible actors appears when clicking on the menu, or when holding the cursor above the menu. At least one actor must be chosen and there is also an option of choosing all actors. The second option – "What do you want to do?" – enables the user to choose which purpose(s) he or she is interested in. At least one purpose has to be chosen.
After the two choices have been made, the Online Electoral Cycle will show the numbers of actions that are relevant to the specific choice made for each electoral phase. Clicking on any number will make the actions appear. To receive more information about any individual action, clicking on it will open a box containing information about the action and directions to sources.
Once you have a tailored version of the cycle, it can be saved to your computer, shared or exported via Excel. It can be used for planning purposes or presentations, online or offline by inclusion in e.g. MS Project or PowerPoint.