Direct Democracy
The International IDEA Handbook
While many books on direct democracy have a regional or national approach, or simply focus on one of the many mechanisms associated with direct democracy, this Handbook delves into a global comparison of direct democracy mechanisms, including referendums, citizens' initiatives, agenda initiatives and recall.
A detailed look into each of these instruments is discussed in a chapter-by-chapter analysis of each tool, including comprehensive definitions, how each instrument can be used to shape political decisions and an outline of the steps most often involved in planning any given procedure.
Also included as a chapter in the Handbook are possible measures for best practices of implementation, designed for those who wish to tailor direct democracy instruments to their specific needs. In order to further complement the best practices, a variety of country case studies detail the practical uses of direct democracy mechanisms in specific contexts. These case studies allow for in depth discussion of particular issues, including signature collection and voter participation, campaign financing, media coverage, national variations in the usage of direct democracy procedures and national lessons learned.
In addition, the uniquely comprehensive world survey outlines direct democracy provisions in 214 countries and territories and indicates which, if any, of these provisions are used by each country or territory at the national and sub-national levels. Furthermore, the world survey includes valuable information regarding the binding or non-binding nature of referendums, as well as issues that can be brought to a referendum.
Details
Publication date
01 December 2008
Author(s)
Virginia Beramendi, Andrew Ellis, Bruno Kaufmann, Miriam Kornblith, Larry LeDuc, Paddy McGuire, Theo Shiller, Palle Svensson
ISBN
978-91-85724-50-5 (Print)
Contents
Direct Democracy: An Overview of the International IDEA Handbook
A map on the use of the instruments of direct democracy worldwide
Foreword
Preface
Acknowledgements
Acronyms and abbreviations
Introduction: direct democracy in political context
1. Overview

Case studies
Direct democracy in Switzerland
Direct democracy in Venezuela
2. When the authorities call a referendum: design and political considerations
3. When citizens take the initiative: design and political considerations
4. Agenda initiatives: when citizens can get a proposal on the legislative agenda

Case studies
Direct democracy in Oregon
Direct democracy in the Republic of Hungary
5. When citizens can recall elected officials
6. How citizens get involved: step by step
7. Direct democracy votes: information, campaigning and financing

Case studies
Direct democracy in the Republic of Ugand
Direct democracy in Uruguay
8. Direct democracy in today's world: a comparative overview
9. Recommendations and best practices
Annex A: World Survey of direct democracy in 214 countries and territories
Annex B: Glossary
Annex C: Bibliography and further reading
Annex D: About the authors
Annex E: About International IDEA
Give us feedback
Do you have a question or feedback about this publication? Leave us your feedback, and we'll get back to you
Send feedback
Direct Democracy
The International IDEA Handbook
17465
47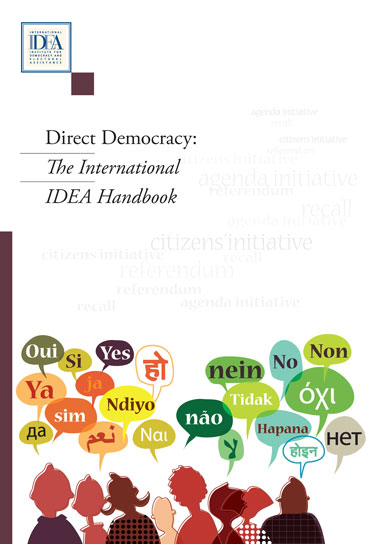 | | |
| --- | --- |
| Total views | 17465 |
| Downloads | 47 |
| Rating | |
Give us feedback
Do you have a question or feedback about this publication? Leave us your feedback, and we'll get back to you
Send feedback