This publication is available in print and electronic format
ISBN:
978-91-85724-59-8 (Print)
Les mécanismes de démocratie directe permettent d'améliorer la participation des citoyens à la gouvernance démocratique.
Pour explorer de manière plus approfondie les utilisations possibles de ces mécanismes, International IDEA publie Direct Democracy: The International IDEA Handbook – un manuel proposant aux praticiens une étude comparative de la démocratie directe pour les aider à mettre en oeuvre les mécanismes de leur choix.
Alors que de nombreux autres ouvrages sur la démocratie directe privilégient une approche régionale ou nationale ou bien se limitent à l'un de ses nombreux mécanismes, ce manuel compare, au niveau mondial, l'utilisation des mécanismes de démocratie directe tels que les référendums, les initiatives populaires, les initiatives politiques et la révocation. Chaque instrument fait l'objet d'un chapitre et d'une présentation détaillés, avec des définitions complètes, des explications concernant l'utilisation dudit instrument dans les décisions politiques et une récapitalution des étapes les plus courantes dans la planification des procédures.
L'étude mondiale complète récapitule les dispositions relatives à la démocratie directe dans 214 pays et territoires et indique, le cas échéant, lesquelles sont utilisées par chacun, tant au niveau national que sous-national. L'étude comporte par ailleurs des informations très utiles concernant la nature juridiquement contraignante, ou non, des référendums, ainsi que les questions pouvant être soumises à un référendum.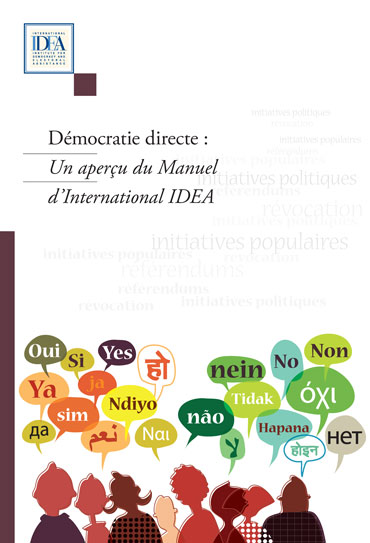 Contents
Introduction : les instruments de la démocratie directe
Quand les autorités décident d'organiser un référendum
Quand les citoyens prennent l'initiative : considérations conceptuelles et politiques
Initiatives politiques : quand les citoyens peuvent inscrire une proposition à l'ordre du jour d'une législature
Quand les citoyens peuvent révoquer leurs élus
L'implication des citoyens, étape par étape
Les votes de la démocratie directe : information, campagne et financement
L'impact de la démocratie directe