Electoral Management Design
Revised Edition [Myanmar]
Electoral management bodies (EMBs) need to become more professional if they are to retain the trust of voters.
This Handbook was developed for electoral administrators and those involved in reforming EMBs. It provides comparative experience of and best practices on EMB structures and funding models, as well as means for evaluating performance.
A range of case studies illustrate examples from specific contexts in Afghanistan, Armenia, Bosnia and Herzegovina, Cambodia, Costa Rica, Haiti, India, Kenya, the Republic of Korea, Liberia, Mexico, Nigeria, Norway, Senegal, Republic of Seychelles, Timor-Leste, Tonga, Tunisia, Ukraine, the United Kingdom and the United States.
This new and revised edition of the 2006 International IDEA Handbook includes updated country-level data and case studies and significantly expanded sections on the role of gender, professional development and technology in elections.
Details
Publication date
16 May 2017
Author(s)
Helena Catt, Andrew Ellis, Michael Maley, Alan Wall, Peter Wolf
ISBN
978-91-7671-101-9 (Print)
Author(s)
Related databases & tools
Contents
Foreword
Preface
Contents
Acronyms and Abbreviations
Introduction
1. Who Organizes Elections?
2. The Legal Framework: The Context for an EMB's Role and Powers
3. The Powers, Functions and Responsibilities of an EMB
4. The Composition, Roles and Functioning of an EMB
5. Planning and Implementing EMB Activities
6. The Development of Professional Electoral Management
7. The Financing of EMBs
8. Stakeholder Relationships
9. Electoral Technology
10. Assessing EMB Performance
11. EMB Sustainability
12. EMB Networks
13. Reforming Electoral Processes
Annexes
Index
Give us feedback
Do you have a question or feedback about this publication? Leave us your feedback, and we'll get back to you
Send feedback
Electoral Management Design
Revised Edition [Myanmar]
3769
1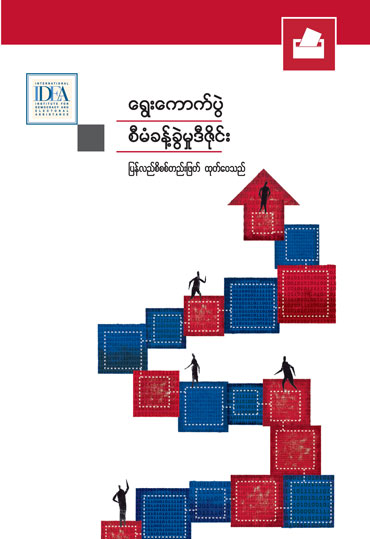 | | |
| --- | --- |
| Total views | 3769 |
| Downloads | 1 |
| Rating | |
Authors
Related databases & tools
Give us feedback
Do you have a question or feedback about this publication? Leave us your feedback, and we'll get back to you
Send feedback