การออกแบบ การจัดการการเลือกตั้ง
ฉบับปรับปรุง (คัดสรรมาบางบท)
Interest in electoral reform, and in studying the roles and functions of electoral management bodies in Thailand, is on the rise, as illustrated during Thailand's 2015 constitutional reform process.
This Thai version of the revised edition of International IDEA Handbook Electoral Management Design includes chapters and case studies that are most relevant to the ongoing constitutional debates in Thailand.
It aims to provide various audiences, including students and policymakers, with knowledge of global comparative practices and experiences in the field of electoral management design.
Details
Publication date
11 February 2016
Co-Publisher(s)
The Institute of Human Rights and Peace Studies, Mahidol University
ISBN
978-91-7671-039-5 (Print)
Author(s)
Related databases & tools
Contents
Prologue
1. Who Organizes Elections?
Case study 1: The Seychelles
Case study 2: Mexico
2. The Legal Framework: The Context for an EMB's Role and Powers
13. Reforming Electoral Processes
Annexes
Index
Give us feedback
Do you have a question or feedback about this publication? Leave us your feedback, and we'll get back to you
Send feedback
การออกแบบ การจัดการการเลือกตั้ง
ฉบับปรับปรุง (คัดสรรมาบางบท)
2651
0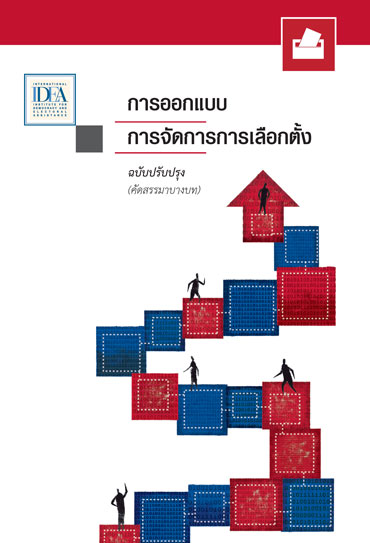 | | |
| --- | --- |
| Total views | 2651 |
| Downloads | 0 |
| Rating | |
Authors
Related databases & tools
Give us feedback
Do you have a question or feedback about this publication? Leave us your feedback, and we'll get back to you
Send feedback