This publication is available in print and electronic format
ISBN:
978-91-86565-73-2 (Print)
Co-Publisher(s):
Federal Electoral Institute of Mexico
في حين أن دساتير بلدان عديدة تضمن الحق في التصويت لجميع المواطنين، فالواقع يشهد أن الناخبين ممن هم خارج بلدانهم الأصلية يحرمون من هذا الحق عند إجراء الانتخابات، جراء انعدام الإجراءات التي تمكنهم من ممارسته.
يبحث هذا الدليل الصادر عن المؤسسة الدولية للديمقراطية والانتخابات والمعهد الانتخابي الاتحادي المكسيكي، القضايا النظرية والعملية المحيطة بالتصويت الخارجي، ويحتوي على أمثلة لكيفية تطبيقه في بلدان مختلفة. ويوضح الملحق (أ) وخريطة العالم الأحكام المفصلة للتصويت الخارجي في ١١٥ بلد من مجموع ٢١٤ بلد وإقليم خضعت للدراسة، بما يوضح من له حق التصويت الخارجي، وأي أنواع الانتخابات ينطبق عليها التصويت الخارجي، وأي وسائل التصويت هي المستخدمة للإدلاء بالصوت من الخارج.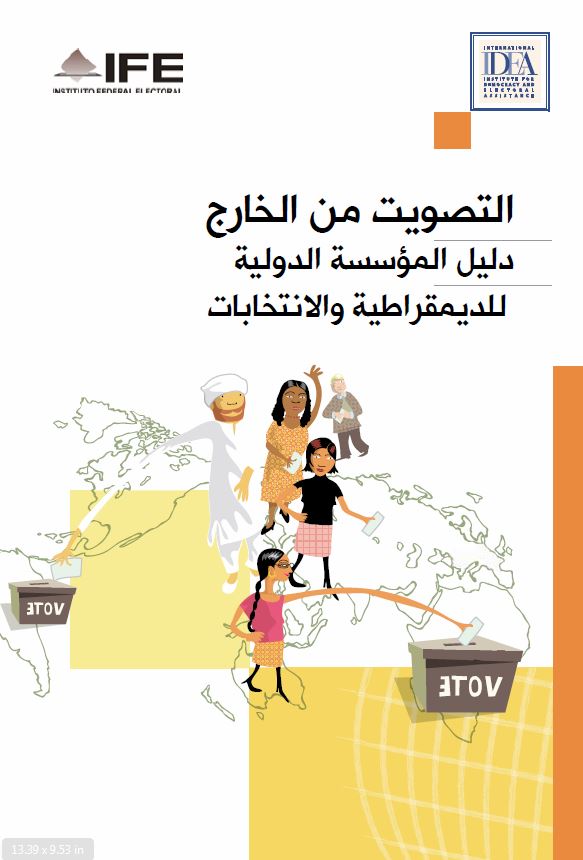 Contents
مقدمة
الفصل الاول: التصويت الخارجي: لمحة عامة شاملة
الفصل الثانى: تاريخ التصويت الخارجي وسياسته دراسة حالة: جزر كوك، إندونيسيا، زمبابوي، موزمبيق
الفصل الثالث: الإطار القانوني ولمحة عامة عن التشريع الانتخابي دراسة حالة: كولومبيا، البرتغال
الفصل الرابع: الأهلية للتصويت دراسة حالة: السنغال، جزر مارشال
الفصل الخامس: تنفيذ التصويت الخارجي دراسة حالة: البرازيل، هندوراس
الفصل السادس: قضايا البلدان المضيفة
الفصل السابع: الحقوق السياسية للاجئين والنازحين: منح حق التصويت والمشاركة دراسة حالة: إنتخابات أفغانستان الرئاسية عام 2004، البوسنة والهرسك، العراق
الفصل الثامن: الحقوق السياسية للعمال المهاجرين والتصويت الخارجي دراسة حالة: جمهرية الدومينيكان، المكسيك، الفلبين، القرن الأخضر
الفصل التاسع: مراقبة عملية التصويت الخارجي
الفصل العاشر: التصويت الإلكتروني والتصويت الخارجي دراسة حالة: إستونيا، سويسرا
حول المؤسسة الدولية للديمقراطية والانتخابات
حول المعهد الانتخابي الاتحادي المكسيكي