Women Members of the Constituent Assembly: A study on contribution of women in constitution making in Nepal
The election of 197 women to the Constituent Assembly (CA) of Nepal in 2008 was a historic achievement and raised hopes with regard to ensuring gender equality in the constitution-building process.
The elected women comprised almost 33 per cent of the 601 members and included former politicians, women activists, professionals, former combatants and war widows.
Against this backdrop, the project of creating a 'political biography' of these 197 women was established. International IDEA, in collaboration with the Nepal Law Society, the Women's Caucus of the CA and the CA Secretariat, initiated a research-and interview-based study to document the roles, struggles and contributions of the women elected to the Assembly.
This publication presents the stories of these women, which reflect their struggles, hopes and perseverance in bringing equality to Nepali society.
Their stories include journeys from battlefields to politics and from student politics to national politics, transformations from oppressed village girl to prominent politician, and life-long engagements in political movements, social work and professional life.
Details
Publication date
01 January 2012
Co-Publisher(s)
Women's Caucus, Constituent Assembly Secretariat, Nepal Law Society
ISBN
978-91-86565-35-0 (Print)
Contents
Executive Summary
About this Book
Part 1. History of the Women's Movement in Nepal
1. Women's Contribution to Nepali Politics
Part 2. Women in the Constituent Assembly
2. Study Design
3. Background of the Women CA Members
4. Role
5. Challenges
6. Achievements and Future Plans of Women CA members
7. Conclusion
Bibliography
Appendix 1
Part 3. Biographies of the 197 Women in the Constituent Assembly
Give us feedback
Do you have a question or feedback about this publication? Leave us your feedback, and we'll get back to you
Send feedback
Women Members of the Constituent Assembly: A study on contribution of women in constitution making in Nepal
6957
1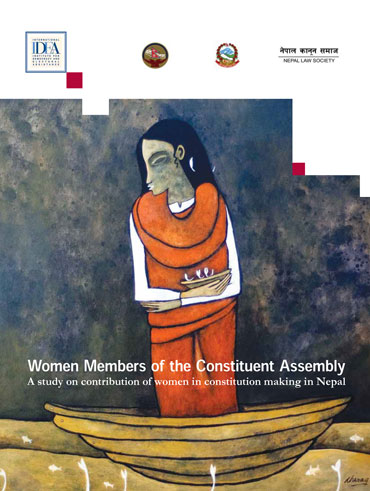 | | |
| --- | --- |
| Total views | 6957 |
| Downloads | 1 |
| Rating | |
Give us feedback
Do you have a question or feedback about this publication? Leave us your feedback, and we'll get back to you
Send feedback