This publication is only available in electronic format
ISBN:
978-91 -7671-206-1 (Print)
Lanskap dipengaruhi oleh globalisasi, perubahan kekuatan geopolitik, perubahan peran dan struktur organisasi dan lembaga (supra) nasional serta perkembangan teknologi komunikasi modern.
Fenomena transnasional seperti migrasi dan perubahan iklim mempengaruhi dinamika konflik dan pembangunan, warganegara dan kedaulatan negara. Meningkatnya kesenjangan, dan polarisasi sosial serta eksklusi yang dihasilkannya, mendistorsi representasi dan suara politik, mengurangi pemilih moderat yang vital.
Dinamika-dinamika tersebut berkontribusi pada munculnya pandangan yang diperdebatkan secara luas bahwa demokrasi sedang menurun. Sejumlah peristiwa yang terjadi di berbagai penjuru dunia menantang gagasan ketahanan demokrasi dan membuat sistem demokrasi tampak rapuh dan terancam. Namun, nilai-nilai demokrasi di antara warga negara, dan di dalam lembaga-lembaga, baik di tingkat nasional maupun internasional, terus diekspresikan dan dipertahankan.
Ikhtisar Global State of Democracy 2017: Mengkaji Ketahanan Demokrasi International IDEA menguraikan tantangan-tantangan utama terkini yang dihadapi demokrasi dan kondisi-kondisi yang memungkinkan bagi terciptanya ketahanan demokrasi. Berdasarkan indeks Global State of Democracy yang baru dikembangkan sebagai sebuah basis bukti kunci untuk menginformasikan intervensi kebijakan dan mengidentifikasi pendekatan-pendekatan solutif, publikasi ini menyajikan penilaian global dan regional atas status demokrasi dari tahun 1975—pada awal gelombang ketiga demokratisasi—hingga tahun 2015, dilengkapi dengan analisis kualitatif mengenai tantangantantangan demokrasi hingga tahun 2017 .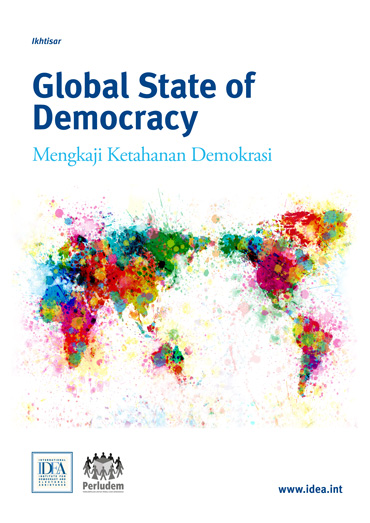 Contents
Unduh ikhtisar dalam Bahasa Indonesia
Kata Pengantar
Ucapan Terima Kasih
Pendahuluan
Bab 1. Global State of Democracy, 1975–2015
Bab 2. Ketahanan Demokrasi di Dunia yang Berubah
Bab 3. Ancaman dari Dalam: Ketahanan Demokrasi Menghadapi Kemunduran
Bab 4. Perubahan Sifat Partai Politik dan Perwakilan
Bab 5. Uang, Pengaruh, Korupsi dan Pembajakan Kebijakan: Dapatkah Demokrasi Dilindungi?
Bab 6. Mewaspadai Kesenjangan: Dapatkah Demokrasi Melawan Ketidaksetaraan?
Bab 7. Migrasi, Polarisasi Sosial, Kewarganegaraan, dan Multikulturalisme
Bab 8. Pembangunan Perdamaian Inklusif Dalam Negara yang Terdampak Konflik: Merancang Ketahanan Demokrasi
Referensi Terpilih
Tentang International IDEA