Back to overview
Still Top of the Class? Sweden's Democracy in a Global Perspective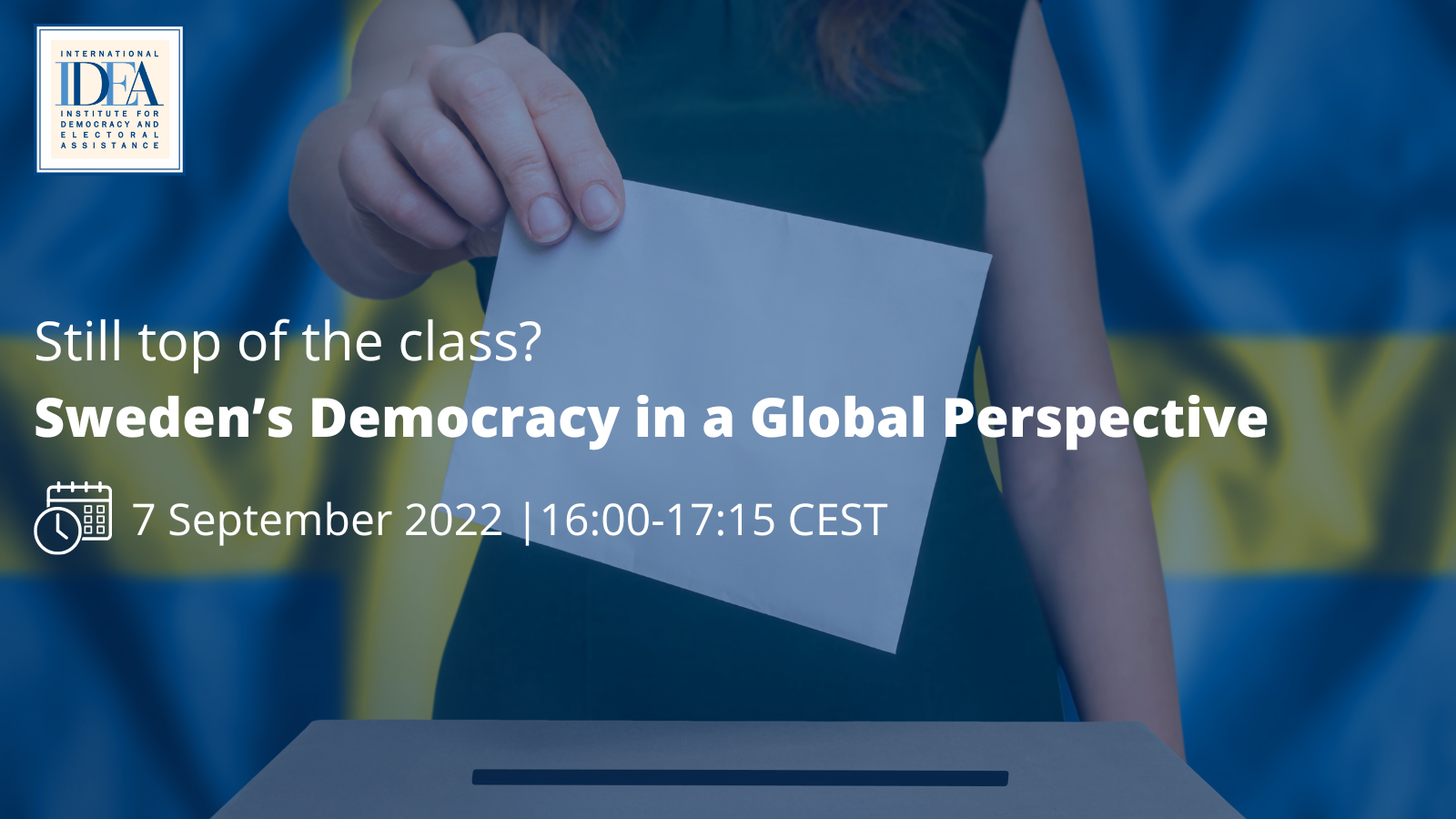 International IDEA hosted a panel discussion on the state of Sweden's democracy on 7 September 2022, ahead of the International Day of Democracy and Sweden's general elections on 11 September 2022. The panellists were Anders L. Petterson and John Stauffer from Civil Rights Defenders (CRD), Dr Nina Carlsson from Södertörn University as well as James Savage, the founder of English-language media organization The Local. The panel was moderated by Adina Trunk, Chief of Staff to the Secretary-General at International IDEA.
International IDEA's Secretary-General Dr Kevin Casas-Zamora opened the event by highlighting Sweden as a prime example of a country that has been able to build a humane society with a strong commitment to human rights. Yet, he also pointed out that Sweden, like many countries, is facing political and economic challenges.
International IDEA's Head of Democracy Assessment, Dr Seema Shah, then presented International IDEA's research and analysis on the state of democracy in Sweden. Based on the findings of the Global State of Democracy Indices, Sweden's democratic performance has declined slightly in the last decade, particularly in areas of social group equality. Although Sweden's scores remain higher than the European average, Dr Shah warned that these values were the lowest since International IDEA had begun measuring and could potentially be an indicator of democratic stagnation.
The rise of populism and anti-immigrant sentiment
Amid an intense election race between a right and left-wing coalition, Dr Nina Carlsson expressed concern at the growth of the Swedish Democrats party, arguing that it has not appropriately addressed its controversial past. Dr Carlsson added that rhetoric towards immigrants has become more hostile during the campaign, as immigrants are increasingly portrayed as criminals without regards to the structural and social failures which underlie crime. James Savage noted that politicians may have found it more advantageous to blame immigrants than to discuss complex socio-economic factors.
Savage further suggested that Swedish populism may be rooted in a disconnect between a declining rural middle class and an intellectual urban elite. For his part, Anders Pettersson attributed the rise of populism to a series of trends, from growing inequalities to social media. Pettersson argued that the populism is growing by offering simple and convenient solutions to complex social problems.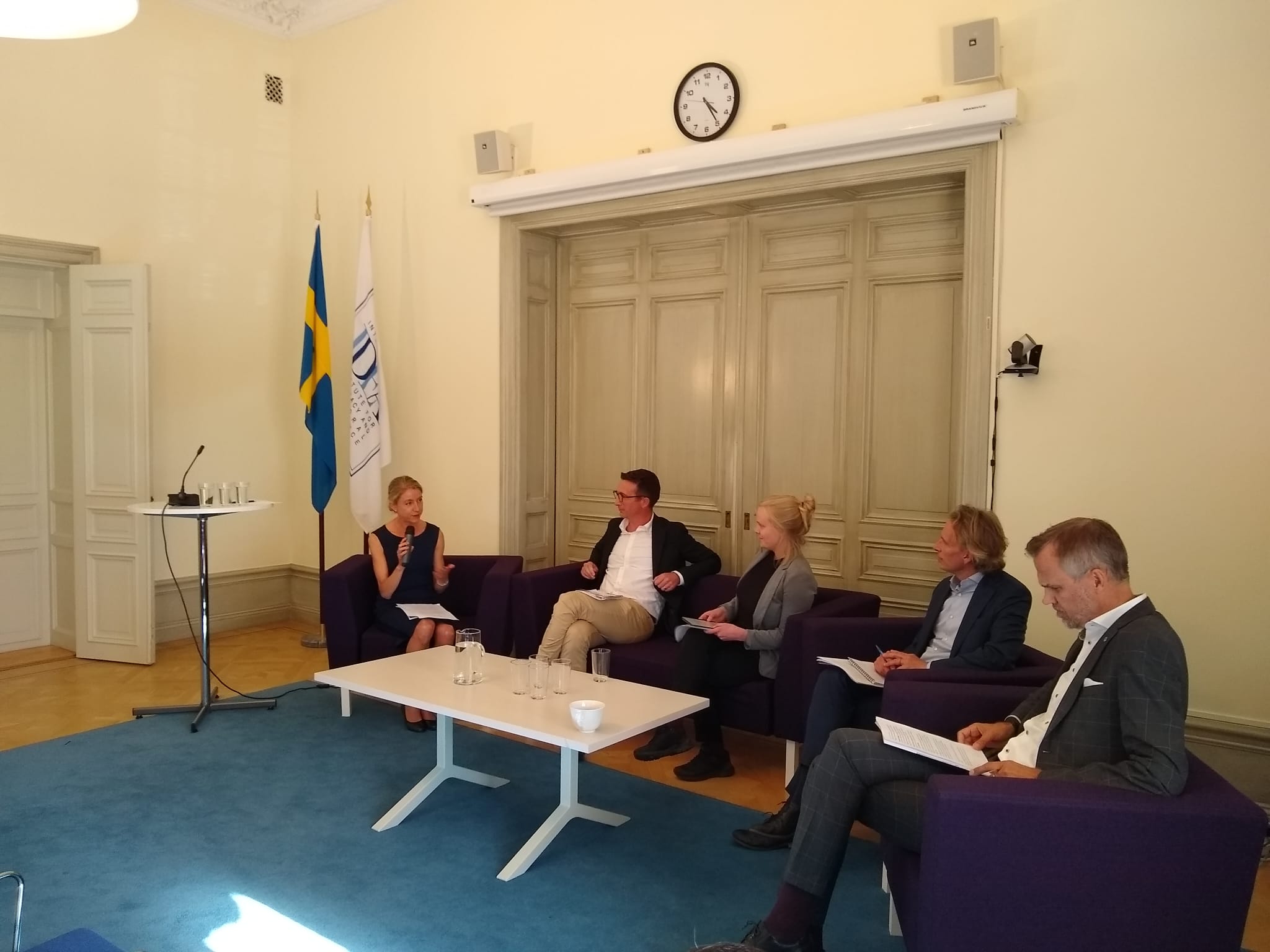 Political accountability
Panellists also noted the relative fragility of civil society in Sweden. John Stauffer stated that civil society in Sweden has limited capacity, particularly within Sweden. This concern was echoed by James Savage, who worried that public trust in Sweden could be abused by politicians. Savage noted that whilst the Swedish press is not very populist, it sometimes lacks the drive needed to follow up on scandals and hold politicians accountable. This sentiment was shared by Anders Pettersson who warned that "If people don't react to what politicians say or do, then they [politicians] can get away with anything".
Savage was particularly concerned about the lack of public outcry after a national scandal exposed the willingness of most parties to circumvent political donation laws. Dr Shah noted that Sweden is one of few EU countries that permits foreign donations to political parties; furthermore, Sweden lacks laws requiring political parties to disclose spending to the public.
Growing threats against civil society and public figures
Having long worked to protect civil society across the world, the representatives from the CRD noted their concern about the growing number of requests for protection and support from civil society in Sweden. Anders Pettersson noted rising political attacks on civil society, including a call to defund the CRD following its campaign against rigged elections internationally. John Stauffer added that a growing trend of threats, harassment and silencing of regional and local politicians has made some leave the political process entirely. He expressed concern that this trend discourages participation and excludes important perspectives from the public sphere.
The state of Swedish democracy
Sweden's democracy and democratic institutions remain among the highest performing in the world. It nonetheless faces challenges from a rising tide of populism, threats to civil society and economic and political concerns. This reality illustrates how even those at the "top of the class" must work actively and continuously to strengthen and protect their democracies. To this end, CRD has prepared suggestions to strengthen Sweden's democracy. As Secretary-General Casas-Zamoras stated, "Democracy deserves to be celebrated as one of the peak achievements of humankind, as the single best invention to realize the global human aspirations for freedom, equality, dignity, development, peace and security around the world". This event fostered valuable reflection and conversation about how to maximize the achievement of democracy in Sweden.