This publication is only available in electronic format
ISBN:
978-91-85391-94-3 (Print)
Co-Publisher(s):
United Nations Development Programme, Organization of American States
Democratic dialogue strengthens democratic institutions by providing citizens with the opportunity to voice their concerns, needs and interests—especially people who are normally disempowered from expressing themselves.
Democratic Dialogue: A Handbook for Practitioners aims to provide decision-makers, dialogue promoters and practitioners with a practical guide on how to organize, facilitate and assess dialogue processes. It combines conceptual and practical knowledge, while providing practitioners with an extensive repertoire of relevant tools, experiences and approaches adapted to the issue at stake, the local context and the stakeholders involved.
More than a compilation of techniques, the Handbook provides the reader with a 'how-to' guide to organize a tailor-made dialogue from assessment to evaluation.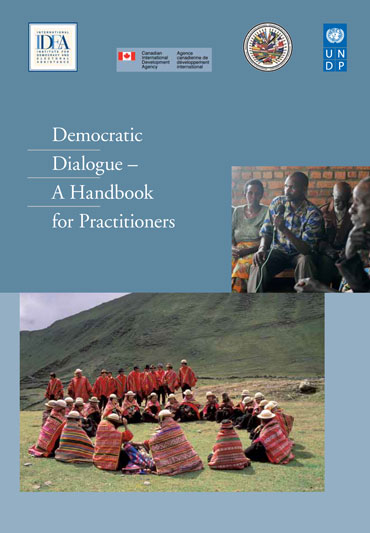 Contents
Acknowledgements
Foreword
Preface
Acronyms and Abbreviations
Introduction
Part 1: The Conceptual Framework
1.1. Introduction
1.2. The Need for Dialogue
1.3. Defining Dialogue
1.4. How Dialogue Contributes to Change
Part 2: Putting Concepts into Practice
2.1. Introduction
2.2. Exploring the Possibility for Dialogue
2.3. Designing the Dialogue Process
2.4. Implementation
2.5. Monitoring and Evaluation
2.6. Dilemmas and Challenges
Part 3: Applications
3.1. Introduction
3.2. Dialogue on Peaceful Coexistence, Guatemala
3.3. Dialogue on the Millennium Development Goals, Mauritania
3.4. Dialogue on a Constitutional Process, Nepal
Appendix 1: Overview of Dialogue Initiatives
Appendix 2: Process Options and Process Tools: An Overview
Notes
Wisdom from the Field: Sources
About the Authors
About Us