Political Participation of Refugees
The Case of Congolese Refugees in South Africa
Refugees have the potential to make an impact on the political life of both their host countries and their countries of origin, as they often maintain transnational links with their homelands while at the same time becoming part of their host society.
Drawing on individual perspectives of Congolese refugees in South Africa, this case study explores the formal and non-formal political participation of refugees and asylum seekers in their host country and the ways in which they are able to participate in peacebuilding and democracy-building in their countries of origin.
Among the formal mechanisms for political participation, the case study explores issues of access to citizenship in the host country, electoral rights in both the host country and countries of origin, and membership or other forms of support to political parties. In addition, it examines non-formal mechanisms for political participation, including refugees' participation in consultative bodies, civil society organizations, protests and grassroots initiatives, and other means of transnational political activism.
This case study is part of the Refugees, Asylum Seekers and Democracy project and has informed the development of a longer report, Political Participation of Refugees: Bridging the Gaps, published by International IDEA in 2018.
Details
Publication date
18 April 2018
Author(s)
Mukondeleli Mpeiwa, Lina Antara (series editor)
Contents
Abbreviations
Acknowledgments
1. Introduction
2. Host-country context: South Africa
3. Refugees' and asylum seekers' political participation in the host country
4. Country-of-origin context
5. Refugee diasporans' political participation in their country of origin
6. Conclusion and recommendations
References
Annex. Glossary of terms
About the authors
About the Refugees, Asylum Seekers and Democracy project
About International IDEA
Give us feedback
Do you have a question or feedback about this publication? Leave us your feedback, and we'll get back to you
Send feedback
Political Participation of Refugees
The Case of Congolese Refugees in South Africa
4718
1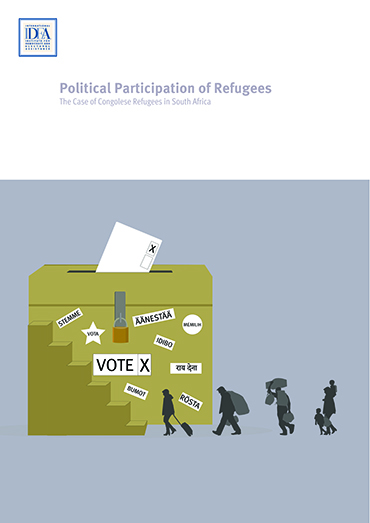 | | |
| --- | --- |
| Total views | 4718 |
| Downloads | 1 |
| Rating | |
Authors
Give us feedback
Do you have a question or feedback about this publication? Leave us your feedback, and we'll get back to you
Send feedback