Back to overview
Out-of-Country Voting for migrants and refugees: dilemmas and best practices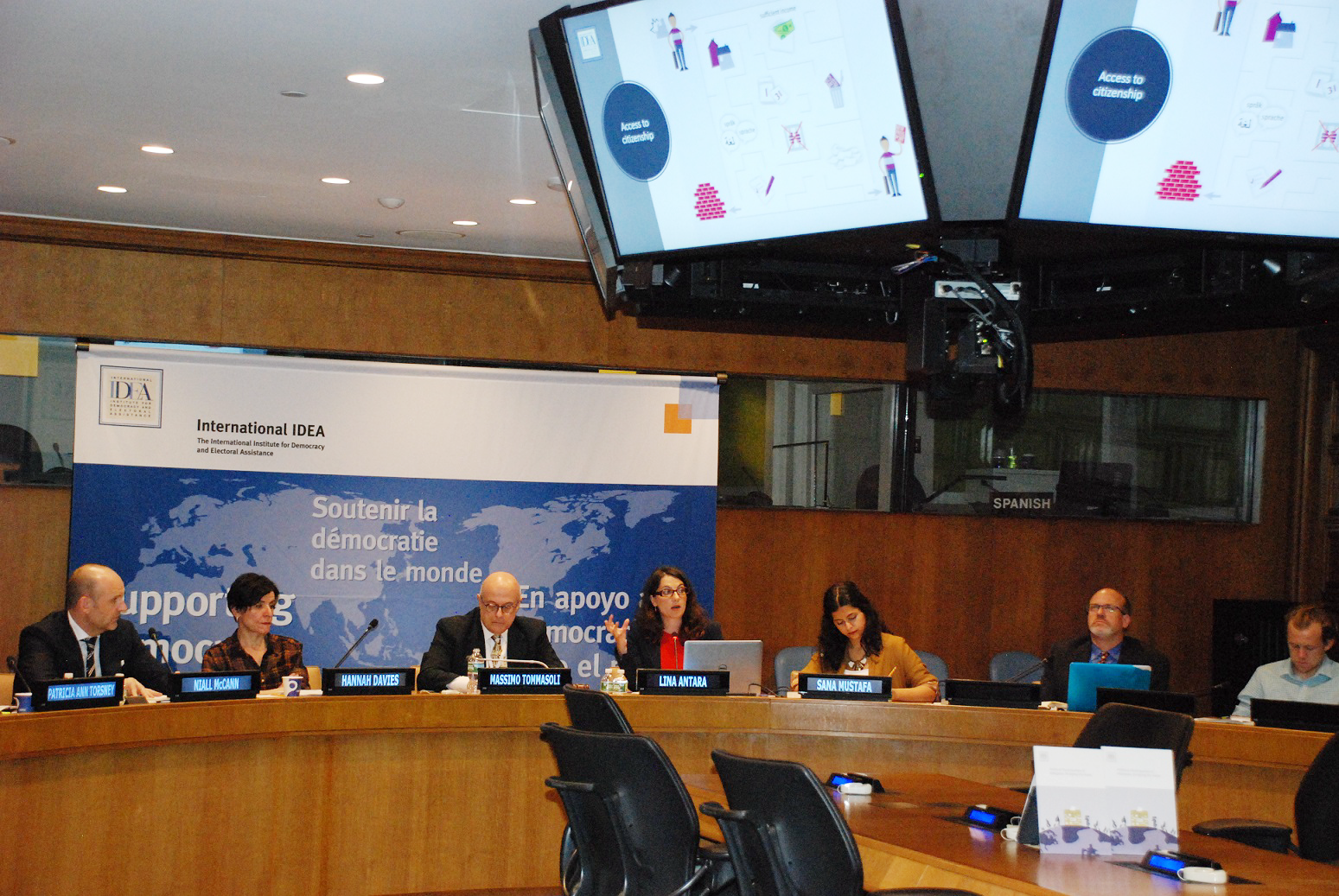 Launch of the report Political Participation of Refugees: Bridging the Gaps at the United Nations, New York, 17 May 2018.
At present, 151 countries out of 216 countries included in the International IDEA Voting from Abroad database have in place a legal framework for Out-of-Country Voting (OCV), while the remaining 65 countries have no system in place for citizens traveling or living abroad to cast their vote in elections. When the International IDEA Handbook on Out of Country Voting  was published in 2007, there were no existing international standards for OCV, and today, over a decade later, this is still the case. Granting the right to vote from abroad is at the discretion of each state, as international law creates no explicit legal obligations for states to enfranchise their citizens abroad. However, growing mobility of people across national borders continues to make OCV a topical issue around the world and puts pressure on nations that currently do not have an OCV option to put programmes into place.
Why does OCV matter?
On 14 July 2018, International IDEA held a workshop on "Political Representation of Migrants in Peace- and State-Building Processes" during the Annual Meeting of the Academic Council on the United Nations System (ACUNS) which took place in Rome. Speaking on the panel, International IDEA's Democracy and Diversity Officer, Lina Antara, highlighted that OCV can have a real and substantive value for the political inclusion of diasporas. In particular, when elections are viewed as a peacebuilding tool, OCV can play an important role in post-conflict or transitional elections. By facilitating the engagement of diaspora through OCV, these groups can, potentially, see themselves as stakeholders in the peace- and democracy-building efforts in their home countries. This in turn can enhance democratic legitimacy of any post-conflict political arrangement and contribute to the consolidation of peace and democracy, despite varying political viewpoints that may come from home or abroad. Furthermore, if citizens abroad are not allowed to exercise any political rights, then there is a risk that national policies will not reflect their interests, as politicians are likely to ignore the interests of groups lacking electoral rights.
At the same time, Antara reminded that it is important to keep in mind the diversity of diasporas which may often be divided along ethnic, tribal or religious lines. Building trust and cooperation among diaspora communities is a central part of diaspora engagement as well as an initial step to effective diaspora dialogue. In this regard, OCV can play a positive role in fostering cooperation among the various diaspora communities. In addition, as highlighted in International IDEA's 2017 report on the Global State of Democracy, origin countries can enjoy a democratic dividend from emigration, as citizens abroad can become agents of democracy and can help diffuse democratic norms in their countries of origin. Citizens abroad also contribute to economic development in their home countries, such as in some countries where remittances make up a considerable share of the national GDP. The possibility to participate in origin country elections through OCV can strengthen their feeling of belonging to the home countries. 
Key considerations in OCV design and implementation
Albania is an example of a country which is exploring options for introducting OCV. As one of five counties in Europe that does not have a way for citizens living abroad to vote on Election Day, Albania's discussions surrounding potential OCV implementation are of course informed by the aspiration to ensure that all citizens have equal opportunities to participate in democratic elections. Nevertheless, the political and social grievances that might arise from such a decision must also be taken into careful consideration, as out-of-country votes can significantly alter the political landscape. Also, OCV mechanisms can be costly, complex to administer, and, depending on safeguards put in place, can be a point of vulnerability for election authorities. As in all electoral design decisions, there are trade offs  between accessibility and inclusion on the one hand, and security and integrity of the process on the other. 
Recently, an Albanian parliamentary conference dedicated to OCV was held in Tirana and was hosted by Albania's Ad Hoc Committee on Electoral Reform (AHC) with the support of the Organization for Security and Cooperation in Europe (OSCE) Presence in Albania. At the conference, International IDEA's Sead Alihodzic presented comparative practices as well as examples of OCV experiences and procedures including that of Bosnia and Herzegovina. Alihodzic highlighted the various ways in which OCV is conducted, which can be through postal ballot, online voting, proxy voting or in-person at designated polling stations abroad. He also acknowledged that while there are inherent risks in OCV, "these risks should be weighted against the greater democratic interest and the political will to deal with any potential challenges in good faith."  Alihodzic outlined four "top tips" for policymakers regarding the design of OCV:
In deciding how to design OCV, the democratic interests and realities of your country should be taken into account.
Leave no gaps when it comes to regulations and operationalization.
Be aware of limitations to control this process since it takes place 'out-of-country'. Some issues that might arise are addressing the number of polling stations, quality of postal services, election observation, and jurisdiction in resolving disputes.
Mishaps are inevitable. Anticipate risks and manage them actively. Lack of credibility of external voting can undermine the credibility of elections altogether.
 OCV for refugees: issues of concern
In countries where OCV applies to all citizens, irrespective of the circumstances that have led them to move abroad and of their legal status in their host country, it would also apply to refugees who continue to retain the citizenship of their country of origin. However, a recent report by International IDEA on Political Participation of Refugees highlights that refugees may effectively be excluded, symbolically or physically, from participation in electoral processes of their country of origin. Even when they are formally entitled to vote from abroad in elections of their country of origin, they have serious reasons to be reluctant to register with the authorities of a persecutory or unprotective country. Furthermore, through 638 in-depth interviews with refugees from Afghanistan, the Democratic Republic of the Congo, Somalia, South Sudan and Syria, the report found that refugees may be unwilling to communicate personal information to the authorities of their country of origin for fear of persecution. For the same reasons, participation of refugees in OCV operations can be significantly hindered by the designation of polling stations in embassies or consulates of their home countries. In addition, refugees' participation in post-conflict elections may be interpreted by their host country as an indication that they have re-availed themselves of the protection of their country of origin. As a result, there is a risk that their refugee status be revoked, thus jeopardizing their right to stay and prompting their repatriation. Last but not least, OCV processes usually require the cooperation of the host country, which may be unwilling to do so for political and domestic security reasons.
Looking ahead
During a "Workshop on SDGs and Migration" co-organized by International IDEA, UNITAR CIFAL Jeju and CIFAL Philippines in South Korea on 26 - 29 June 2018,  Antara pointed to the opportunities for international and multi-stakeholder cooperation on issues related to OCV for migrants. For the first time, the Final Draft of the Global Compact for Safe, Orderly and Regular Migration introduces a commitment for the signatory parties to "enable political participation and engagement of migrants in their countries of origin, including in peace and reconciliation processes, in elections and political reforms, such as by establishing voting registries for citizens abroad, and by parliamentary representation, in accordance with national legislation". Although not legally enforceable, this framework is an important starting point to enhance dialogue and collaboration between governments, political parties, civil society and international organizations for the effective design and implementation of OCV mechanisms.