Back to overview
The impact of Covid-19 on migrants, asylum seekers and refugees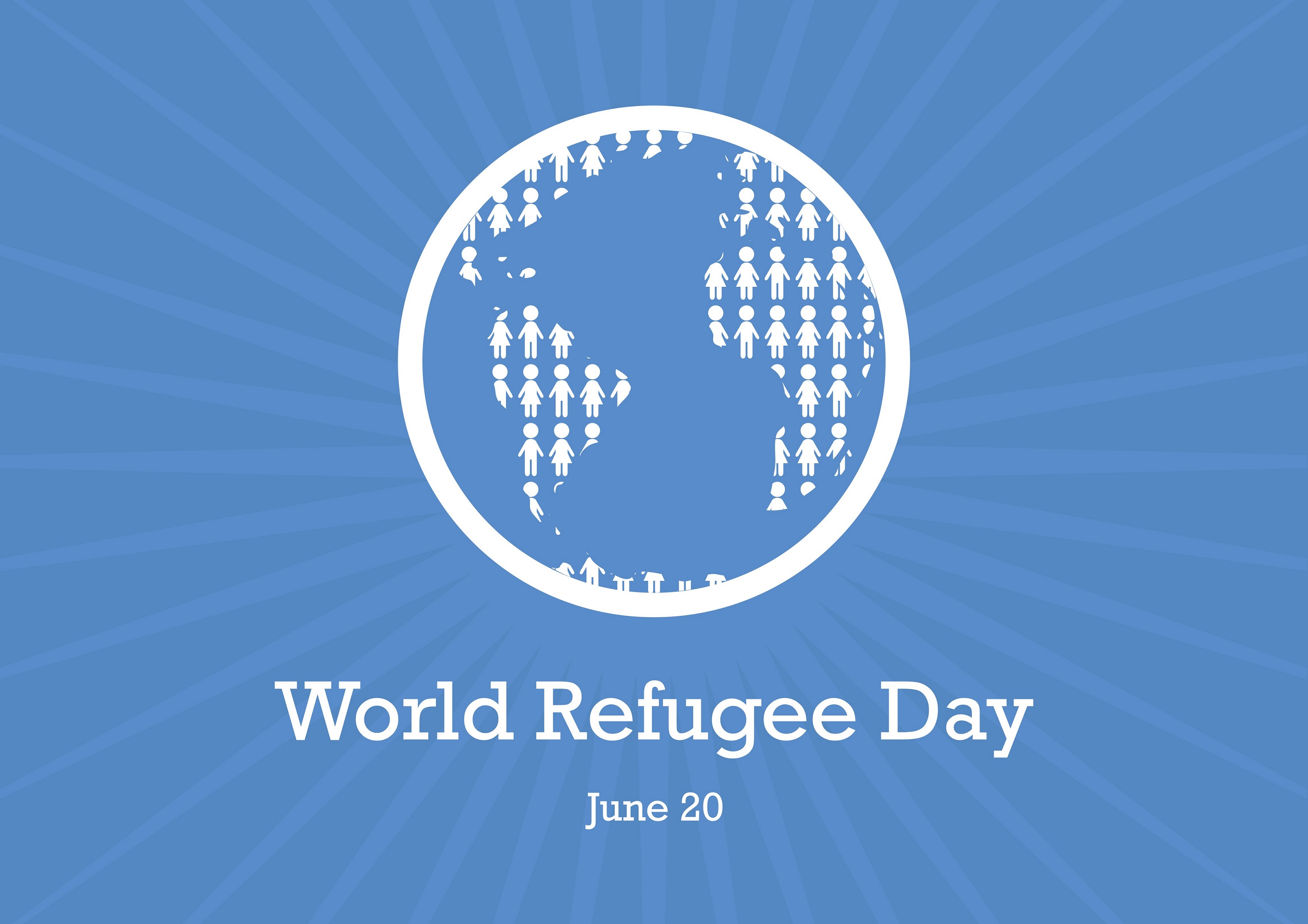 On the occasion of World Refugee Day 2021, we recognize the perseverance and commemorate the journey of all migrant communities (refugees, asylum seekers, internally displaced, stateless, labour migrants and undocumented migrants) across the globe. We mark this day in the midst of unprecedented social changes and a global pandemic that has tested our resilience and highlighted systematic inequalities.
Disclaimer: Views expressed in this commentary are those of the author. This commentary is independent of specific national or political interests. Views expressed do not necessarily represent the institutional position of International IDEA, its Board of Advisers or its Council of Member States.
Este comentario está disponible en español.
Migrants are a diverse population, particularly vulnerable to infection as they travel. Indeed, it is not always possible for them to take the necessary Covid-19 precautions on their sometimes arduous journeys. Around the world, migrants, asylum seekers and refugees are among the social groups most affected by the pandemic, disproportionately suffering from the social and economic consequences, as well as the policy responses to address the Covid-19 crisis. Even after they arrive at their destinations, migrant populations continue to face disproportionate risks, often living in packed shelters and densely populated urban areas, with poor hygiene conditions and limited or no access to healthcare. The Global Monitor of  Covid-19´s impact on Democracy and Human Rights has reported cases of Covid-19 infections in refugee camps in Bangladesh, Bosnia and Herzegovina, Greece, Japan, Mexico, Panama, United States, and many other countries.
International IDEA's Global Monitor of  Covid-19´s impact on Democracy and Human Rights has observed and measured an array of events that have affected migrant populations throughout the pandemic, primarily through the Social Group Equality subcomponent. The data shows that for the Social Group Equality aspect at least 15.4 per cent of the countries covered by the GSoD Indices have taken measures or actions that are deemed concerning from a democracy and human rights perspective since July 2020. It illustrates how Covid-19 containment measures have severely affected the social rights of particular groups, aggravating existing human rights concerns, such as discrimination, xenophobic attacks, gender inequalities and increased gender-based violence, reduced access to education, arrests and mistreatment of migrants, as well as attacks on migrants and forced returns to unsafe conditions for refugees.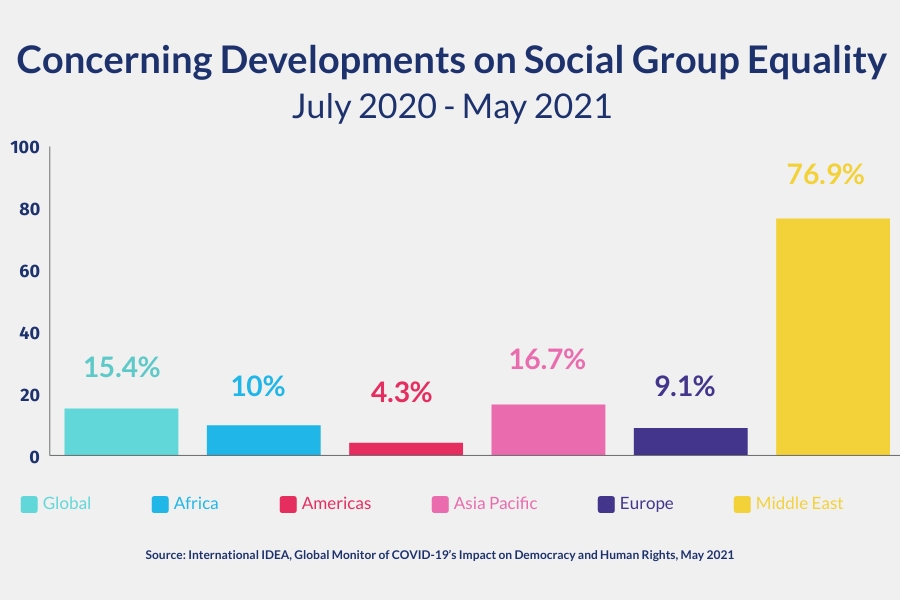 Covid-19 has severely interrupted migrant journeys. Lockdowns, travel restrictions and border closures have led to migrants, asylum seekers and refugees being stranded in places where the virus is more likely to spread, including camps and detention facilities. Many countries across all regions have used Covid-19 as an excuse to bypass international law and close borders and ports to asylum seekers. According to the Global Monitor, all countries in the world have implemented some form of restriction on the freedom of movement during the pandemic, and there are currently 149 countries that still have movement restrictions in place.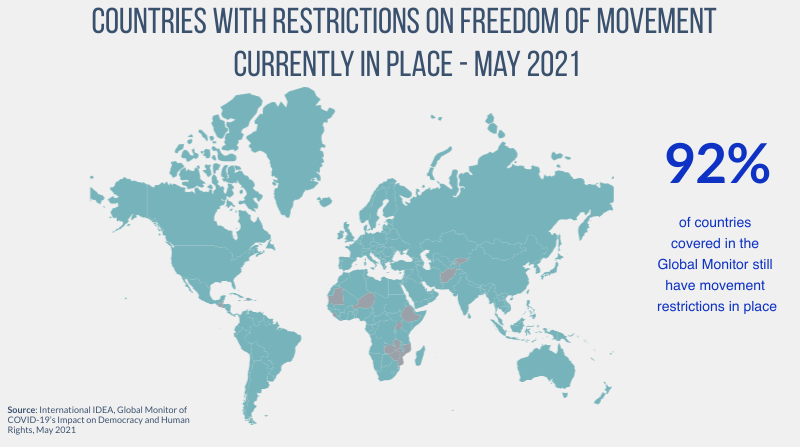 The Global Monitor has documented concerning immigration detention practices around the world; however, many countries in Africa have been hit particularly hard in this regard due to long-running conflicts and repression in the region. According to the Global Monitor, nearly 12,000 people attempting to leave the country during 2020 were captured by the coastguard in Libya, with the majority of these subsequently placed in crowded detention centers. Similarly, authorities in Ghana, Kenya, Morocco and Tunisia have arbitrarily arrested and detained irregular migrants and asylum seekers, holding them in immigration facilities, as well as prisons and general police custody. In South Africa, undocumented migrants have been targets of xenophobic attacks by security officials, facing harassment and prejudicial arrests for petty offences, after which they are placed in overcrowded detention facilities. The excessive use of violence during arrests and conditions in prisons and immigration centers are worrying, as migrants have reportedly faced assault, forced quarantine, limited legal assistance and overcrowding that make it impossible to prevent the spread of the virus and pose grave health risks. The pandemic has also had a significant effect on the access to education for refugee children and young people due to school and training center closures. Examples of such cases have been observed in Kenya, Central African Republic, Niger and Mali.
The Middle East is the region with the most worrying measures affecting Social Group Equality. With nearly 77 per cent of all countries in the region showing concerning developments, the key issue reported has been discrimination against migrants and refugees. According to the Global Monitor, abuse of migrant workers has been present in Lebanon, Qatar, Saudi Arabia, and UAE. Similarly, although some countries in the Middle East have included migrants and asylum seekers in national response programmes, as seen in Jordan, many countries in the region have excluded migrant workers and refugees from Covid-19 related health schemes provided to citizens and have either differentiated treatment or refused treatment based on the nationalities of patients.  
Similarly, Covid-19 has exacerbated tensions between migrant groups and local communities in Asia and the Pacific. The Global Monitor has recorded cases of various forms of discrimination against migrant populations in several countries across this region. In some cases, migrants have been blamed for the spread of the virus, as seen in e.g. Bangladesh, Indonesia, Kazakhstan, Kyrgyzstan, Malaysia and Singapore. This situation has been marked by excessively targeted restrictions, including detention and deportation, and in some cases forced quarantine in prison-like conditions. Another example of discriminatory measures across the region has been the exclusion of migrants from social protection plans adopted to address the impact of Covid-19, further increasing their vulnerability to the disease.  In Japan, for instance,  state subsidy payments are only available for those with residential status. In South Korea, illegal migrants have been excluded from state-sponsored face mask distribution programmes, and Malaysia's vaccine programmes excluded migrants, refugees, stateless people and those in immigration detention centres until June 2021.
In Latin America and the Caribbean, migrants have suffered from the suspension of resettlement schemes and reduced access to asylum procedures throughout the pandemic. Many asylum seekers and refugees have been stranded or forced to return to unsafe and dire situations in countries such as Venezuela. Moreover, undocumented and grounded migrants, or those with irregular status, have been exposed to exploitation, family separations and human trafficking, as witnessed in El Salvador, Guatemala, Mexico, and the United States.
Across Europe, all migrant groups have been affected by varying degrees of lockdowns and states of emergency. Concerns have been raised about far-reaching restrictions and security measures that directly affect the situation of migrant groups, particularly those held in crowded immigration detention centers under forced lockdowns. In Austria, a refugee center in Salzburg with 162 residents was put under quarantine, banning all residents from leaving. Moreover, there have been cases of migrants and asylum seekers being handcuffed, restrained and detained upon entry in Croatia, Greece, Italy, Poland and Spain. In addition, the Global Monitor has reported claims of refugees and migrants prevented from entering the country or being unlawfully sent back, including in Croatia, Greece, Italy and North Macedonia. 
World Refugee Day 2021 focuses on the power of inclusion, highlighting that in order to overcome the shared experience of Covid-19 together, it is vital that no one is left behind in the global recovery efforts. However, the Global Monitor has observed some broad global trends showing how already marginalized migrant groups and displaced communities have been forced further into social exclusion, poverty, conflict and persecution. And most recently, the vastly unequal vaccine rollout around the globe raises concerns about further exclusion of migrants, asylum seekers and refugees. In order to successfully tackle the pandemic, we need to ensure fair and equal access to healthcare, social protection programmes, and life-saving vaccinations for all countries and for all people, including all categories of migrants.
Disclaimer: The maps presented in this article do not imply on the part of the Institute any judgment on the legal status of any territory or the endorsement of such boundaries, nor does the placement or size of any country or territory reflect the political view of the Institute. The maps have been created for this publication in order to add clarity to the text.