Mirando con lentes de género la cobertura electoral. Manual de monitoreo de medios
IDEA Internacional y la ONU Mujeres conscientes de la necesidad de emprender acciones concretas para identificar eventuales diferencias en la cobertura a candidatos y candidatas por parte de los medios de comunicación durante los procesos electorales, decidieron juntar fuerzas para elaborar el presente Manual de monitoreo de medios.
El Manual ha sido construido en base a experiencias desarrolladas por seis instituciones latinoamericanas como una herramienta metodológica común y replicable que perita monitorear con enfoque de género la cobertura de los medios de comunicación en dicho período a través de información objetiva y contrastable.
Esperamos que esta publicación sea una herramienta útil para promover una cobertura mediática equitativa durante las campañas electorales y que contribuya a fortalecer la libertad de expresión e información y a generar u tratamiento informativo que incluya los puntos de vista de todos los candidatos y candidatas durante las contiendas electorales.
Details
Publication date
25 February 2011
Author(s)
Beatriz Llanos, Juana Nina
Co-Publisher(s)
United Nations Entity for Gender Equality and the Empowerment of Women (UN Women)
ISBN
978-91-86565-08-4 (Print)
Contents
Prólogo
Agradecimientos
¿Por qué un monitoreo de medios desde una mirada de género en campaña electoral?
¿Cuáles son los objetivos y características de un estudio de este tipo?
Duración del monitoreo
Pasos previos: conformación del equipo de monitoreo y pautas para la realización de su trabajo
¿Qué medios de comunicación serán monitoreados? Definición de la muestra
¿Qué y cómo se hace? Pasos iniciales para entender la metodología
Recolección de información y análisis: ficha, definiciones y procedimientos
El informe final: cruce de variables y presentación de resultados
A modo de conclusión: algunas consideraciones para
Notas
Bibliografía
Anexo 1: Ficha de recolección de la información (prensa escrita)
Anexo 2: Ficha de recolección de la información (televisión)
Anexo 3: Ficha de recolección de la información (radio)
Give us feedback
Do you have a question or feedback about this publication? Leave us your feedback, and we'll get back to you
Send feedback
Mirando con lentes de género la cobertura electoral. Manual de monitoreo de medios
1849
2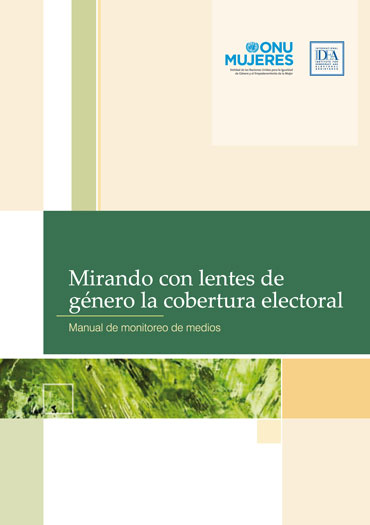 | | |
| --- | --- |
| Total views | 1849 |
| Downloads | 2 |
| Rating | |
Give us feedback
Do you have a question or feedback about this publication? Leave us your feedback, and we'll get back to you
Send feedback