Kenya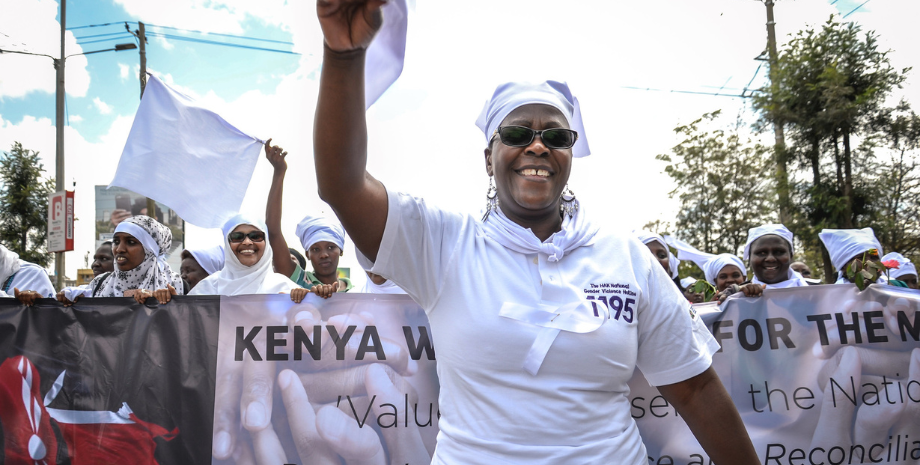 On October 24, 2017, Fanis Lisiagali, Executive Director of Healthcare Assistance Kenya, leads the White Ribbon Campaign march and promotes their rapid response call center hotline which responds to violence against women in elections in Nairobi, Kenya, as part of IFES's Kenya Electoral Assistance Program.
The upcoming general election in 2023 is seen as a potential flashpoint in Kenya, as the two main political parties, the Jubilee Party and the Orange Democratic Movement, are deeply divided. There have been some violent incidents in recent months, and there is a risk of further instability in the lead-up to the election, generating a political uncertainty climate.
Kenya is one of East Africa's largest economies, although it faces many other challenges, including high unemployment and corruption. These problems can further destabilize the country and make it more vulnerable to violence. The government has struggled to address these threats effectively, and they continue to pose a significant challenge to stability.
There is space for hope and improvement when we look at women's political participation in Kenya. The 2010 Constitution of Kenya guarantees women's equal rights to participate in political and public life, and it sets a target of 33% women's representation in all elected bodies. Several organizations are working to promote women's political participation in Kenya. These organizations provide women with training, support, and resources to help them run for office. They also work to raise awareness of the importance of women's participation in politics.
In the 2022 general election, there was a significant increase in the number of women elected to office. This was partly due to the efforts of women's rights organizations and political parties.
In this context, International IDEA decided to set the headquarters of the Women in Political Participation project, a Pan-African gender project on the different facets of Women and Politics in Africa. Funded by Sida, it aims to advance gender equality in politics and governance in line with the Maputo Protocol of 2003, various associated sub-regional protocols and standards, and the United Nations Sustainable Development Goals (SDGs).

Basic information