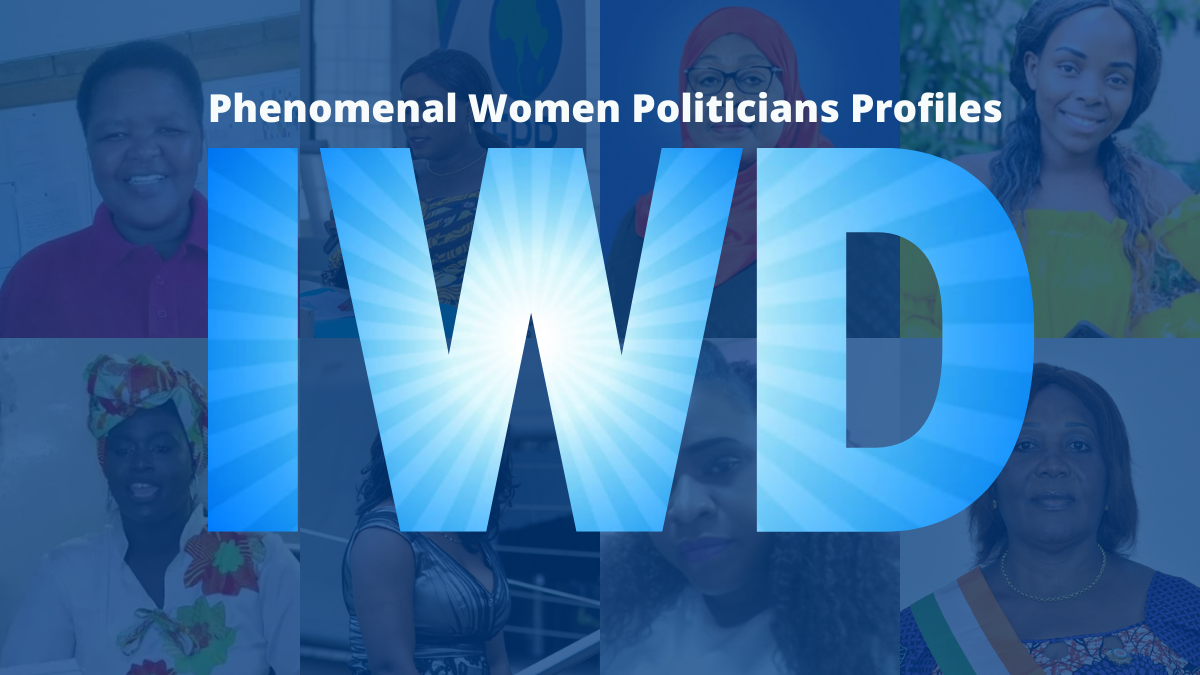 Enhancing Women's Political Participation in Africa (Women in Political Participation (WPP)) is a Pan-African gender project on the different facets of Women and Politics in Africa. Funded by Sida and implemented by International IDEA, it aims to advance gender equality in politics and governance, in line with the Maputo Protocol of 2003, various associated sub-regional protocols and standards, and the United Nations Sustainable Development Goals (SDGs).
The project includes working with key institutions of democratic governance such as political parties, parliaments, and the media, amongst others, to build constituencies, alliances, norms, templates, and targets for reform and change towards greater women's political participation. 
International Women's Day is a global day celebrating women's social, economic, and political achievements. The day also marks a call to action for accelerating women's equality. This day is significant to the WPP project as we aim to improve women's political participation in Africa. Our IWD's goal is #BreaktheBias towards women in political decision making. 
Women have historically been disadvantaged in participating in politics. Africa and the rest of the world are far from achieving 50% women's representation in politics – at all levels of governance. In 2021, Africa was at 24 per cent women's representation in parliament. Lack of political will, restrictive electoral frameworks and deeply entrenched patriarchy are some of the root causes of these low figures. At the same time, there are many instruments, laws and policies in Africa committing towards equal and effective participation of women in politics. 
IWD celebrates the gains made over decades for women to be treated equally and continuous hope that women in decision-making will eventually reach the 50% mark or even surpass it. In Africa, we have outliers such as Rwanda with over 60% of women in parliament and Nigeria with just 6% of women in parliament. It is still a long way to go as we are at 24 per cent women's representation in parliament according to the WPP Barometer 2021. While mindsets are changing, frameworks are not changing as fast. Political instability in some African countries has also prevented women from participating in politics. Electoral systems need to actively look at the historical disadvantages of women's political participation. 
While IWD is meant to be a celebratory event, it is also linked to advocacy actions in different aspects of achieving gender equality. This needs to be supported by local efforts in celebrating each woman who has chosen the path of political leadership. Linking grass-root efforts to grass-top policy actions is still hazy in some environments. Through peer learning and collective action as a continent, we are gradually embracing both the theory and practice of women in political decision making. We are #BreakingtheBias on women's political leadership.
The WPP project contributes to this by creating knowledge products highlighting the State of women's political participation in Africa. These range from the Africa wide Barometer to regional and country-specific situation analysis reports and policy briefs. WPP also offers training and capacity building, dialogues with relevant stakeholders, advocacy, and platforms to celebrate the women in political leadership and those aspiring to be in leadership. 
WPP's main challenge is that progress in transformative female political leadership required a change in mindsets, attitudes and even culture in some instances. Africa is continuously battling profoundly entrenched patriarchy, hindering respect for women as political leaders. We also have challenges in systems such as electoral frameworks and resources for women to campaign in elections. 
The WPP project works with both aspiring women politicians and those already in political office from the local government to the national level. They face challenges such as politically perpetrated violence, lack of resources to campaign adequately, lack of political will to consciously improve the levels of women in political participation, limited or biased media reporting, patriarchy, amongst other challenges. 
The testimonies below are a short glance at women we have support to build equal societies.