Youth participation in electoral processes: new roles for African electoral management bodies
The youth generation in Africa is booming, with one-third of the population aged between 15 and 35.
At the same time, youth tend to be disengaged from the democratic process. Young people vote less frequently, stand as candidates less often and remain underrepresented in electoral managerial functions.
This Policy Brief argues that electoral management bodies (EMBs) in Africa play a critical role in promoting youth participation in electoral processes. EMBs should develop creative strategies for youth inclusion and engagement. The community of practitioners should share the experiences of EMBs already pushing this agenda.
For EMBs that have not yet engaged fully, these success stories may serve as an important source of inspiration for initiatives that fit their historical contexts.
Details
Publication date
24 November 2015
Contents
Background
The role of electoral management bodies in promoting youth participation
Youth as voters
Youth as electoral contestants
Youth as electoral administrators
Recommendations
Give us feedback
Do you have a question or feedback about this publication? Leave us your feedback, and we'll get back to you
Send feedback
Youth participation in electoral processes: new roles for African electoral management bodies
9457
25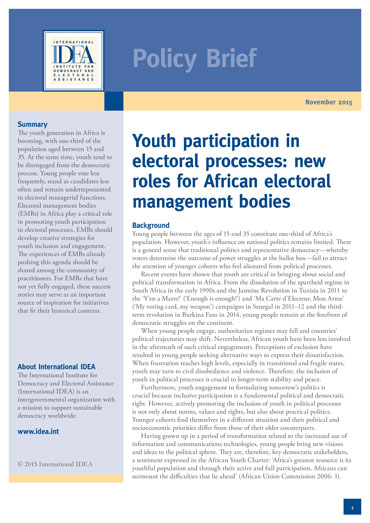 | | |
| --- | --- |
| Total views | 9457 |
| Downloads | 25 |
| Rating | |
Give us feedback
Do you have a question or feedback about this publication? Leave us your feedback, and we'll get back to you
Send feedback