Survey of Constitutional Culture in Argentina: An Anomic Society
The work presented in this book is interdisciplinary—legal, political and sociological—and was written based on a national opinion poll unprecedented in Argentina.
Its immediate objective is to ponder one of the most serious problems in the country—infringement of the laws and the Constitution—and to invite in-depth reflection and discussion to seek full enforcement of the constitutional and democratic rule of law.
Despite important differences, Argentina presents a problematic situation similar to the one observed in Mexico regarding the conflictive relations between law and society. This book focuses on analysing Argentine society's attitudes, perceptions and values with regard to fundamental law and legality.
Details
Publication date
10 January 2006
Author(s)
Antonio María Hernánde, Daniel Zovatto, Manuel Mora
Co-Publisher(s)
Universidad Nacional Autónoma de México, Asociación Argentina de Derecho Contitucional
Contents
Introduction
Part 1
Preliminary considerations
Theoretical and methodological considerations
Profile of the population polled
Part 2
1. Perceptions about the model of society, rights and values
2. Perceptions of democracy, values, regulations, representation and power
3. Extent of knowledge about the institutions
4. Perceptions of the law and the Constitution
Part 3
Conclusions and proposals
Questionnaire
Appendix 1. Statistics
Give us feedback
Do you have a question or feedback about this publication? Leave us your feedback, and we'll get back to you
Send feedback
Survey of Constitutional Culture in Argentina: An Anomic Society
2917
0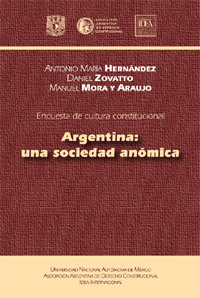 | | |
| --- | --- |
| Total views | 2917 |
| Downloads | 0 |
| Rating | |
Authors
Give us feedback
Do you have a question or feedback about this publication? Leave us your feedback, and we'll get back to you
Send feedback