This publication is only available in electronic format
ISBN:
978-91-86565-68-8 (Print)
Co-Publisher(s):
Netherlands Institute for Multiparty Democracy
Political parties are often forced to focus on short-term crises to the disadvantage of the medium- and long-term development of their strategies.
This guide helps political parties address this issue by focusing on the importance of strategic planning as a means for strengthening their capacity to engage in organizational learning and respond to changing circumstances.
It aims to provide a practical tool to help political parties conduct strategic planning, and offers assistance providers and political parties alike a step-by-step methodology for conducting this planning process.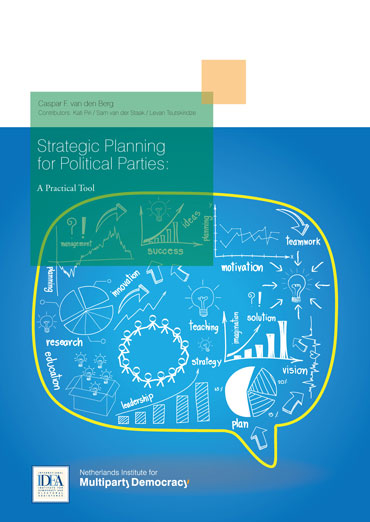 Contents
Preface
Acknowledgements
Introduction
Strategic planning for political parties in context
Phase I: Initiating and designing the planning process
Phase II: Internal and external analysis
Phase III: Drafting the plan
Phase IV: Towards implementation and evaluation
Strategic planning in Georgia (2010–2011) and Mozambique (2012)
Annexes
Annex I: From generic tool to country-specific manual
Annex II: Worksheets
Annex III: Activities and workload
Annex IV: Interview guidelines for post-planning meetings
Acronyms and abbreviations
References
Colophon