This publication is available in print and electronic format
ISBN:
978-91-87729-69-0 (Print)
Co-Publisher(s):
Netherlands Institute for Multiparty Democracy, Netherlands Institute of International Relations (Clingendael)
El crimen organizado es un fenómeno mundial que distorsiona los mercados económicos locales y mundiales, crea violencia y desdibuja el rol de los Estados en la provisión de servicios básicos, todo en aras de incrementar su riqueza.
Una de las principales armas que usan estas redes para alcanzar sus fines es la corrupción de políticos y el grueso del aparato estatal en los países donde operan, afectando así los principios básicos de la democracia y poniendo al Estado al servicio de los intereses económicos ilícitos.
Éste es un problema global. América Latina es una de las regiones que ha sufrido de este mal por una serie de factores: la fuerte presencia de redes ilícitas dedicadas a distintas actividades ilegales, incluyendo la minería ilegal, el tráfico de especies exóticas, el tráfico de armas y, de manera especialmente prominente, la producción y comercialización de drogas ilegales como la cocaína.
Este libro se centra en las experiencias de Colombia, Ecuador, Guatemala, Honduras y Perú. Los autores reúnen una serie de estudios que ilustran cómo se forjan las relaciones entre criminales y políticos, e identifican numerosos instrumentos para responder a dicho fenómeno, observando los logros y retos en su aplicación práctica.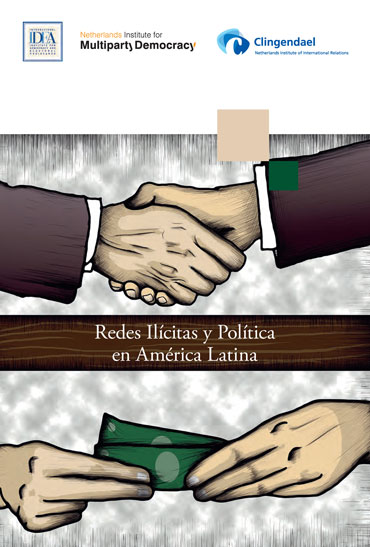 Contents
Prólogo
Prefacio
Agradecimientos
Acrónimos
Glosario
1. Introducción
2. Desarrollo del proyecto y metodología
3. Evolución histórica de los nexos entre política, delito y economía en América Latina
4. Análisis regional comparado sobre los nexos entre las redes ilícitas y la política en América Latina
5. Colombia
6. Perú
7. Ecuador
8. Guatemala
9. Análisis regional comparado sobre la legislación contra el crimen organizado y su relación con la política
10. Conclusiones y recomendaciones
Referencias y lecturas adicionales